Subtitle Converter - How to Convert VTT to SRT for Free
Subtitles are transcript of movies or videos, which help, for example, the deaf to go along with the content easily, or the foreigners to understand what the speaker is talking about. However, chances are they may get the error "text type file not accepted" or cross-origin error when they have a subtitle file like VTT inserted into the video. This is because the VTT format is not as compatible as SRT with video players. It's a must to convert VTT to SRT first to fix the format issue. If you are struggling with unsupported text file format error, read on and get the best VTT to SRT subtitle converter here.
You may be also interested in: free websties to download subtitles for free >>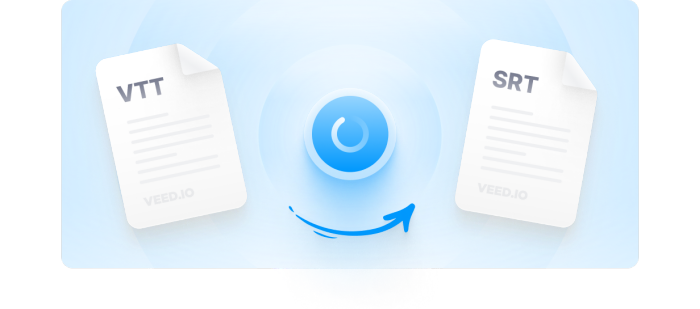 Top 3 Ways to Convert VTT to SRT Subtitle File
Way 1. Convert VTT to SRT with Happy Scribe
Happy Scribe is a great transcription service praised by its impressive accuracy, huge language selection, multiple speaker identification, and automatic punctuation, all making for a winner. Except for converting VTT to SRT, Text, PDF or other format, you can also hardcode and merge your subtitle file to your video, edit subtitles, convert audio to text, add captions to your video, etc.
Happy Scribe only charges based on the length of the recording when it comes to transcription. Price starts at $0.20 per minute with up to 85% accuracy, and 1/2 audio length turnaround. There is no hidden fees or expiry dates. But it is totally free to convert subtitle format from VTT to SRT or vice versa. You can follow the steps below.
How to Convert WebVTT subtitle file to SubRip file with Happy Scribe?
Select the subtitle VTT (.vtt) file you want to convert to SRT.
Select the output format SubRip (.srt).
Click Convert to SRT and your VTT file will be uploaded to the service and converted to SRT file.
Download your SRT file.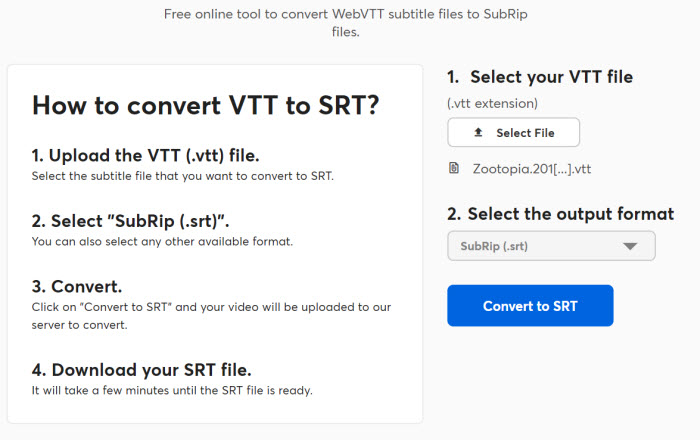 Way 2. Convert WebVTT to SubRip with Veed.io
Veed.io is another online subtitle service which features a clean, sleek, and easy-to-navigate interface and is available for you to convert VTT files into SRT online with 95% accuracy. Besides, there is no need to download clunky software. After the subtitles conversion, you can also make some edits to the transcription.
Except for the subtitle conversion, you can even resort to the speech recognition tool to translate your subtitles into as many as 100 languages, create new subtitles files automatically, download them as VTT or SRT files, hardcode your subtitles file into your video, and more. Converting your VTT subtitles files into SRT can be quickly and easily with Veed.io, here are the steps.
How to Convert VTT to SRT with Veed.io?
Upload your .vtt file by clicking on Choose Subtitle File from your folder or library. This will take you to the Veed's subtitles page
. Click on Options > choose SRT from the dropdown. Veed will begin converting your VTT file to SRT.
Once the subtitles conversion is finished, you can click on the Download as srt button and save your SRT file to your computer.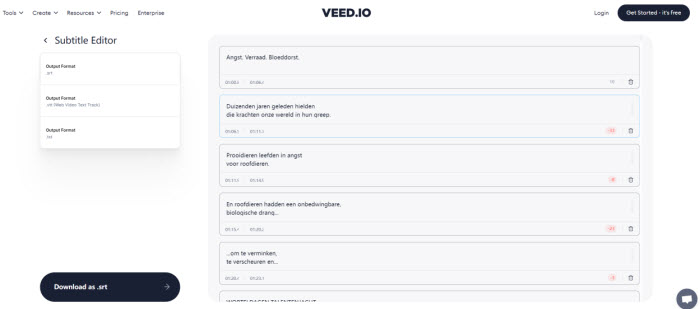 Way 3. Convert Subtitle Format from VTT to SRT with GoTranscript
GoTranscript is another online subtitle service that enables you to go transcription journey with a minimum amount of work. It helps you to convert subtitles to 15 formats including SubRip (.srt), Spruce Subtitle File (.stl), Scenarist Closed Captions (.scc), Advanced Sub Station Alpha (.ass/.ssa), WebVTT (.vtt), and Netflix Timed Text (.dfxp).
There are four more services including converting video or audio to text with 99% accuracy, captioning your videos for the hearing impaired or reachability, subtitling your English video to expand your foreign audience, translate your audio or text into over 30 languages. It starts $0.9 per minute for its 5-day service. However, converting subtitles file format is totally free. Here is the tutorial.
How to Convert VTT to SRT with GoTranscript?
Click on UPLOAD button and select VTT file to be converted.
Select format like SubRip (.srt) if you'd like to convert to. Press CONVERT.
It starts conversion and save the converted SRT file on your computer.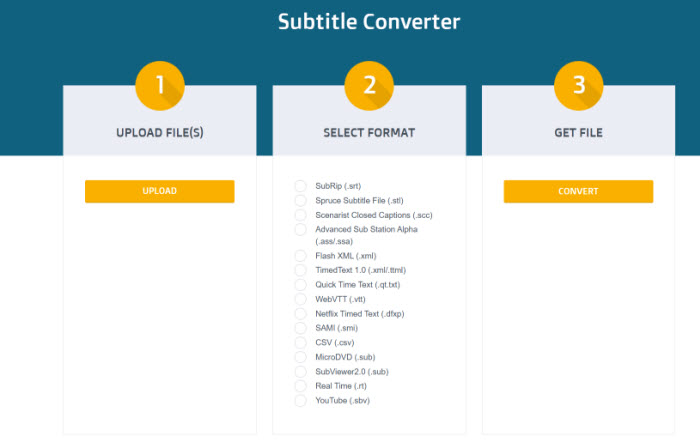 FAQ about VTT and SRT
1. What's the difference between VTT and SRT?
An SRT subtitle file and a VTT file are identical with a few differences. SRT is generally referring to SubRip text, which is a plain text containing the time stamp info or where each line of text will be displayed throughout the video. SRT file format is supported by most video players. The SRT subtitle file does not support text styling, effects or positioning. Compared to SRT, WebVTT (.vtt) supports the positioning of subtitles and some simple styling including bold, italics, etc.
2. How do I view SRT subtitles?
As is mentioned above, SRT has a better compatibility with media players like VLC. You can open the SRT file when you hardcode your subtitles file into your video. It is also compatible with Windows Media Player and YouTube videos.