Posted by Donna Peng - December 14, 2021 Contact Author

What to Do When Samsung DVD Player Keeps Pausing

To play DVDs requiring no DVD player, click: The solution most recommended by us [85%]
It is quite weird that Samsung DVD player pauses every 3 seconds or longer. A Not Available message appears when the disc starts playing. If you are running into such an issue, check our solutions.
Let's start with the causes. Figuring out where the problem lies helps stop Samsung DVD player from pausing. The problem may be the DVD player itself and the disc you are playing. For example, the DVD player hardware issue, dirty or damaged disc, etc. If the issue only happens to one disc, the disc may be to blame. If all your discs freeze when playing on your Samsung DVD player, the cause may be the hardware breakdown. Below are some tips you can try.
Tips on Fixing Samsung DVD Player Freezes
1. Make sure the DVD disc you are playing is clean. The picture may freeze when the disc has finger marks, dust, scratches, etc. Use a soft cloth to remove dust. There may be dust in the Samsung DVD player and on the optical lens. Clean your DVD player with a cloth or a DVD player cleaning disc.
2. If you connect your Samsung DVD player to a TV, check the HDMI cable and inputs on the TV. Try another cable.
3. Perform a firmware update if it is available for the player.
4. Unplug and restart the DVD player and play the disc again to see whether the error is fixed.
5. Do a power reset on the unit. Unplug the power cord of the DVD player, a few minutes later, plug it back, then turn on the DVD player.
6. Do a factory reset.
7. Contact Samsung Customer Care for further support.
8. Ask for repairing or exchanging after doing all the above steps and the Samsung DVD player still keeps freezing. Learn what to do when the DVD playback is jerky on Samsung DVD player.
Here is an additional tip - use a DVD converter to fix Samsung DVD player freezing issue caused by damaged DVDs or hardware breakdown. WinX DVD Ripper Platinum does a good job in fixing scratched DVDs and ripping them to MP4, AVI, MOV, etc. video format for smooth playback requiring no DVD player. In this way, you can get around the Samsung DVD player pausing problem easily.
Repair damaged DVDs and convert them to MP4, AVI, MOV, etc.
Digitize DVD discs for playback on a TV without the need for a Samsung DVD player.
Backup DVDs and prevent them from being scratched.
Preserve nearly original quality.

Download WinX DVD Ripper for Windows

to get rid of Samsung DVD player pausing issue

Download WinX DVD Ripper for Mac

to get rid of Samsung DVD player pausing issue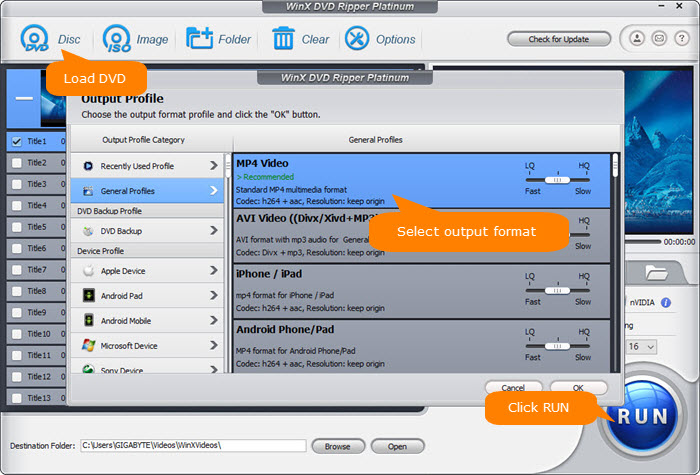 Disclaimer: Digiarty Software does not advocate ripping DVDs for any illegal purpose. You're suggested to refer to the DVD copyright laws in your country before doing so.