How to Fix Disney Plus Not Recognizing Subscription Error
Disney Plus really offers their subscribers a great time streaming of their favorite movies and shows. However, some Disney Plus users have had a pretty tough time with the subscription issue. Usually, they bought a new subscription, paid for it and unexpectedly they're still not subscribed to Disney+. Worse still, they later find there are some Disney Plus login issues. Disney Plus is not recognizing the email address bundled to the subscription.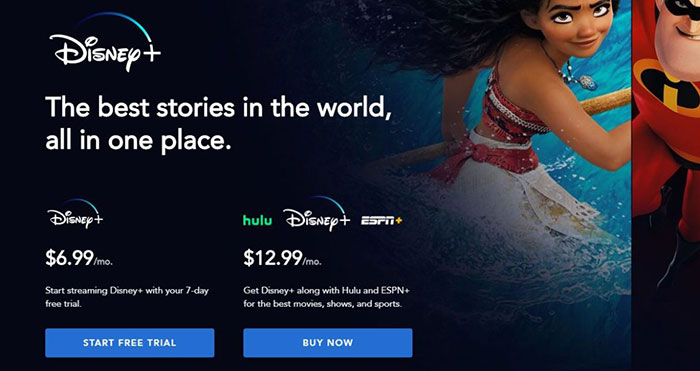 Why is Disney Plus not recognizing the subscription and even the email for login? How to fix the issue? This article will dive to the causes and give you some quick tips to fix it.
5 Quick Tips to Fix Disney Plus Not Recognizing Subscription Issue
It gave me the "Welcome, seems like you're not subscribed screen." So I renewed the subscription thinking it would work but when I logged back in it gave me the same screen. It never has done this before especially when the clone wars and mandalorian season 1 was still releasing episodes.
Disney Plus does have an explaination for "Welcome, looks like you're not subscribed" error message on its Help Centre. It might be an issue of your account. Unfortunately, there are no definite solutions that will help you fix the subscription not working issue on Disney Plus. Still, you can try the tips below to see if it will troubleshoot the Disney+ subscription error.
1. Check If Your Subscription Is in Good Order
The best first step goes to check if your subscription is in good order. You can purchase Disney Plus subscription through Google Play App, iTunes, Canal+ and more. For all account and billing queries related to your Disney+ subscription, you can visit the corresponding customer service you have paid for.
If you forgot to add some details to your subscription, your subscription will not be completed. Make sure that you added the complete payment details and verify your information.
How to Activate disneyplus.com Login/Begin URL 8-Digit Code 2. Check Your Login Email Address
If you're using a different email address to purchase a new subscription, Disney Plus will not recognize your subscription. And even you may encounter Disney Plus login issues. To fix it, always make sure you're using the same email address when you subscribe and when you are logging in to Disney Plus.
Besides, there are also cases that you log in and subscribe with the same account but Disney Plus subscription still not working. For example, I noticed that some users subscribes Disney Plus via iTunes but failed, then they contact Disney+ for help. Disney+ says they need complete the subscription. While they cannot help since the account is linked to iTunes and they do not have access to it.
For that, try to go to Disney Plus website and select forgot password with your Apple ID email. This allowed you to set the Disney plus password. Then click the "Restore Purchase" option to get back your subscription. 3. Restart Your Device
Rebooting your device always helps refresh your Internet connection and delete the temporary files on your device. It may troubleshoot the Disney+ not working issue with subscription during the process. Of course, maybe not. But it's always worth a try. Turn off your device and wait for a moment, then turn it on and try to stream Disney Plus contents.
4. Reinstall Your Disney Plus App
If your Disney+ app has some kind of bug or data corruption, it may result in subscription recognition error on Disney Plus. Try to delete your Disney Plus app and then reinstall it on your device to see whether your Disney Plus account get subscribed.
5. Contact Disney Plus Customer Support
If none of the tips helped to fix the error, you have the last resort - contact Disney Plus for help. Report the issue with your subscription and ask why you are receiving the error.
More Disney Not Working Errors:
Hope this article has helped you to get your Disney Plus subscribed. And if you have some other tips for the subscription issue, feel free to tell @WinXDVD on Twitter and Facebook.