How to Fix Disney Plus Connection Timed Out Error
Disney Plus is the home of your movies and TV shows from Disney, giving users a place to enjoy the latest Disney blockbusters and miss the memory of Disney cartoons. However, it's frustrated that you're prompted with Disney Plus connection timed out error when you're trying to stream movies or TV shows from Disney+.
But never mind. By following the steps below, you should be able to troubleshoot the Disney Plus connection timed out error and enjoy Disney+ to the fullest.
Quick Fixes for Disney Plus Connection Timed Out Error
1. Check Disney Plus Servers
When you get a Disney Plus connection timed out error, firstly you need to make clear it's a matter of Disney Plus or your end. So you can visit downdetecter.com when you're unable to connect to Disney Plus. Scroll down to find "Disney+" and click on it. Then you can view the Disney+ outages reported in the last 24 hours. Check if any other users have the same problem.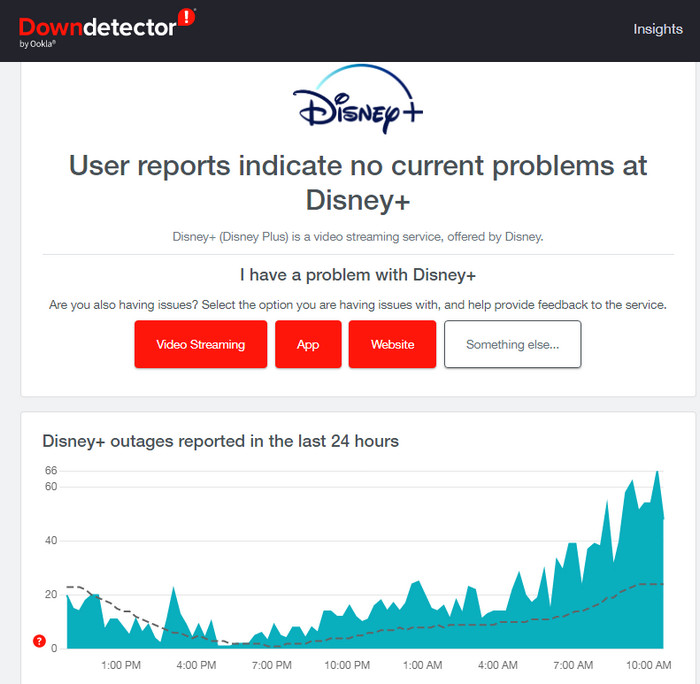 2. Restart the Disney+ App
If it's not a matter of Disney+ app, you're recommended to reboot the Disney Plus app. The internal glitches and bugs of the app may lead to a slowing-down or even unworkable Disney Plus app, for example the issues like crashing, not connecting or buffering while running. In such cases, you can try to restart the Disney+ app to see if the problem fixed in the background.
3. Check and Restart Your Network Connection
Having slow or interruptted internet could be the major reasons for Disney Plus connection timeout error. On the one hand, like other online streaming services, Disney Plus has set its minimum requirements of the internet speed, namely 5 megabits per second  to stream the high-definition movies or TV shows without any issue, and a minimum speed of 25 megabits per second for 4K UHD. On the other hand, if the network connection get interuptted, naturally Disney Plus failed to connect.
Therefore, you need to make sure you're using a stable internet connection with good speed. Here are several tips for that.
Plug out and in the network cable to check if your internet connection is interrupted.
Stream other services like Hulu, Netflix to check your network is working properly.
Switch to the ethernet cable for a stable internet speed if you're working on Wi-fi.
Run an internet connection speed test like Fast.com to confirm it is working properly.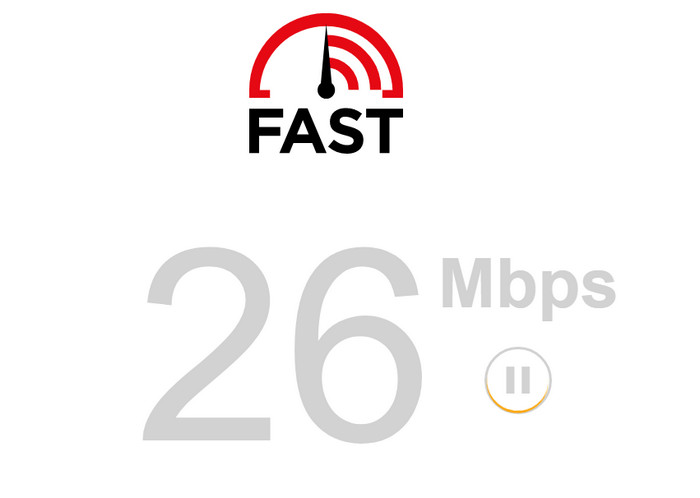 4. Turn off VPN
Some users use VPN to streaming Disney Plus contents. VPN is a third-party application that provides security network for accessing restricted contents in your region. It works by changing the IP address to report a different location in your device and filter your data. However, not all VPNs work efficiently and they may cause interruptions and delays to your network. Thus, if you're using VPN to streaming contents from Disney+ and precisely get connection timed out error, try to disable the VPN.
5. Re-login to Your Account
This is a situation that your user data get corrupted when Disney+ server went down, or unexpected bug or glitches happen on Disney Plus. No matter what case it is, you need to log out your account and then log in back to refresh your data to get rid of the possible problems. Take Android or iOS mobile device as an example.
Open Disney Plus on your device.
Tap on your Avatar to open your profile.
Tap the Log Out button to complete the log-out process.
Once done, wait several minutes before logging back in your Disney account.
How to Activate disneyplus.com Login/Begin URL 8-Digit Code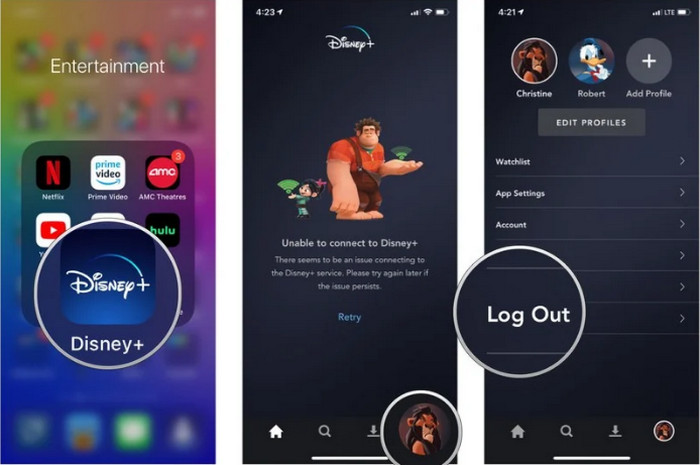 6. Clear All the Caches and Cookies
When we browse in applications, our device stores the cache files which sometimes get corrupted and start causing issues. What's worse, it can also limit the bandwidth of the network, causing Disney Plus connection issues such as unable to connect to Disney+, Disney+ connection timed out, or Disney+ buffering timeout issue. Deleting all the cache files and browser cookies could be a nice try to ensure a smooth running of Disney Plus. You can follow the instruction to clear caches and cookies.
On your streaming device go to the Settings and open it, now click on Applications, Apps, or Application Manager as per your device.
Start the Disney+ and tap on the Force Stop button.
Check for the Force Stopping of the Disney Plus and then click on the Storage option.
Now click on the Clear Cache button and then the Clear Data button.
Next, confirm for clearing the Disney Plus app data and relaunch it.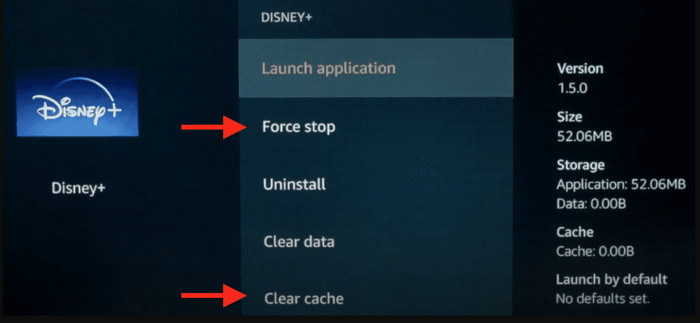 If you're streaming Disney+ contents on your browser, just clear the cache files and cookies on your browser.
7. Disable the Browser Extension or Try Another Browser
Some users install third-party externsions on their browsers so as to experience extra features on their browsers. Unfortunately, not all websites are compatible with extensions. Instead, it may interfere with how extensions function. If you encounter a Disney Plus connection timed out error when accessing the Disney Plus, you can disable the browser extension and to see if the problem goes away. Here are the steps to turn off the extensions on your browser.
Open your browser and click on the three dots at the upper right corner.
Find the Moretools and expand the drop-down list to find the Extension option.
In the new interface, move the slider to disable all the extensions.
Restart your browser and check if the problem is fixed. Of course, if you don't want to remove the extension, you can try another browser to see if the Disney Plus is connecting properly.
8. Update / Re-intall Disney Plus
If you installed a Disney Plus version with underlying issues, it may also cause connection errors, such as the sever no longer supports the app you're using. For that, you need to update the Disney Plus to the latest version. If you're using the lastest version currently, just reinstall it.
For iOS devices, follow the steps to update Disney+
Tap the App Store on your home screen.
Next, tap on your Profile to access the list of apps with available updates.
Finally, find Disney Plus and tap the Update button beside it.
9. Update Your Devices
There is a possibility that your device's OS has an issue which causes Disney Plus and some other apps running into errors while connecting to their severs. Or the Disney+ app is incompatible with the current version of your operating system.
To update iOS on your iPhone iPad:
On your home screen, tap on Settings to open it. 
After that, go to the General tab and tap on Software Updates. 
Finally, tap on Download and Install to update your iOS device. 
To update Android OS on your Android smartphones:
First, open the Settings app on your Android device. 
Now, scroll down to the bottom and tap on About or About Phone. 
Lastly, tap on Software Update and follow the on-screen prompts to update your device.
10. Report the Error to Disney Plus
If the Disney+ connection timeout error still exists, the last solution is to report the error the Disney Plus official. Wait the development team to fix the error.