Windows 11 vs macOS 12 Monterey Comparison: Which Is Better
Microsoft has announced that it will release Windows 11 to the general public on October 5. And Apple will soon release its new macOS – macOS Monterey. Yes, they arrive at a similar time. Well, do they have some similar features? What are the differences between Windows 11 amd macOS Monterey? Which OS is better, Windows 11 or macOS Monterey? Just find out right here. Windows 11 vs macOS Monterey:
Windows 11 vs macOS Monterey: Price and Compatibility
Windows 10 users can upgrade to Windows 11 for free. But before doing so, you need to check if your computer is compatible with Windows 11 or not. Windows 10's PC Health Check app can help you assess compatibility.
Minimum system requirements for Windows 11:
Processor: 1 GHz or faster with 2 or more cores on a compatible 64-bit processor or System on a Chip (SoC).
RAM : 4 GB.
Storage: 64 GB or larger storage device.
System firmware: UEFI, Secure Boot capable.
TPM (Trusted Platform Module): TPM version 2.0.
Graphics card: Compatible with DirectX 12 or later with WDDM 2.0 driver.
Display: High definition (720p) display that is greater than 9" diagonally, 8 bits per color channel.
Like Windows 11, macOS Monterey also provides free update on existing hardware.
Mac computers that support macOS Monterey include:
iMac (late 2015 and later)
iMac Pro (2017 and later)
Mac Pro (late 2013 and later)
Mac mini (later 2014 and later)
MacBook Air (early 2015 and later)
MacBook (early 2016 and later)
Windows 11 vs macOS Monterey: UI
Compared to previous Mac operating systems, MacOS Monterey doesn't change much in terms of design and theme.
Windows 11 brings brand-new user interface which looks a lot like macOS. Microsoft simplifies the design and user experience in Windows 11 in order to increase productivity and stimulate creativity, and redesigns many icons to make them elegant.
Different from Windows 10, the start menu and taskbar of Windows 11 are in the center of your computer screen by default. If you don't like this design, you can move it to the left side. The start menu is designed with round corner and doesn't feature Live Tiles. In the start menu, you can find pinned apps, access all apps, and find the foremost recent files in the recommended section. Windows 11's taskbar looks cleaner than Mac's Dock which covers all apps installed on your Mac.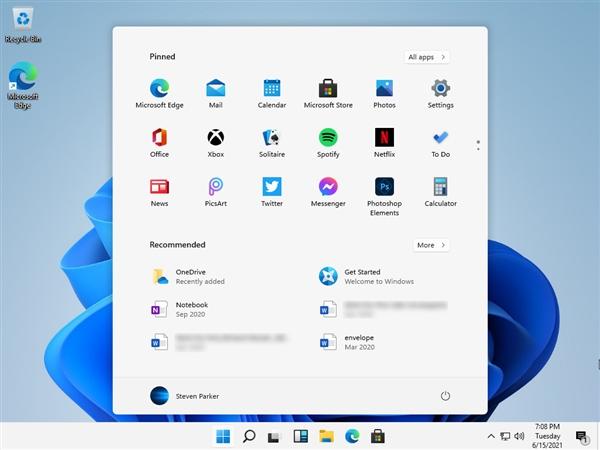 Windows 11 vs macOS Monterey: Multitasking
Multitasking is the biggest difference between Windows 11 and macOS Monterey. It gets mentioned the most when Microsoft markets Windows 11.
Microsoft introduces Snap Layouts and Snap Groups to improve the working methods of window tiling and multitasking on Windows 11. With Snap Layouts, you can organize your apps and windows by grouping them together just like the way you groups apps on Android and iOS. When you hover your mouse over a window's maximize button, you will see new ways to tile your open apps. And you can easily maximize or minimize the whole Snap Group at once from the task bar. These new Windows 11 features will improve your productivity. Multitasking in macOS Monterey is not so different from that in previous versions. It just let you work with two apps side by side. Obviously, it doesn't work better that that in Windows 11.
Windows 11 vs macOS Monterey: Widgets
Windows 11 comes with a side widget panel just like the one from macOS Big Sur. Windows 11's widget tray pops up on the left of your screen while Mac's widgets and notifications appear on the right side.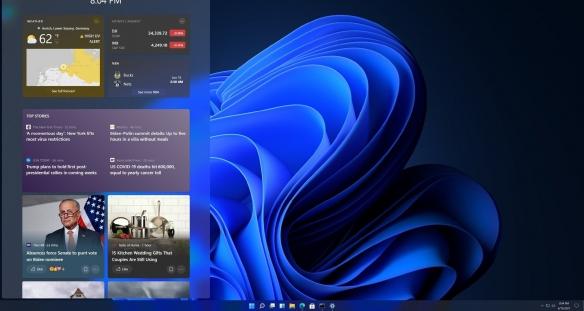 Windows 11 widgets are designed to replace Live Tiles and provide users with important information at a glance. You can access it from the taskbar or with a keyboard shortcut. Like macOS Monterey, Windows 11 provide many widgets like news, weather, stocks, and some third-party widgets.
Windows 11 vs macOS Monterey: Touch Support
Touch support is available in Windows 11 but not available in macOS Monterey. Mac devices don't support touchscreen functionality and utilize only touchpad gestures.
Touchscreen support has been added to Windows since Windows 8. Now it gets better with Windows 11. It optimizes the new interface for touchscreen devices, brings a few new touchscreen gestures, an enhanced touchscreen keyboard, and haptic feedback for pens in near future.
Windows 11 vs macOS Monterey: App Store
Microsoft builds a new, open Microsoft Store on Windows 11. It will help you find the best apps and games with curated stories and collections, discover Android apps and run them on Windows 11, and install apps from the web. You need to know that Android apps are not from Google, but from Amazon App Store. Additionally, Windows developers can now publish any kind of app, regardless of app framework and packaging technology, and use their commerce engines. App Store on macOS Monterey isn't redesigned. From the App Store, you can download iOS apps on Mac, alongside DMG apps like Chrome, and Mac Universal apps. Traditional PWA apps can be installed on your macOS 12 via browser.
Windows 11 vs macOS Monterey: Game
If you're a gamer, you should choose a Windows computer. You'll see DirectX 12 support, Auto HDR, and the DirectStorage being utilized in Windows 11. DirectX 12 support brings high-frame-rate gaming, Auto HDR delivers better visuals, and DirectStorage makes your game load faster than before. Moreover, it allows you to buy Xbox Game Pass to access to various games and games developed by Xbox Game Studios and Bethesda on the launch day.
Microsoft does spend much attention and efforts on improving the gaming experience on Windows platform, while Apple doesn't optimize its Macs for gaming.
Well, above are the similarities and differences between Windows 11 and macOS 12 Monterey. Which is better, Windows 11 or macOS? Each has both strengths and weaknesses. Find the things you really value and choose one that works better in these aspects. For example, if gaming performance is what you most value, you should choose Windows 11. If you want to make your computer have seamless integration with your iOS devices, you'd better choose macOS Monterey.