How to Fix Beachbody Workout DVD Won't Play/Not Working Issue
Embarking on a Beachbody workout journey can be an invigorating and transformative experience, but what happens when technical glitches interrupt the flow of your fitness routine? If you've encountered the frustrating scenario of your Beachbody workout DVD refusing to play, fear not – you're not alone. Technical hiccups can occasionally disrupt our exercise plans, but the good news is that there are practical solutions to get your workout back on track.
In this article, we'll delve into troubleshooting tips and effective fixes to address the issue of a Beachbody workout DVD that won't play. Whether you're gearing up for a powerful sweat session or seeking a remedy for playback woes, let's explore the solutions to ensure your fitness journey remains uninterrupted and enjoyable.
WinX DVD Ripper Platinum - Fix Workout DVD Not Playing [Most Recommended Solution]
Rip workout DVDs to MP4, AVI, MOV, iPhone, iPad, Android, Xbox, PS5/4 and 350+ preset profiles regardless of Beachbody/Insanity disc.
No limitations! Rip a full workout DVD or digitize DVD with full/main title; it's all at your disposal. 98% output quality reserved!
Deliver the No.1 fast DVD ripping speed thanks to level-3 hardware acceleration, multi-core CPU, and hyper-threading tech.
Part 1. Use a New DVD Player
All Beachbody DVDs are region free and can be worked on all players in theory. But there are some special DVD players cannot play region 0 DVDs. In addition, playing new media on an older DVD player may cause 'Beachbody DVD won't play correctly' issue as well and these DVD player won't read disc at all. If you just own an incompetent DVD player for TV/Xbox/PS5/4, it is strongly suggested to switch to a new DVD player with high compatibility.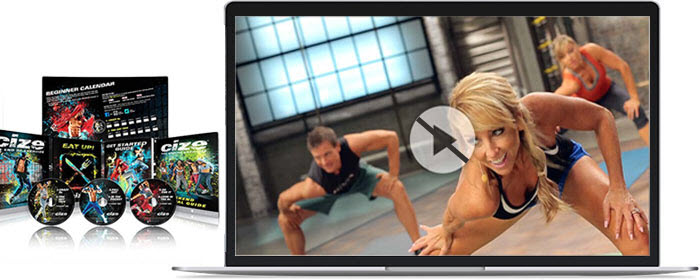 Part 2. Change DVD Drive or Download Third-party DVD Player Software
Some Beachbody DVDs work well on TV via DVD Player while some others (P90X3, 21 Day Fix etc.) won't play on computer, especially on laptops. DVD drive and player software may be the causes, typically, your DVD player won't read or detect the discs at all. Ensure that you use an intact region-free DVD drive. You'd better download a solid DVD player software for sometimes the system-attached Windows Media Player, QuickTime can't open encrypted Beachbody workout DVDs.
Part 3. Play 21 Day Fix DVD Twice
Beachbody 21 Day Fix DVD won't play for that the disc may not start at the first time. What you need to do is to eject the disc and put it into DVD player again. Now, play it at second time and not working issue will be fixed. Also, you can use this troubleshooting tips if other Beachbody DVDs (Insanity, Cize etc.) not playing correctly.
Part 4. Contact Beachbody Team for Replacement
If all other stuffs work fine (compatible DVD player/Drive, capable DVD player software), but the Beachbody DVD still won't play on TV, computer or game consoles. You may have a defective or damaged DVD disc. Beachbody has launched a Lifetime Replacement Plan so that you can contact the team asking for a new DVD.
Please note: make sure that you get a real Beachbody DVD from BB official site. Otherwise, fake discs from unknown sites are disqualified to be replaced. Check detailed rules of replacement and how to contact Beachbody.
Part 5. Rip Beachbody Workout DVD to Digital - [Editor's Pick]
As a matter of fact, Beachbody DVD not playing issue is quite hard to permanently fix. Some users tell that DVD may stop working several months later, or just work on TV, computer, game consoles occasionally. So, is there a solution to play Beachbody DVDs with no error at all?
To rip Beachbody workout DVD to digital file is the answer. WinX DVD Ripper Platinum is an expert in converting any DVD to MP4, AVI, WMV, MOV, FLV, 3GP etc, for PC/Mac web as well as ripping DVD to Xbox, PS5/4, iPhone, iPad, Android/Windows devices for flexible playback. WinX supports removing any protections on workout DVD, new DVD release by Disney, Paramount, 21st Century Fox etc, 99-title DVD, Japanese adult DVD and more. Thanks to GPU hardware acceleration tech and High Quality Engine, it delivers a perfect balance between fast speed (up to 47x real-time faster) and high quality (98% quality kept)!
After you download and install the DVD ripping software on your computer. Then, follow the steps to digitize Beachbody workout DVD.
Step 1. Insert Beachbody workout DVD into DVD drive. Launch this WinX workout DVD Ripper and hit DVD Disc button to load DVD content.
Step 2. A couple of seconds later, all titles of the DVD will be listed with main title automatically checked. Meanwhile, the Output Profile dialogue appears. Several profile categories are provided, including General Profiles, Device Profile, Web Video Profile, to Music and DVD Backup for copying DVD to VIDEO_TS folder, ISO image or a single MPEG2 file at 1:1 ratio. Select one format like MP4 Video and click OK.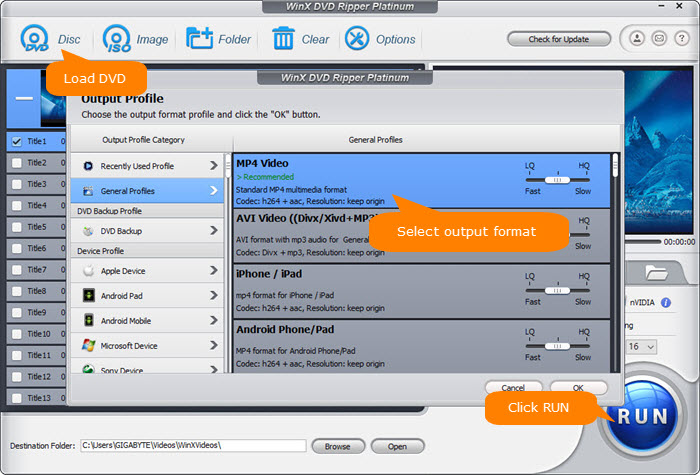 Step 3. Click Browse button to set destination folder and hit RUN button to start ripping. After the process is done, you can get a ripped digital file in destination folder. Now play it and you will never experience 'Beachbody DVD won't play' issue again.
Watch video tutorial on how to play beachboy workout DVD without errors
Disclaimer: Digiarty Software does not advocate ripping copy-protected DVDs for any commercial purpose and suggests referring to the DVD copyright laws in your countries before doing so.