How to Rip DVD Audio to MP3? Find out Best Free DVD to MP3 Converter
I want to convert some DVDs' soundtrack in MP3 for listening as a CD or on a card or a pen drive. Is there any program having this function and is it easy to use? There is loss of sound quality?
You can attribute success of one movie to great actors and impressive plot, but diverse elements play very important roles in film as well, for example wonderful soundtracks. Therefore, many people want to rip DVD soundtracks or special effects to MP3. After they convert DVD to MP3 format, they can listen to DVD music on portable players, iPhone, Android, or add it to video clips.
Well, how to convert our movie DVDs and concert DVDs to MP3? It's quite easy if you have the right DVD to MP3 converter. In this article, we'll how to extract MP3 music from DVDs with high quality.
Part 1. What's the Best Free DVD to MP3 Converter for Windows and Mac
WinX DVD Ripper is one of the best free DVD rippers for Windows and Mac. It can free convert DVD to MP3, AAC, AC3/DTS audio formats, convert DVD to video formats like MP4, WMV, FLV, MOV, and MPEG, as well as devices iPhone, iPod, Apple TV, Samsung, HTC, PSP, etc. Nearly original MP3 audio quality can be reserved thanks to its High-quality Engine. WinX DVD Ripper converts DVD to music very quickly. According to the speed test, it only costs about 5 minutes to convert 2 hours length DVD to MP3.
With a super user-friendly interface, it is very easy to use even for novices. It's testfied as a 100% clean and safe program without any virus, spyware, adware, etc. Let's free download it to have a try!
How to Convert DVD Audio to MP3 for Free with WinX DVD Ripper
Step 1. Insert the DVD you want to rip into disc drive. Next, launch the DVD to MP3 ripper and load DVD by clicking "DVD Disc" button. It also supports DVD folder and ISO image file.
Once loaded, the DVD's information, such as title, subtitle, duration, output etc., will be shown in the file list. And it will choose the correct main movie title for you automatically.
Step 2. When the Output Profile panel pops up, you should scroll down to "to Music" button and choose MP3. If you want to keep 100% audio quality, you can choose to convert DVD to 5.1 Channel AC3/DTS Dolby audio.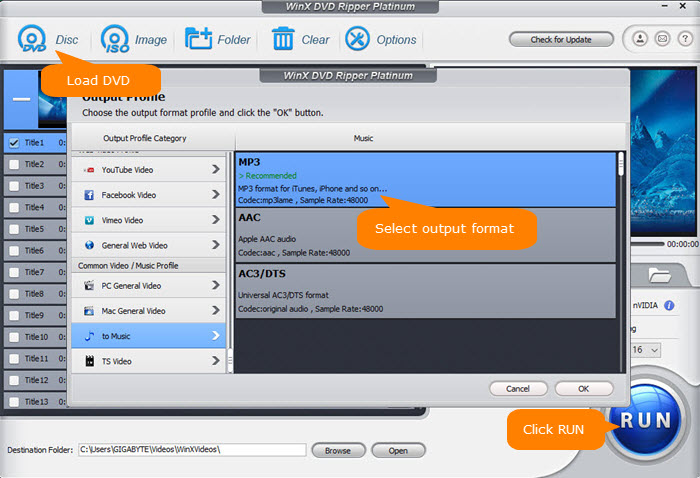 Step 3. Set output folde and click "RUN" button on the main interface to start converting the DVD movie to MP3. Then you can import the MP3 music to your player, mobiles, or editing software.
FAQs:
1. What to do if you just want to convert part of DVD video to MP3?
You can extract a certain part of the DVD to MP3, such as the themed song, background music, and a dialogue, you should click the Edit button next to the selected DVD title, move to Trim tab, and select the part that covers your desired audio or music.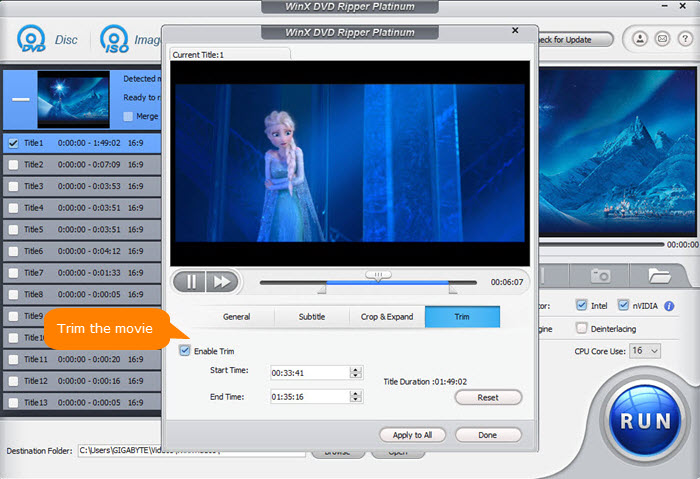 2. How to change audio parameters?
Simply click the gear button next to the selected profile and then you will be directed to a panel where you can change audio codec, audio channel, audio sample rate, and audio bit rate.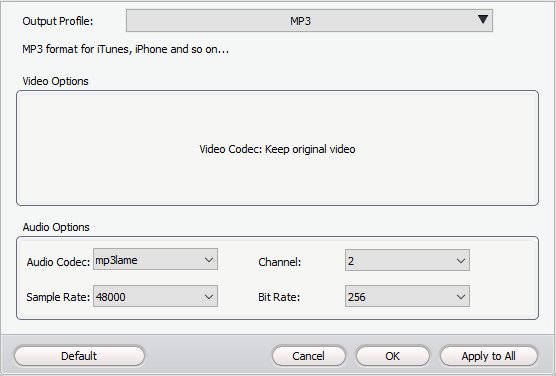 Disclaimer: Digiarty Software does not advocate ripping/copying copy-protected DVDs for any commercial purpose and suggests referring to the DVD copyright laws in your countries before doing so.
Part 2. How to Rip DVD to MP3 with VLC Media Player
If you have VLC installed on your computer, you can use this tool to convert DVDs to MP3. But you need to know that VLC Media Player doesn't focus on DVD ripping, it can't handle some copy-protected DVDs, and can't guarantee the output audio quality. Anyway, it is worth trying since you don't have to install other program. Now, insert your DVD into your computer's disc drive and follow steps below to extract MP3 audio from DVDs with VLC.
Step 1. Open VLC Media Player on your computer, click the Media menu on the top, select Open Disc, select the DVD button. Choose the menu entry and click the Play button at the bottom. Now your DVD will play in the VLC. Click the Playback menu on the top, choose Title. You will see Title options. On the Playback menu, choose Chapter, Chapter options will appear, such as Chapter 1, Chapter 2, Chapter 3, etc. Note the Title and Chapter number of the content from which you want to rip audio. Step 2. Click Media menu, choose Convert/Save and the Open Media window will pop up. Now, navigate to Disc tab, choose title, chapter, audio track and subtitle track, and click Convert/Save button.
Step 3. Now you'll come to Convert window. Here you should click the Profile drop-down box and select Audio-MP3 as the output. Additionally, you need to click the Browse button and choose a destination to store the MP3 audio file converted from your DVD. Click the Save button to close the window.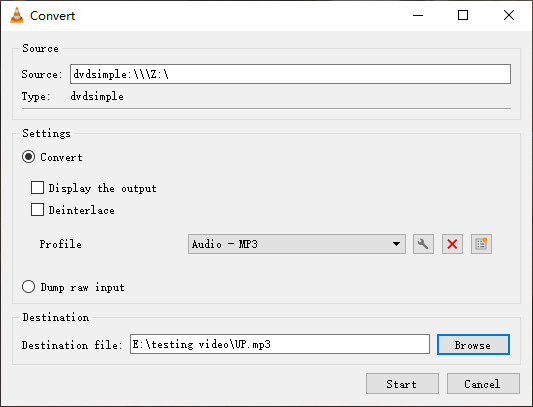 Step 4. Click the Start button and start ripping DVDs to MP3 audio music files with VLC Media Player.
If VLC doesn't rip DVDs to MP3, refer to how to fix VLC not ripping DVDs on Windows and macOS.
Part 3. How to Convert DVD to MP3 Free with HandBrake
The free open source HandBrake can convert DVD, but its output formats are limited to MP4, MKV, and WebM. To extract MP3 file, you can convert DVD to MP4 with HandBrake and then convert MP4 to MP3 with a video to audio converter. Now, we'll describe the steps in more details.
Step 1. After you insert DVD into disc drive, open HandBrake and select your DVD under Source Selection. Now, wait for HandBrake scanning DVD titles.
Step 2. Select title, chapter, and preset. Specify format. And, you can also tweak audio parameters.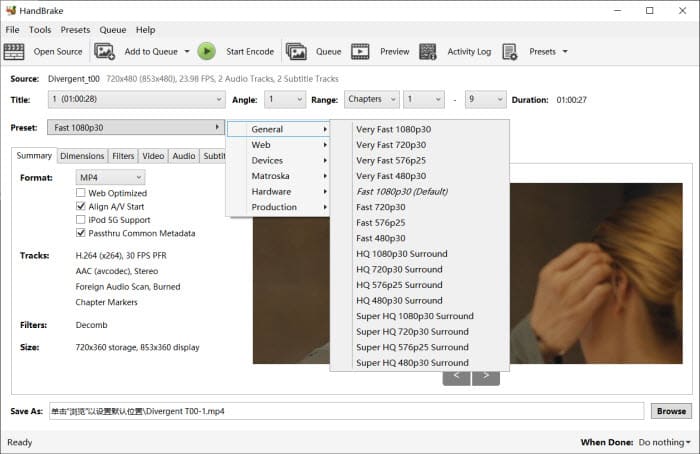 Step 3. Click Browse to specify save path.
Step 4. Hit the Start Encode button to begin converting DVD.
Step 5. When HandBrake exports a video file, now you can import it to WinX Video Converter to convert it to MP3.
Open WinX Video Converter and click + Video button to import the DVD video file that is exported from HandBrake.
On Output Profile, scroll down to "to Music" and choose MP3.
Hit RUN and then it will begin converting your DVD video to MP3.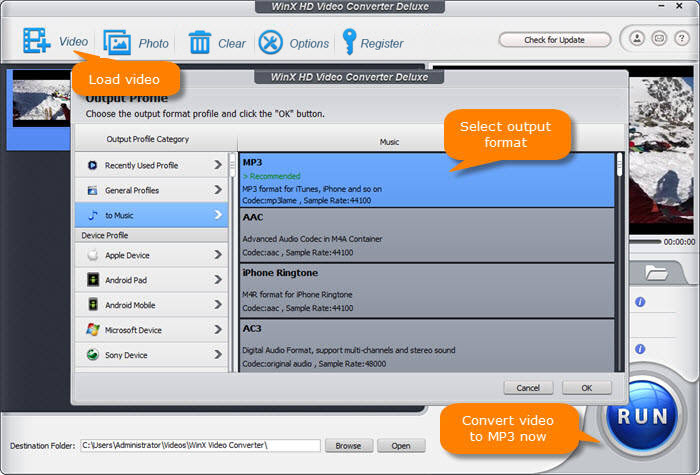 Part 4. How to Convert DVD to MP3 Online for Free?
It's easy to find an online video or audio converter, but there are hardly any online tools that support importing DVD disc and converting it to MP3 or other multimedia format. Some online tools advertise that they can convert DVD, but actually they just support converting the VOB file in your DVD. Here, we'll take ZAMZAR as an example to show you how to convert DVD VOB file to MP3 online for free.
Step 1. Open your browser and visit ZAMZAR online converter.
Step 2. Click Add Files button, select your DVD disc, double click VIDEO_TS, and then select the VOB file that contains your desired audio.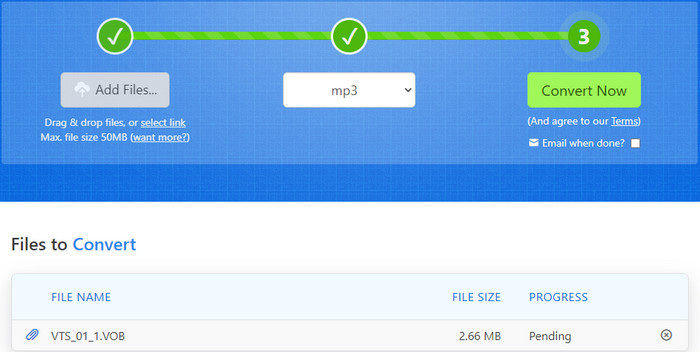 Step 3. Click the Convert To button, scroll down to Audio Formats, and choose mp3.
Step 4. Hit the Convert Now button, then it will start uploading your DVD VOB file and converting it.
Well, that's how you do it. But online tools like ZAMZAR cannot convert your DVD VOB file to MP3 if your DVD is copy protected. Virtually all commercial discs are encrypted. In this case, you have to try a professional DVD to MP3 converter like WinX DVD Ripper which can bypass DVD region and DRM restrictions.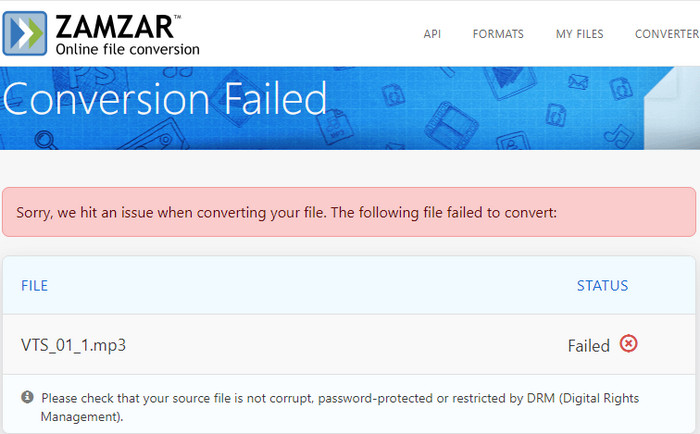 Part 5. How to Convert DVD to MP3 Using Windows Media Player
There are lots of users asking "How do I convert a DVD to MP3 using Windows Media Player?". So, some users believe that Windows Media Player can rip DVDs to MP3 audio. But in fact, Windows Media Player doesn't support ripping DVDs to MP3. Windows Media Player can rip CDs only to MP3 and copy/burn music and videos to a blank CD or DVD. The function is available on Windows 8.7 and Windows 7.
To sum up, WinX DVD Ripper is the best DVD to MP3 converter. It accepts different kinds of video DVDs, even if they come with DVD region code restrictions and copy protections. It doesn't require any 3rd-party DVD decrypter. It works fast and exports high quality MP3 file. Want to have a try? Just click the download button below to get the installation file.
Extended Resources
What is DVD?
Digital Versatile Disc (DVD), a type of optical disk technology similar to the CD-ROM. DVDs are commonly used as a medium for digital representation of movies and other multimedia presentations that combine sound with graphics It consists of movies compressed in MPEG-2 format, allowing you to play them on DVD players and computer DVD-ROM drives.
What is MP3?
MP3 stands for MPEG1 (or MPEG2) Audio Layer III. MP3 is a popular compression format used for audio files on computers and portable devices. It supports compressions of up to 44 kHz.