How to Rip TV Series DVD into Individual Episodes or a Single File
You're prone to rip TV shows from DVD as individual episodes due to these major reasons. Ripping TV shows from DVDs allows you to watch your favorite shows without having to switch discs or rely on a DVD player - convenience. Portability also counts a lot. Ripping TV series from DVDs allows you to easily transfer the content onto your mobile phones, tablets, PS4, NAS, USB drive, with which you can watch TV shows through your Plex media center anywhere. Moreover, you can edit or reformat the ripped files to fit your specific preferences or needs, such as removing commercials or converting the files to a different format.
Well, here comes the next question: how to rip TV shows from DVD? Here you will get the best way (program) to rip episodes from TV shows DVD to MP4, MOV or other formats, for Plex, NAS, Kodi, HTPC, iPhone, iPad, iTunes, Android, etc.
BEST Way to Fast Rip TV Series DVDs to Individual Episodes
WinX DVD Ripper Platinum is able to rip a TV shows DVD into individual episodes or a single one. It's able to rip episodes from DVDs, including TV shows DVDs that are copy protected by region codes, CSS, RCE, Sony ARccOS, Disney X-project, and other DRMs. Easily rip episodes from DVD to MP4, H.264, MOV, AVI, MWV, ISO image, FLV, and any popular format at GPU accelerated 5X Faster Speed!
For Windows and Mac only. If you are a mobile user, please click here.
Part 1. Best DVD Ripping Software to Rip Episodes from DVDs
WinX DVD Ripper Platinum support TV Series DVDs of any region code. All region code 1, 2, 3, 4, 5, 6 DVDs are supported. No matter which country your TV shows DVDs come from, you can use this ripper to rip TV shows DVD to MP4, AVI, WMV, MOV, FLV, M2TS, MPEG, ISO file, VIDEO_TS folder, and 350+ profiles for all mainstream video formats to meet users' different needs.
Commercial movie and TV series DVDs are often created with copy protection schemes. This program can crack almost any DVD encryption technologies, such as CSS, RCE, Sony ArccOS, UOPs, and Disney X-Project. This program supports Intel QSV, AMD and NVIDIA CUDA/NVENC, and multiple advanced technologies to speed up the TV series ripping process.
How to Rip TV Shows from DVD with WinX DVD Ripper Platinum?
It's super easy to rip multiple episodes from a DVD. The tutorial below will show you how to copy TV series from DVD to hard drive, external hard drive, USB drive, cloud storage, iPhone, iPad, Android, etc.
Preparation work:
Download and install WinX DVD Ripper Platinum or its Mac version. Free download for Windows || Free Download for Mac
Insert target TV show DVD into the inbuilt DVD drive or an external DVD drive connected to your computer.
TV shows DVD ripping procedure:
Step 1. Load the TV series DVD into the ripper.
Start up the DVD ripper and click "DVD Disc" button at the top left corner. Then a dialog box will show up. If you already insert the TV show DVD you want to rip, you should see it under "Select the source DVD disc". Now, all you need to do is to click the "OK" button.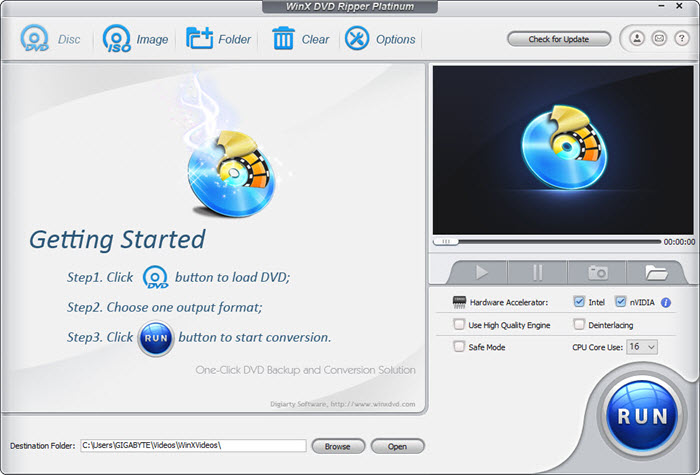 Step 2. Specify output format.
Output Profile will prompt after step 1. What you should do in this step is to choose a profile based on your own needs. WinX DVD Ripper offers users 350+ profiles to address various needs. You can 1:1 clone a TV show DVD to a single ISO image, 1:1 clone a TV series DVD to a VIDEO_TS folder, rip episodic DVD to MP4 (H.264/MPEG4), AVI (DivX/Xvid), WMV, MOV, FLV, 3GP, M2TS, TS, etc., convert TV DVD for Apple iPhone, iPad, Android, Sony, or other devices.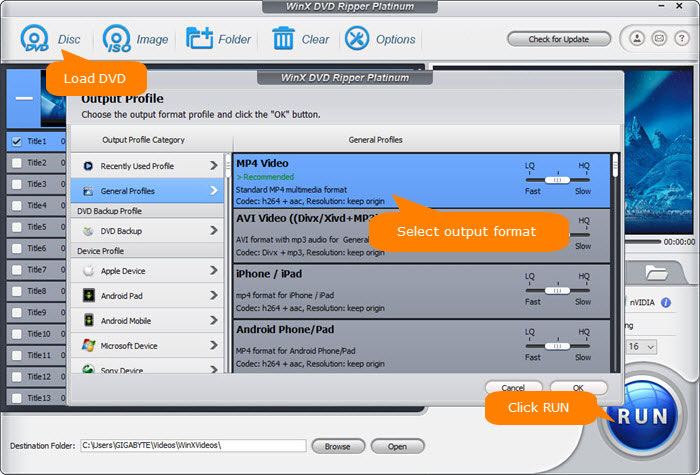 Step 3. Select the episodes you want to rip.
After loading DVD, you should see lots of titles listed in the file window. Usually each title is an episode, but some titles are ads, tidbits, or other irrelevant things. All episodes in your TV series DVD can be detected. Double click on a title, and then you can check if the title is the episode you want through preview. You are allowed to select all titles or some of them for further ripping.
Warm Prompts:
* This DVD ripper will automatically select the title with the longest duration if all the episodes are created into one title. In terms of the TV shows DVD with multiple titles, you're required to manually tick the titles you need.
* Some discs are authored with a "PLAY ALL" title and if you encode this, you rip all the episodes in one file. If you want to make each TV episode a separate file, you can extract the "PLAY ALL" title from DVD first and then split it into episodes.
* Some TV shows/series DVDs, if not all, contains several titles, which are supposed to be trimmed before you go. That's because it may rip title 1, title 2 and title 3 at one stroke even though you select only title 1. So enable Edit feature to cut your video length if you want individual episodes.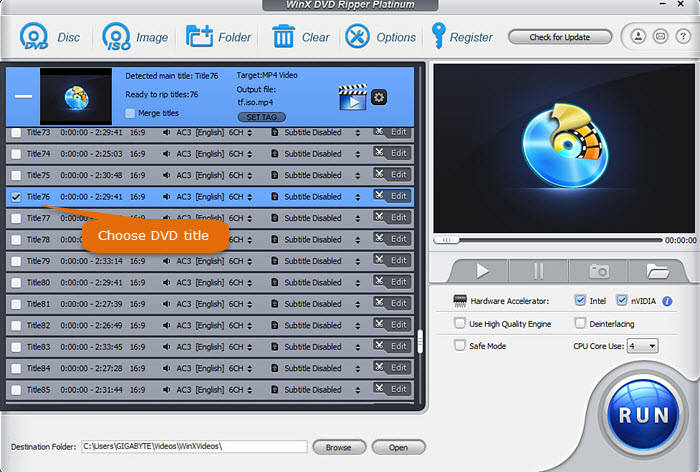 Other Tips:
The pull-down menus on each title allow you to specify desired audio track and subtitle track.
Click "Edit" button and then you will get access to a new panel where you can trim off unwanted beginning or ending part, crop off unsightly area, add external subtitle track, and adjust audio volume.
Ticking "Merge titles", selected titles/episodes will be joined together as a single one.
To adjust video audio parameters, such as bit rate, frame rate and resolution, please click the gear icon.
Enable "Deinterlacing", and then this TV show DVD ripper will change your videos from interlaced to progressive scanning mode.
Using Hardware Accelerator Intel/nVIDIA and multiple CPU cores can speed up TV series DVD ripping greatly.
When "Use High Quality Engine" is enabled, the output quality will be better but the speed will be slower.
"Safe Mode" is very useful to rip strictly encrypted DVDs. It can guarantee smooth ripping and well-organized output.
Using the "Trim" feature to separate TV episodes or cut out unwanted parts.
Step 4. Begin ripping TV show DVDs.
When you finish all settings, simply click "RUN" button at the bottom right corner to start ripping all selected episodes from DVD. Once done, the TV episodes will be saved to the output folder with names like xxx_Title1.mp4, xxx_Title2.mp4, xxx_Title3.mp4... Now, you can save your TV series into any devices or services you love for convenient playback and management.
Disclaimer: Digiarty Software does not advocate ripping copy-protected DVDs for any commercial purpose and suggests referring to the DVD copyright laws in your countries before doing so.
Tips: If you need to rip chapters off a DVD, you should check this article: How to Rip Chapters off a DVD and Save Chapters as Individual Files
Part 2. How to Rip Episodes from DVDs with HandBrake?
Handbrake is able to transcode videos and rip DVDs. It has a Queue feature to rip multiple episodes from a DVD by adding all the TV series title encodes to the Queue. With this feature, you can rip multiple episodes in a DVD to individual MP4, M4V, MKV, or WebM files using Handbrake. As most TV shows DVDs are copy-protected, it's possible to use Handbrake to rip TV series DVDs with the help of libdvdcss.
How to rip a DVD with multiple episodes with Handbrake?
Step 1. Download and install HandBrake on your computer. To rip a commercial TV shows DVD, you need to download libdvdcss for Handbrake to remove the copy protections on the disc. After you install the libdvdcss on your computer, it will work in the background to help HandBrake access copy-protected TV shows DVDs.
Step 2. Insert the TV series DVD into the disc drive and open Handbrake. Then select your DVD drive from the Source list. Handbrake will start to scan and load all the episodes of the DVD. Once finished, you can open the Title dropdown list to check out all the titles in the DVD. Step 3. Now choose the first episode or title of the DVD. Then set the output settings as you often do with a movie DVD. In the Preset, choose a 480P or 576P output quality setting. Choose the output formats and encoder under the Summary and Video tabs.
Next, go to Save As and choose an output folder for the first episode. Note that if you choose to rip TV shows from DVDs to MP4, rename the output video with .mp4 extension, or Handbrake will automatically save the ripped episodes in M4V. Step 4. Now click Add to Queue on the top menu bar. Then you can start to rip multiple episodes of the DVD. Step 5. Return to the Title pop-up menu and select the next episode. Again, customize the settings and provide a unique name for this next episode. Please note that if you don't rename each episode, HandBrake will simply replace the episode it just ripped. Then click Add to Queue and repeat the process until you add all the episodes of the DVD to the Queue. Step 6. After you add all the episodes of the TV series DVD, you can click on the Queue button to check the episodes you just added to the list. When everything is ready, click Start Queue and Handbrake will rip TV shows DVDs into individual episode files on your computer. Part 3. How to Rip Episodes from DVDs with MakeMKV?
MakeMKV is one of the best free software to rip a TV shows DVD. It will automatically package each episode on the disc as a separate MKV file on your hard drive. The drawback to this workflow is the MKV files are large: the same size as each episode on the DVD. That is because MakeMKV does not compress or shrink the video: it just changes it from DVD format to MKV files while preserving the quality. In addition, it's able to rip protected TV series DVDs without using any third-party tool.
Step 1. Download and install MakeMKV on your computer and insert target TV shows DVD into disc drive. MakeMKV will automatically load the DVD disc. If not, click File adn select Open disc to load the the target disc.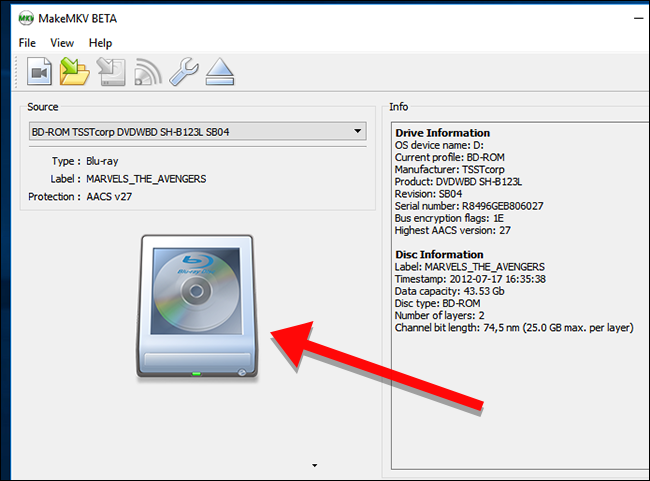 Step 2. Next, click on the big DVD drive button on the main interface to let MakeMKV analyze the DVD info. Then it will list all the espisodes and titles of the DVD. Select all the titles/episodes that you'd like to rip.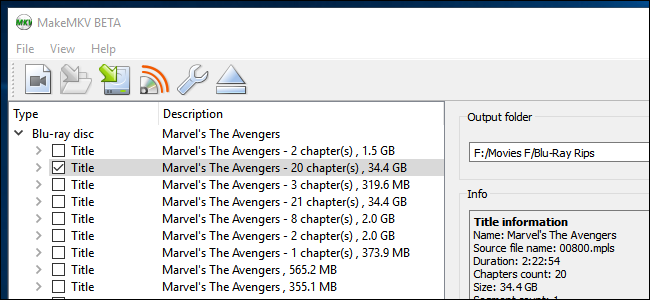 Step 3. Under Output folder, select a folder on your computer to store the output MKV files. Then click the Make MKV button on the right upper corner of the interface. The speed is fast as it won't compress or transcode. Then all the episodes of the TV series DVD will be saved as MKV files on your hard drive.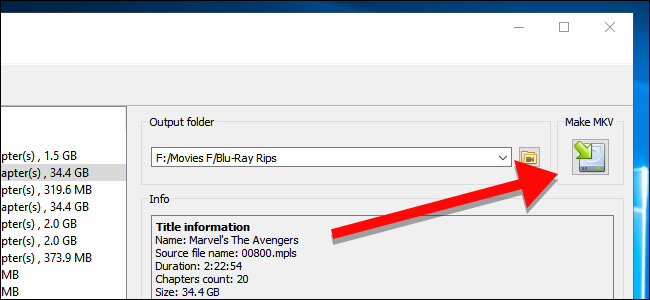 Part 4. How to Rip Episodes from DVDs with VLC?
VLC is not the best tool to convert a DVD since it doesn't support copy protections and the results are often terrible. But it does help if you need to rip TV shows DVDs. However, VLC can extract one episode from DVD at a time. That means, you have to repeat the process times until it rips all the episodes of a TV shows DVD. For example, if you want to rip 5 episodes from a TV series DVD, you have to repeat the following steps 5 times.
Step 1. Download and install VLC on your computer and insert target TV shows DVD into disc drive.
Step 2. Launch VLC, click Media, and scroll down to Convert/Save.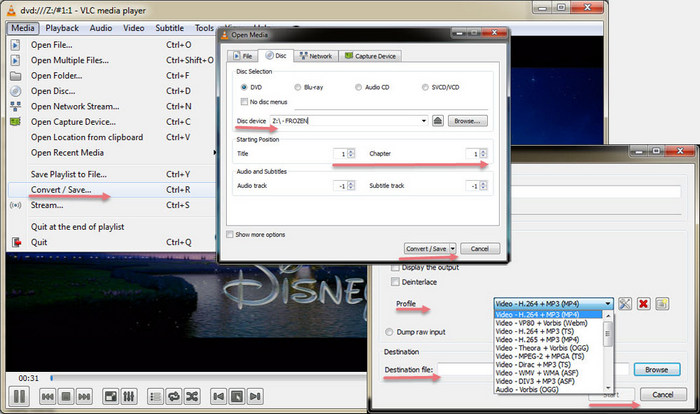 Step 3. Navigate to the Disc tab, select the target TV show DVD, and specify the title/episode you want to rip, as well as the audio track and subtitle track. And click Convert/Save.
Step 4. On the Convert panel, select the output profile and destination folder for your ripped episode, and click Start. Then, the ripping process will start.
Once done, the selected title/episode will be saved to the destination folder you just set. And now, you can repeat these steps to rip other episodes you want to get.
Still have questions about ripping TV episodes from DVDs? Please feel free to Email Us >>