How to Free Burn a Movie to DVD on Windows (11/10) and MacOS
[How-to Guide] Burn a Movie to DVD for Free from Any Format (MKV, MP4, AVI, etc.) on Windows (11/10) and MacOS Ventura
Everybody has a digital movie collection. Some of the movies are downloaded online, some are purchased from iTunes, Amazon, Netflix, etc., and some are homemade movies of family gatherings and memories. You may want to create a DVD from the movies for playback on a DVD player, or share them with families. In this post, we'll explain how to free burn a movie to DVD on Windows (11/10) and MacOS Ventura using the best free DVD movie burners.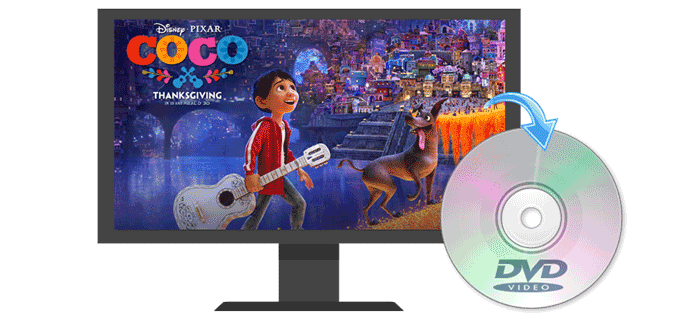 What You Need?
A computer with a disc drive: For newer laptops that come without an internal optical drive, you need to prepare an external disc drive, which is cheap nowadays.
A blank DVD: If your DVD burner supports, you can use DVD+R, DVD+RW, DVD-R, DVD-RW, and DVD-ROM. But the DVD capacity is what you need to note. For example, a single layer 4.7 GB DVD-5 can store 4.376 GB data and a dual-layer 8.5 GB DVD-9 is able to hold 7.95 GB. Check the size of the movie that you're going to burn to DVD and select the proper DVD type.
DVD burner: On Windows, Windows DVD Maker is the most famous DVD burning software for Windows 7 users to burn videos and pictures to DVD with ease. However, the limited support for input video file types (incompatible with MKV, MP4, FLV, and other formats) and removal from Windows 8/8.1/10 force users to rely on third-party tools. Here we use the free DVD movie burner WinX DVD Author; on MacOS, the free and simple app named Burn works great to create video and audio discs.
Movie to burn: A movie video file or several movie clips for burning as a DVD disc. You may need to check the formats of the movie based on the free DVD movie burning software. With the two burners described in this guide, you can burn movies in any format to DVD.
Windows How to Free Burn a Movie to DVD on Windows (11/10)?
WinX DVD Author - A 100% FREE and safe DVD movie burner for Windows 11/10 and lower versions. It's able to burn movies in MKV, AVI, MP4, WMV, MOV, FLV (YouTube), MPEG, etc, to NTSC/PAL DVDs, DVD Folder and VOB files, retaining high quality in a few clicks. It provides customized settings to add chapter menu, burn DVD movie with subtitles (.srt), and import background music. This free DVD movie burning software is fully compatible with DVD+/-R, DVD+/-RW, DVD DL+R, and DVD DL+/-RW.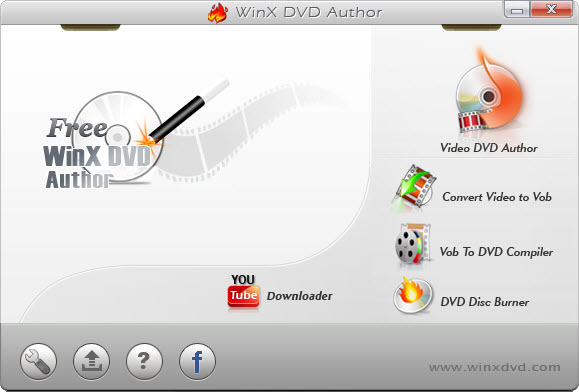 Step 1. Get the Free Movie Burner on Windows
Free download and install WinX DVD Author on your Windows computer. Launch it and insert a blank DVD disc into the optical drive. Click the Video DVD Author button on the main interface to access the next window.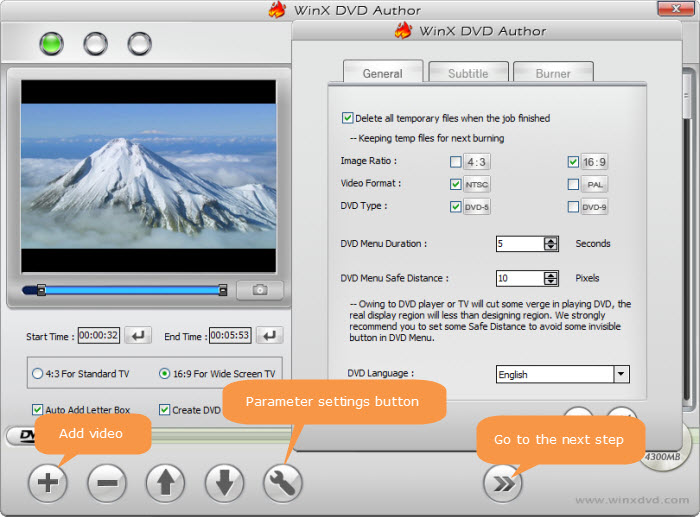 Step 2. Import the Movie Source
Click the + button on the bottom of the interface to add movie source(s) and then click the Setting button to get a smaller dialogue for customizing DVD aspect ratio, format (NTSC/PAL), Type (DVD-5/9), duration, language, and subtitles depending on your needs.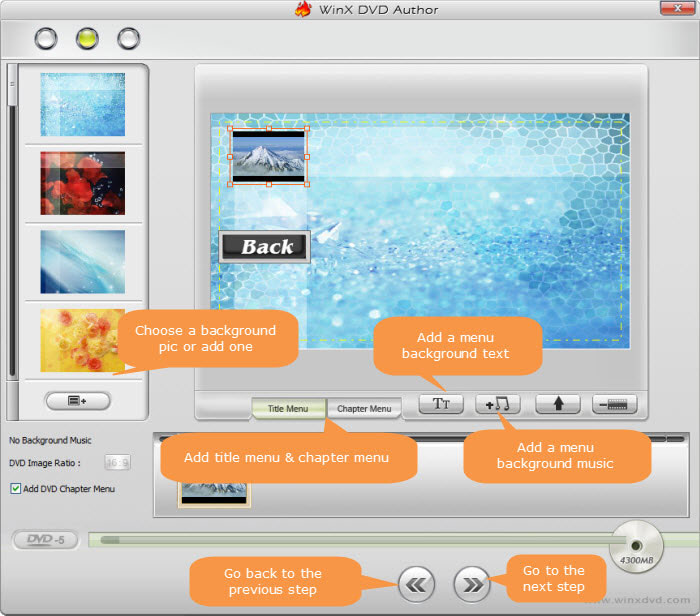 Step 3. Set the DVD Title/Chapter Menu
Click the Next Step button, and you will be led to personalize the title/chapter menus for the DVD. You can change the menu background image, add music/text, and remove title/chapter from menu.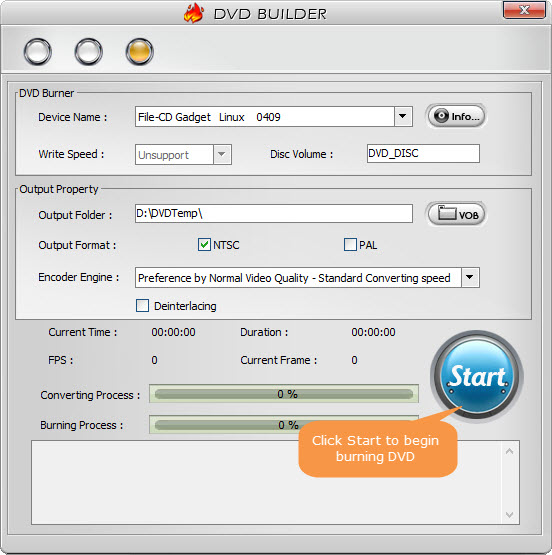 Step 4. Start Burning a Movie to DVD
Click the Next Step button, and a dialogue box appears. There are three sections on the dialogue. The first is DVD Burner, which displays the DVD disc name, write speed, and disc volume. The second section is Output Property, which enables you to set the output folder, format, and encoder engine (for quality and speed). If all those are well-organized, click the Start button to burn the movie to DVD.
In addition, WinX DVD Author can help you convert movie file(s) to VOB or DVD folder for later burning as a DVD disc, as well as download movie trailer/clips/soundtracks from YouTube and then burn them to DVD for free.
MacOS How to Free Burn a Movie to DVD on Mac?
Burn for Mac - A 100% free DVD movie burner for MacOS that is able to burn audio, video and data disks and disk images and copies. The software can create a wide range of video discs, from VideoCDs to DVD-Video discs. It allows users to create an interactive menu, select a theme, change advanced settings like file dates, and more to personalize a disc. Its latest version has been updated with support for MacOS Ventura.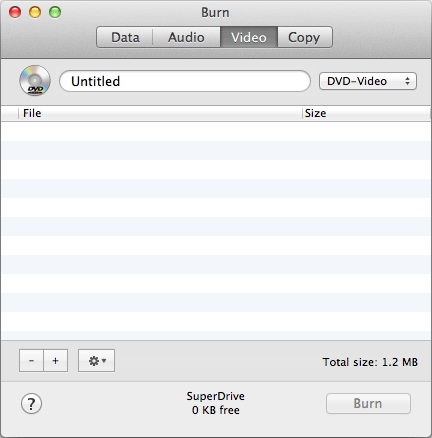 Step 1. Get the free DVD movie burner for your Mac via the link button above and launch the Burn utility. As we're going to burn a movie to DVD, click the Video tab. In the Video window, give your DVD a name and select DVD-Video from the right drop-down menu.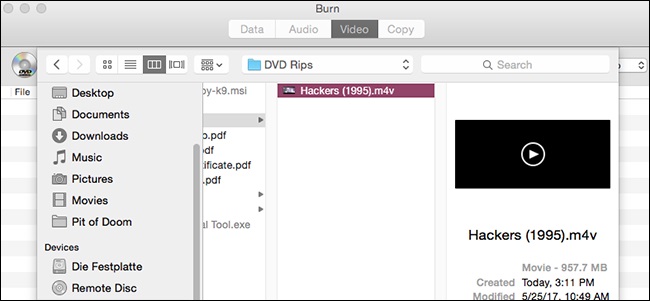 Step 2. Click the + button on the bottom of the interface to add your movie source(s). You can also do it by drag and drop. Then click Burn.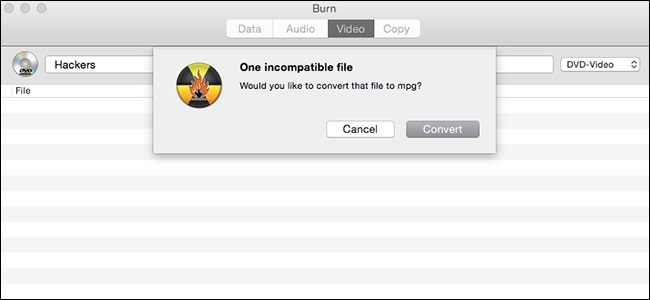 Step 3. If the input movie video is not in MPG format, the movie burner will prompt an incompatible file and automatically convert it into MPG for later burning. Click Convert and wait for it to finish.
Note: Burn is built on various free and open-source utilities to do the conversion, like ffmpeg, lame, vcdimager, dvdauthor, and spumux. It should be able to convert movies from most formats into mpg. However, if it fails to convert a video, you can get your movie source ready in mpg format using a free video converter.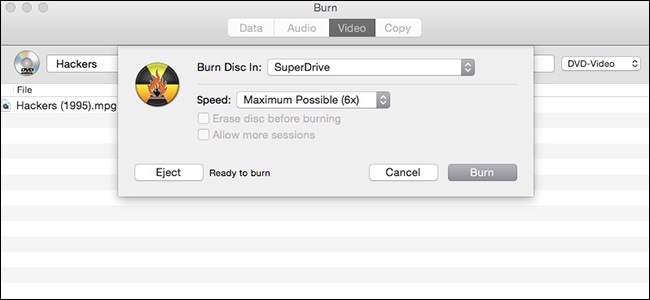 Step 4. Once finished, you will see the mpg file with its file size in the list. Select a blank disc based on how big the mpg file is and insert it into your disc drive. Click Burn and a window will pop up asking you to set the DVD writing speed. Faster speeds will speed up the burning process but can result in data errors in very rare cases. If you're unsure what to do, leave the settings alone and click Burn. Then it will burn your movie to a DVD for you.
FAQ
1. How to Select the Best Free DVD Movie Burner?
Almost all beginners feel difficult to make a decision since there are too many free DVD burners to pick out the most suitable one. Indeed, there are some features the best free DVD burning program should be:
1. Ease at use.
A piece of disc burning software with straightforward interface is quite greater.
2. Be powerful to free burn a movie to DVD.
The most common formats of movie files are MKV, MP4 and AVI so that the DVD burning software should support the above formats. And, the more movie file types the software accepts, the more powerful it is. As for output, a great free DVD movie burner is required to burn a movie to DVD disc, or additional DVD Folder, VOB file. Certainly, all of us prefer a fast free DVD movie burning software.
3. Be clean and safe.
Some free DVD movie burners are bundled with adware (for example ImgBurn) or even spyware, malware or virus. A totally safe and stand-alone tool is quite necessary to keep your computer in secure.
2. Can I Burn Movies to a DVD Using Windows Media Player?
Yes, Windows Media Player allows you to burn movies to a DVD. However, you only burn videos to a data DVD. A data DVD is used mainly for backup. It can't be opened by normal DVD players and can only opened on a computer. Below is how to burn movies to DVDs with Windows Media Player:
Step 1: Open Windows Media Player and click Library button in the upper-right corner of the Player.
Step 2: In the Player Library, click the Burn tab, and then choose Data CD or DVD. Insert a blank disc into the optical drive.
Step 3: Drag the movies you'd like to burn from the Player Library to the list pane (on the right side of the Player Library) to create a burn list.
Step 4: Change the order of the items as you need. Then click Start.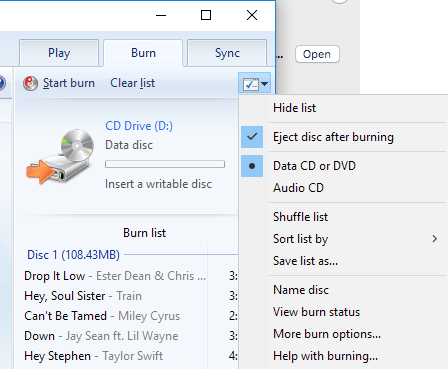 3. What format does a movie video need to be to burn to DVD?
Generally speaking, MPEG-2 is required to burn to a DVD. That means you need to prepare you movies into MPEG-2 before burning. However, some apps contain an internal conversion feature so that you can import videos in any format into it. The two free movie to DVD burners mentioned in this aticle support movies in different formats.