Best 3 Free Media Players for Windows 7 (32 & 64 Bit)
You may think it's necessary to introduce media players for Windows 10, but not for Windows 7, because the older system has built-in Windows Media Player. In fact, Windows 7 users have been fed up with the default Windows Media Player. It always stops working, crashes as soon as you open it, stucks on opening media, can't play the files you throw into it, and causes other issues. Some problems can be fixed by uninstalling and reinstalling it but some others can't. Therefore, many people would rather download another video player for Windows 7 than spend time on the endless troubleshooting. The problem is, which is the best free media player for Windows 7?
Recommended: 5 Best Free Video Player for Windows 11 >>
Best 3 Free Media Players for Windows 7
No.1 5KPlayer - A modern, user-friendly, and all-in-one free media player for Windows 7/8/10
Ratings: ★★★★☆ (based on 258 votes)
5KPlayer has good reasons to be one of best Windows 7 video players. Compared with other media players, it has shorter history. But it has a modern and elegant design. It's 100% free and secure with no virus, Trojan and other unfriendly malware and plug-ins.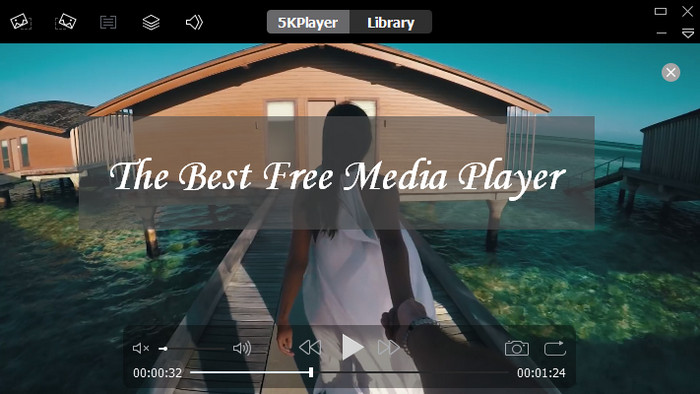 It can play home-made and commercial DVDs, videos, audios, online radios, and virtually all video audio file formats, including MP4, AVI, WMV, HEVC, MKV, M2TS, MP3, FLAC, APE, etc. No extra codec packs required. As an HD media player for Windows 7 (Windows 10/8/8.1), it will aslo play a 4K, 8K movie, and 3D video files. Its unique core will recognize and play HEVC x265 files and other advanced formats smoothly. Not only can it allow you to play local media files, but also download videos music from 1000+ sites for further playback.
For iOS users, this player will stream videos, music from iPhone iPad to Windows 7, and from PC to DLNA-compatible devices.
5KPlayers' ranking in Softonic - a famous software download site: As of writing, this multimedia player ranks No.3 in the top downloads list of Windows apps in United States, and No.2 in multimedia category, while VLC media player is in thirteen place and fourth respectively.
No.2 VLC Media Player - A time-honored open-source HD video player for Windows 7 32&64bit
When it comes to download best media player for Windows 7, VLC player will be one of our picks. VLC is a mature media player for Windows 7 and other systems. It has gone through 16 years of development and update. Certainly, as an open-source Windows 7 video player, its update frequency can't be compared to 5KPlayer and the like.
VLC Media Player can open nearly all standard media types, including audio, videos, CDs, and DVDs. You don't need to install additional codecs to play any media. VLC has lots of settings and options. Eg., you can customize interface with its skin editor. Also, VLC is available to stream media over computer networks and to transcode multimedia files. But VLC is not a good HD media player for Windows 7 as you may see VLC lagging or skipping playing some HD or 4K videos especially when they are encoded with newer codec like HEVC, AVI, Prores, etc.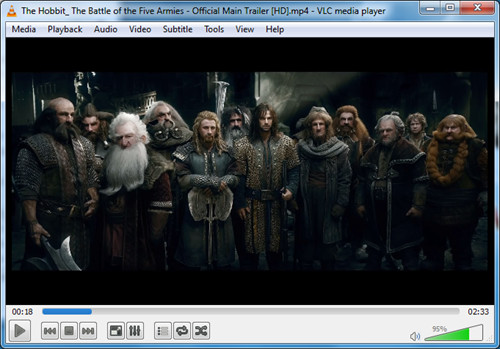 No.3 PotPlayer - A Windows 7 media player with high number of settings and customizations
PotPlayer is a free media player compatible with Windows only. Windows 7 is perfectly supported. It's from the same developer of KMPlayer. Browse its interfaces and we'll find that there're dozens of settings to customize to our liking. But not all people love these options. Opponents think that the settings "unfortunately make wading through the checkbox-laden settings menu kind of a pain" and are "confusing".
But the consensus is that PotPlayer is a good option if you need to download best free video player for Windows 7, because it supports various video audio formats, Blu-ray videos, DVDs, 3D videos and 360-degree immersive videos. Besides serving as media player software, it is also a screen recorder, TV receiver and a video editor. Note that PotPlayer locates at notification area instead of taskbar.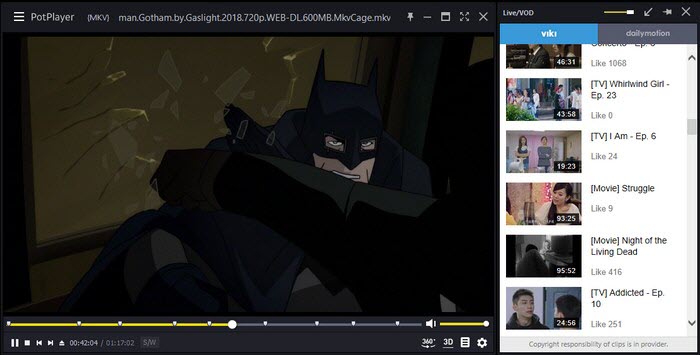 Download the Best Free Media Player for Windows 7 | 32 & 64 Bit
5KPlayer is perfectly compatible with any Windows OS (and Mac OS). Compared to Windows Media Player, this freeware is able to:
Play HD, 4K, 5K and 8K videos on Windows (7) PC;
Play any music files (MP3 AAC APE FLAC) on Windows 7;
Play DVDs, 3D videos and radio uniquely on Windows 7;
Stream audio video across Windows, iOS and Mac devices;
Download online videos from 300+ sites;
Establish a complete and stylish media library;
Pause, backward, forward videos, or drag the process;
Make personal settings, choose subtitles, etc.
Frequently Asked Questions
1. What is the best free media player for Windows 7?
You should choose the best free media player for Windows 7 based on your needs. Out the market, there are hundreds of choices you can pick from, including the default Windows Media Player, VLC, 5KPlayer, PotPlayer, KMPlayer, GOM Player, Media Player Classic, and so on. If you need a Windows 7 video player in 32 Bit or 64 Bit to play multiple MP4, MKV, MOV, WMV, AVI, etc. files up to 4K, 5KPlayer is the best one.
2. Does Windows 7 have a media player?
Yes. Windows Media Player is the built-in media player for Windows 7. Once you set up Windows Media Player on Windows 7, you can use it to play CDs, music, videos, as well as organize the files stored on your computer, your network or your homegroup.
3. How do I download Windows Media Player on Windows 7?
To find and install Windows Media Player on Windows 7, simply select the Start button, then select Settings > Apps > Apps & features > Manage optional features > Add a feature > Windows Media Player, and select Install.
4. Is VLC media player safe for Windows 7?
Yes. VLC is an open-source media player that is safe for Windows 7, Windows 8, Windows 10, macOS, Linux, Chrome OS, iOS, Android, etc.