Is DVD Upscaling Workable? How to Make DVD Look Better on HDTV?
With the advent of HDTV, jargons like DVD upscaling spring up, boasting to improve the quality of old DVD movie to fit the new screen by upconverting old DVD content to HD or even 4K Ultra HD. Skeptics completely negate the result, rebuking the algorithm is meaningless jargon. What is DVD upscaling? Does it really work and make DVD look better on HDTV? Given that there are still questions that remain unanswered clearly, here we cover everything about it.
What Is DVD Upscaling?
Before you dig into DVD upscaling, here are some types of resolution you need to know.
• SD: 720x480
• SD: 720x576
• HD: 1280x720p
• Full HD: 1920x1080
• Ultra HD/4K: 3840x2160
The former two are the common DVD resolutions, wherein 720x480 is standard NTSC resolution and 720x576 is standard PAL resolution. The last three are widely used, especially the 4k is thought to deliver the best possible quality. But it depends.
To be precise, only when the video is displayed on a screen that shares its native resolution can the video looks best. Likewise, you can enjoy the best quality when you watch your DVDs on your old standard display with a resolution of 480p or 576p. Or else, the picture of standard DVD movie won't fill the screen but show annoying black borders on HDTV, let alone 4K TV, if without DVD upscaling. Here is the picture showing you how tiny the DVD is on a 1080p HDTV.
This is where DVD upscaling comes in. Upscaling expands DVD resolution from original 480p/576p to 720p, 1080p to fill the entire screen of HDTV. See how to upconvert DVD to 1080p for widescreens.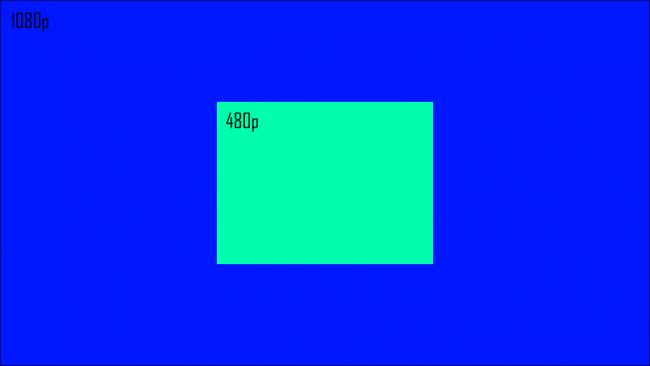 Does Upscaled DVD Deliver the Same Quality as Blu-ray
Here comes the question: Is there any quality difference between upscaled DVD and Blu-ray? Definitely, quality of DVD upscaling won't match that of a native Blu-ray disc or HD DVD. This is because the scaling algorithm, whether it is applied by HDTV or upscaling DVD player, doesn't add more detail than is already present. Compared with Blu-ray, upscaled DVD looks flatter and softer in blackground, with reds and blues.
Format Comparison: DVD vs Blu-ray vs Digital File: Which Is Better for Movie Watching
Which is Best Option to Upscale DVD: HDTV or Upscaling DVD Player?
There are two major options - upscaling DVD player and HDTV. Almost all HDTVs feature video scaling to upconvert the video to their native resolution. But most often, the upscaling job is done poorly. Popular upscaling DVD players include but not limited to Samsung DVD-C500, Sylvania SDVD1096, Panasonic DVD S700, Sony BDPS5500, LG DP132H All Multi Region Code, and more. To watch DVD in 1080p, you need a DVD player with 1080p upscaling and a HDTV supporting HDMI.
Hold on, there is one important criterion: quality. What is the decisive factor?
• On the one hand, quality relies on the device you use. Even if your DVD player is capable of upscaling DVD to 1080p, you will be confined to the resolution your TV supports if your television is old. What's worse, upscaled DVD will be blurrier than the original movie on older device. This is also true to watching 1080p video on old TV or enjoying real 4K video on iPhone. You are suggested to set at a sensible distance from the TV for a clearer experience of the upscaled movie.
• On the other hand, upscaling itself is far from perfect. There are visual artifacts. Stretched appearance, blurry image and even distortion are noticed when you are closer to TV if poor upscaling is performed.
How to Upscale DVD to 1080p without Quality Loss
Actually, watching movies shouldn't be a nightmare. If you are unwilling to be confined to display itself or perplexed by the poor upscaling algorithm, why not try third-party DVD upscaling software like WinX DVD Ripper Platinum, a good way to make DVD look better on HDTV. With over years of experience, the software makes it easy to upconvert DVD to HD 1080p video in whatever format, be it MP4, MOV, AVI, WMV, or HEVC, with no perceivable quality loss. This is attributed to its built-in High Quality Engine and Deinterlacing, which identifies the high variance region and synthesizes frames accurately, thus guaranteeing the exact 1:1 digital copy.
Step 1: Free download the DVD upscaling software, install and run it on Windows (it is compatible with the latest Windows 10). You can also download Mac version here if you are working with macOS. Insert the DVD into your disc drive. Click DVD Disc button to load the SD DVD movie. WinX DVD Ripper can reads all types of DVDs, be it new movie release, workout DVD, music DVD, or damaged disc.
Step 2: Choose the output format by clicking Output profile. Choose the video format as per your need. If you'd like enjoy the movie on HDTV, choose MP4 H.264, a widely accepted format. You can also choose to convert DVD to iPhone, iPad, Android, Chromecast, Surface or so. The preset parameter settings are configured in advanced. Within one click, you can even the movie on any screen without tweaking the parameter settings.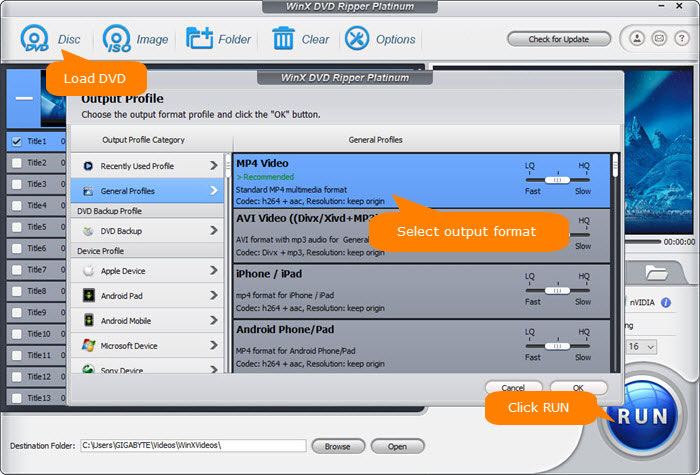 Step 3: Click the gear-shaped icon on the main interface to activate the parameter setting window, wherein you can change the resolution to 1920x1080. Optimally, for the best possible quality, you can change the bitrate to 4-6mbps. WinX DVD ripper strikes a perfect balance among quality, size and speed, due to its unique level-3 hardware acceleration.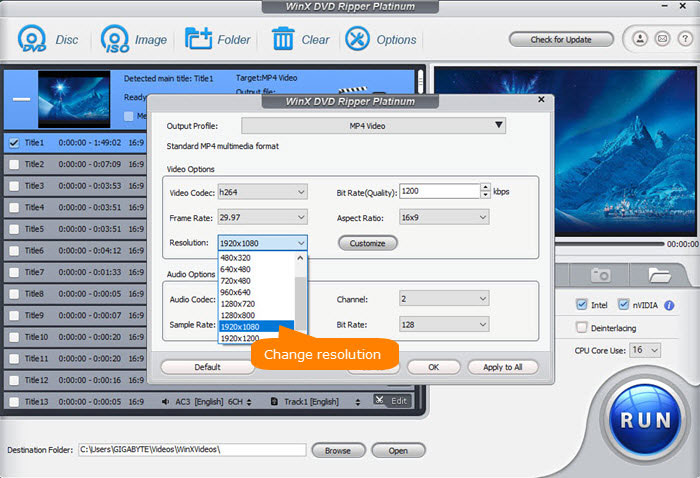 Step 4: Click Browse to set the destination folder and tap RUN to begin upscaling DVD. Then you can watch the upscaled DVD movie on your HDTV with a USB drive or enjoy it on other devices without taking along standalone DVD player.