How to Play 4K Videos on iPhone iPad?
Can 4K UHD Videos Be Played on iPhone 12 or iPad, iPad Air 3, iPad Pro, iPad Mini 5?
- I have a 4k camera and have only ever been able to play back through my 4K TV. Is there any way to play 4K UHD videos on iPhone or iPad? I had tried many different video player apps on my iPad Air but none of them worked perfectly.
Since iPhone 6/6S, users are able to shoot videos in 4K resolution. Since then, Apple users are wondering if they can watch videos at higher resolutions on iPhone or iPad. Now the latest iPhone 12 and iPad Pro feature Apple A11 Bionic and M1 chip, so users should be able to play 4K videos on iPhone iPad without error. Disappointedly, there are users who can't watch 4K on iPhone iPad successfully. Why?
Part 1 Why iPhone iPad won't Play 4K UHD Video?
1. Low Display Resolution
Before you play 4K videos on iPhone or iPad, you should know that not all the displays of iPhone iPad supports 4K resolution:
iPhone 12: 2,532x1,170 pixels at 460ppi for iPhone 12/Pro, 2,340x1,080 pixels at 476ppifor iPhone 12 mini, and 2,778x1,284 pixels at 458ppi for iPhone 12 Pro Max
iPhone 11 Pro Max: 2688 x 1242 pixels at 458 ppi, and 1792-by-828-pixel resolution at 326 ppi for iPhone 11
iPhone XR: 1792-by-828-pixel resolution at 326 ppi
iPhone X: 2436-by-1125-pixel resolution at 458 ppi
iPhone 8 Plus: 1920-by-1080-pixel resolution at 401 ppi
iPhone 7: 1334-by-750-pixel resolution at 326 ppi
iPad 7 screen resolution: 2160-by-1620-pixel resolution at 264 ppi
iPad Air 3 screen resolution: 2224-by-1668 resolution at 264 ppi
4K resolution: 3840×2160 (16:9) or 4096x2160 (17:9)
2. Unsupported Video Format
Sometimes, the 4K videos come in an format that is not supported by iPhone. Therefore, it will result in iPhone iPad not playing 4K videos. To be specific:
The video formats supported by iPhone iPad include: HEVC, H.264, MPEG‑4 Part 2, and Motion JPEG
4K video formats include: MP4, HEVC, MKV, MTS/M2TS, AVCHD, XAVC, MXF, AV1, VVC, etc.
3. 4K Large Size
4K video takes way much space. True 4K film needs more data storage, at least 100 gigabytes. If you're using an iPhone or iPad with a less-powerful chip, or low storage, the 4K video playback on it will be painful. In fact, on the displays of iOS-devices, you can hardly tell 4K apart from 1080p screen due to the pixel density. So 4K videos can be played on iPhone or iPad after compressed and converted to iPhone supported video formats, in 1080p, at 4:3 or 16:9. .
Part 2 How to Play 4K Video on iPhone iPad?
To play uncompatible 4K videos on iPhone iPad, here is the solution: convert / compress unsupported 4K videos for Apple devices.
The software you need: WinX HD Video Converter Deluxe
WinX HD Video Converter Deluxe - a big-league HD/UHD video converter. It's able to convert HD/4K/8K videos from AV1, MKV, M2TS, MTS, TS, AVCHD, MOV, MP4, any other unsupported formats to iPhone iPad formats like H.264, HEVC, MPEG4, etc. It will also convert 4K videos to iPhone (12/11/X/XR/8/7...), iPad (iPad Pro/Air/mini), Android, TV, Mac, PC, USB, directly. accepted formats at ultra-fast speed by using hardware accelerated video encoding/decoding technology. Easily compress 4K/8K videos to lower 1080P, HD for playing on iPhone iPad without obvious quality downgrade. GPU hardware acceleration (Intel/Nvidia/AMD) is supported to deliver fast 4K video converesion speed.
Step-by-step Guide to Play 4K video on iPad iPhone
Step 1: Prepare a 4K ultra HD video. If your 4K video is shot by a 4K camera, import it via a SD card reader.
Step 2. Download the 4K Video Converter (or 4K UHD Video Converter for Mac), install and open it.
Step 3. Click "+Video" on the top-left to add the source 4K video you want to watch on iPhone iPad. You can add multiple videos as you need. Once the video is loaded, a window will pop up asking you to select an output format.
Step 4. Under Output Profile, choose "Apple Device", "to iPad Video" and select your iPhone iPad device as the target profile. You can also choose an iPhone iPad supported format like MP4 or MOV.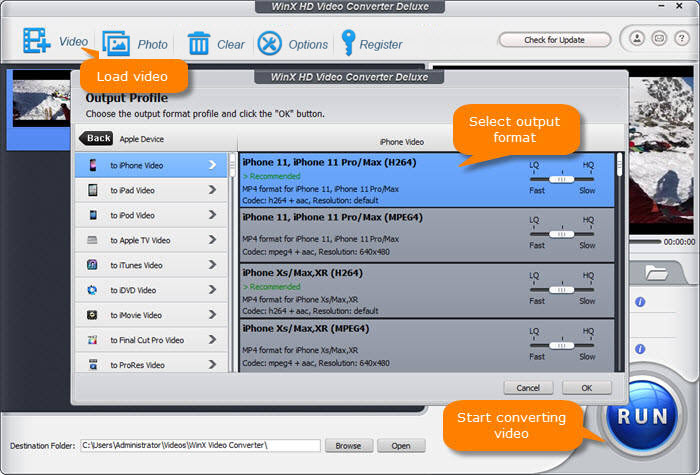 Step 5: If your iPhone chip is not strong enough to deal with 4K videos, or your iPhone doesn't have enough space to play 4K videos smoothly, you can further compress the 4K UHD files for iPhone. Back to the main interface, click on the Settings icon to compress 4K videos to 1080P for iPhone. Select Resolution and choose 1080x1920 (recommended).
Step 6: Checkt the Hardware Encoder box on the main interface to enable hardware acceleration for 4K converting. Then click "RUN" and start converting the 4K video to iPad Air video. Once finished, transfer the converted 4K UHD videos to iPhone or iPad and you should be able to watch it without error.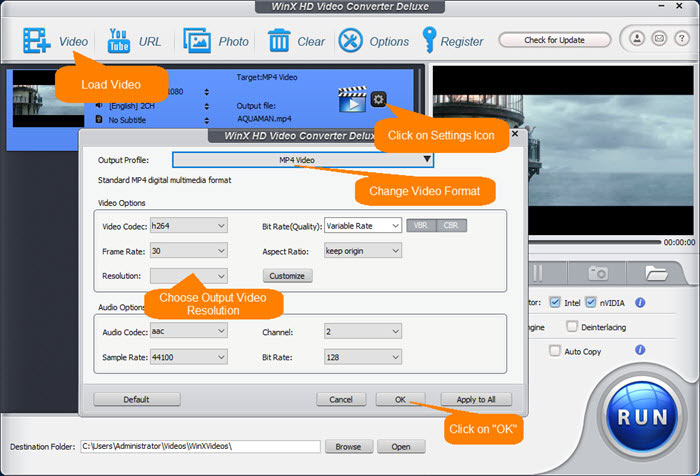 WinX HD Video Converter Deluxe will also help download 4K/8K videos from online sites with faste speed, edit 4K videos, make photo slideshows and etc. Embracing 370+ video audio codecs and 420+ preset profiles, it can deal with AVI, WMV, MP4, VOB, MPEG, MOV, 3GP, Google TV, WebM, ASF, TS, MOD, TOD, MKV and so on, while supporting the latest portable devices, including iPhone 12/11/Pro/Max, iPad mini, iPad Pro, Air, Apple TV, Samsung Galaxy Note, and more.
Still have problem about playing 4K video on iPhone/iPad/Android? Please feel free to Email Us >>