Windows 10X: Solve Windows 10X Errors/Not Working Issue
Previously, Windows 10X is scheduled to feature in dual-screen devices. Yet, currently, it comes to single-screen device first, being available on both Microsoft Surface and devices from couples of Windows ecosystem partners like ASUS, Dell, HP and Lenovo.
Compared with Windows 10, Windows 10X brings you a revamped user interface, with the most eye-catching updated taskbar located at the central place of your screen. It also has a whopping simplified File Manager and redesigned start menu & notification center. And when you upgrade Windows to Windows 10X, you can launch all applications full screen in default.
By now, many an early adopter can't wait to upgrade to Windows 10X to experience new stuff. Soon later, some of them resort to Google for solutions to tackle Windows 10X errors. It's with Windows as with iOS. Each iOS upgrade brings various new errors. The same applies to Windows 10X upgrade. No biggie! Here this article lists out the top Windows 10X not working errors and corresponding solutions, as well!
Locate to your Windows 10X error and solution:
1. Windows 10X Won't Update/Install Error
Similar to its predecessor Windows 10, Windows 10X also incurs installing updates failure error. This issue might highly result from compatibility issues with hardware and software. Try the following solutions to fix Windows 10X won't update/install error:
Remove any external hardware. Unplug any unnecessary external hardware from your laptop, including USB flash drive, external hard drive, speakers, headphones, external DVD driver, etc.
Update hardware driver on your device.
Clear non-Microsoft antivirus software out of your device. Not 3rd party antivirus software but Microsoft Windows Defender is enough to protect your device during upgrading. Hence, uninstall any unnecessary 3rd party antivirus software on your laptop.
Uninstall outdated software. Old yet nonessential programs might result in problems with Windows 10X upgrade. Remove them!
Prepare enough disk space for Windows 10X upgrading before you go.
Head to Microsoft official support webpage to find fixes if you get even more specific error notification.
2. Windows 10X Start Menu Not Working Error
Start menu is one of the most commonly used component of Windows 10X, letting us quickly access to installed applications and settings. However, start menu doesn't work now and then after you upgrade to Windows 10X. Don't feel gloomy. Follow the below tips to make start menu back to normal.
Solution 1: Uninstall Antivirus Software
Some antivirus software, if not all, would prevent certain key components of start menu from activating, causing start menu not opening on Windows 10X. In such case, the fundamental approach is to uninstall those antivirus applications from your laptop.
Solution 2: Enter Safe Mode
Press Windows Key + L to log out when your Windows 10X launches.
Tap Power button > hold Shift key on your keyboard > hit Restart.
Go to Troubleshoot under boot options > Advanced options > Startup Settings.
Choose Restart button > press F5 to access Safe Mode with Networking as long as your computer restarts again.
Start menu not working issue is supposed to be fixed by entering the Safe Mode. Last step is to restart your laptop now!
Solution 3: Resort to Another Administrator Account
There's a user feedback that start menu not working message keeps popping up on Windows 10X after connecting Microsoft account to the local account. If, unluckily, you're bothered by this problem, you're suggested to use a different administrator account and to remove TileDataLayer directory. If there is no additional administrator account available, create one please.
Solution 4: Exit Local Security Authority Process
Simultaneously press Ctrl + Shift + Esc to activate Task Manager.
When Task Manager opens, navigate to Processes tab and find Local Security Authority Process. Right click it and select End task.
Shut down Task Manager and restart your computer. Afterwards, check if this error gets resolved.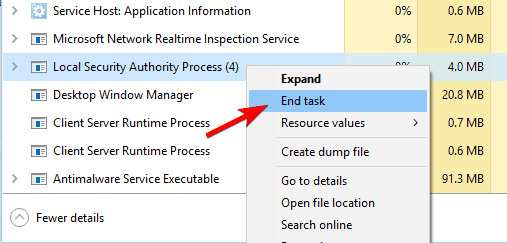 3. Not Offer Win32 App Support
The earlier version of Windows 10X doesn't natively offer Win32 app support. You'd better know this before you upgrade. If you don't want to be stuck with universal windows apps and web apps after upgrading, the current only solution is to downgrade from Windows 10X to Windows 10 or even lower Windows OS. Or you can wait the release of latter Windows 10X version if you wanna keep Windows 10X.
4. DVD Playback Feature Not Available
The removal of DVD playback was a decision Microsoft made when Windows 10 got into the public market. When you upgrade from Windows 8 to Windows 10, you lose the chance to playback DVD natively on your Windows PC. If you wanna keep native DVD playback feature on your Windows 8/7/XP, you'd better not to upgrade to Windows 10X. Windows 10X doesn't support native DVD playback, either.
If you insist on Windows 10X, one solution to DVD playback is to buy Windows DVD Player in the store at $14.99. Of course, you also need an external DVD drive if your laptop doesn't feature this. This will cost you roughly $30-$80. Suggesting this is beyond your budget, another once-and-for-all solution is the way to help you out of DVD playback dilemma.
Utilize a DVD ripper like WinX DVD Ripper Platinum to rip and copy any homemade or commercial DVDs to MP4, AVI, MOV, MKV, MPEG-2, VOB, WMV, etc, on Windows 10X with high-fidelity images and audio at Nvidia/Intel/AMD GPU hardware accelerated speed. It also lets you copy DVD to ISO image, Video_TS folder, or backup DVD main/full title at 1:1 quality ratio. Thus, you can playback any DVD content (movies, workout, family video) on computer without extra DVD player/DVD drive needed. Also Windows operating system is no long a bugbear!
5. Potential Privacy Problems
Since the day of Windows 10 release, the way of Windows 10 to cope with user's sensative data has been remaining controversial. A number of users wonder what information Microsoft collects for improving their service and functionality. Provide you click "agree" during Windows 10 installation on your computer, you're authorizing Microsoft to collect, by default, information about you, devices, application, Google searches, webpage browsing, etc.
The same also applies to Windows 10X. The user personal data collection doesn't stop on Windows 10X. Currently, to fix the potential privacy problems on Windows 10X, the most effective way is to downgrade to Windows 8 or lower version if privacy matters a lot to you.
6. Windows 10X Automatic Update Restarts without Permission
Hundreds of thousands users complain that Windows 10X automatic updates and restarts computer without permission. This results in their significant data loss. Some even lose a bulk of money because of the unauthorized restart. Try the below workarounds to solve this issue:
Solution 1: Setup Active Hours.
The built-in Active Hour feature is to prevent Windows 10X from automatically restarting your device to install updates when you're using it. Supposing an update is pending, restart will happen outside your active hours. Generally, the maximum active hours you can set is 18 hours. Press Windows key + I at the same time to activate Settings.
Choose Update & Security > click Change active hours option.
Set the Start time and the End time > tap Save. Job is done!
Solution 2: Delay the automatic update
Access to Settings via Start Menu > click Update & Security.
Find "Restart has been scheduled" under "Windows update tab"..
Change the settings accordingly.
Solution 3: Set notification
The same step as above to find Update & Security.
Opt for "Advanced options" under "Windows update tab".
Choose "notify to schedule restart" under the tab "choose how updates are installed".
It's unrealistic to list out all the Windows 10X not working errors. If your problem can't be found here, please contact us via Email

or leave message on our official Facebook/twitter account. We'll update the newest solutions to your problem in this post.