Top 3 DVD Movie Subtitle Editors for Windows 10/11
Best DVD Movie Subtitle Editors for Windows 10/11 | Create/Edit/Extract/Add DVD Subtitles on Windows 10/11
Subtitle plays a very important role in driving watchers to better understand the plot in foreign DVD movies. Also, we need subtitles if someone speaks foreign language in a movie. Regardless of attached subtitles, some people may hope to edit DVD subtitles to make the words in a suitable style for better viewing. There are several other requirements on subtitles as well, to create or add subtitles for a home-made DVD, to extract subtitles from DVD for special use and so on. In order to help demanders to handle DVD subtitle editing, here we list top 3 DVD movie subtitle editors for Windows 10 which features different abilities to edit subtitle for DVD.
Highly-recommended DVD Subtitle Editor to Remove/Add Subtitles for DVD
WinX DVD Ripper Platinum - A great DVD subtitle editor for Windows (10) to remove default DVD subtitles or add external SRT subtitles for DVD. It also allows users to rip any general or strictly encrypted DVD movies with subtitles to MP4, AVI, WMV, MOV, FLV, 3GP, iPhone, iPad, Android, Windows smartphones and tablets in a simple and fast way.
Please Do Not use WinX DVD Ripper to rip rental DVDs.
2023 Top 3 Windows 10 DVD Subtitle Editor
According to different functions on DVD subtitle editing, we round up the following best 3 DVD movie subtitle editors for Windows 10 helping you create, edit, extract and add/remove subtitles.
SubtitleCreator – Best DVD Subtitle Editor for Subtitle Making/Editing
SubtitleCreator is a free and open-source subtitle editor mainly featuring to create new subtitles for DVDs on Windows. Apart from new subtitles, it enables you to edit existing subtitles on DVD by changing text colors, size, or add basic font styles like italic, bold, underlined; adjusting lines to wrap, justify or zoom in/out space; and customizing positions. You can also specify start time and end time of a subtitle segment. In addition, the conversion among subtitle formats .SRT, .SUB and .SUP can be achieved. With a wizard design and straightforward interface, this DVD subtitle editor brings a pretty simple way to make and edit DVD subtitles. What you should pay attention is that SubtitleCreator requires .NET Framework for running on Windows.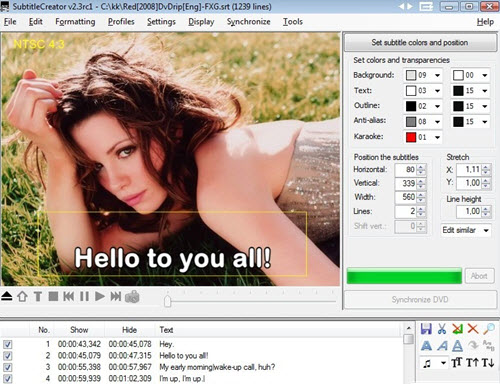 SubRip – Best DVD Subtitle Editor for Subtitle Extraction
SubRip is a famous DVD subtitle editor and ripper for Windows (10) as well as shares the name of the most compatible subtitle format with extension .srt produced by this software. It focuses on extracting subtitles and their timings from video source (DVDs, video files, live videos) during playback as .SRT text file.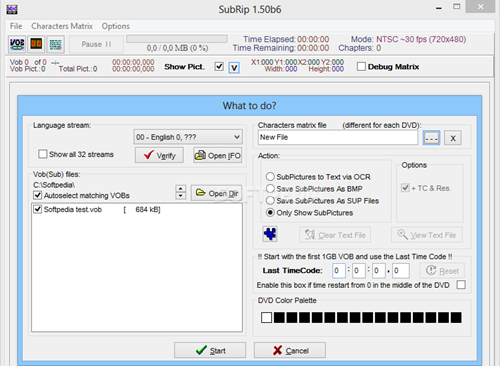 This file extracting via SubRip usually contains plain text lines with basic formatting via HTML tags for bold, italic, underline and font color. SubRip file is compatible with a wide range of players, subtitle editors, online streaming service, for example YouTube. Even, you can use Windows notepad to directly edit the SubRip file for later adding for DVDs or other movie videos.
Related: How to Extract Subtitles from DVD as SRT File with SubRip
WinX DVD Ripper Platinum – Best DVD Subtitle Editor for Subtitle Adding/Removing
WinX DVD Ripper Platinum is not only a Windows (10) program for DVD ripping as its name, but also a DVD editor enables you to modify DVD video, for example to add and remove DVD subtitles. It provides subtitle settings allowing users to enable/disable embedded subtitles or add external subtitles (.srt) for current DVD video. Compared with some DVD subtitle editors which are only capable of editing subtitle for home-made DVDs, this software is available to add and remove subtitles for any DVDs, including latest copy-protected DVD movies. Using it, you can convert DVDs with forced subtitle only or external subtitle created by yourself/downloaded online to a digital file as MP4, AVI, WMV, FLV, 3GP etc, compatible with more video players for Windows (10) and devices.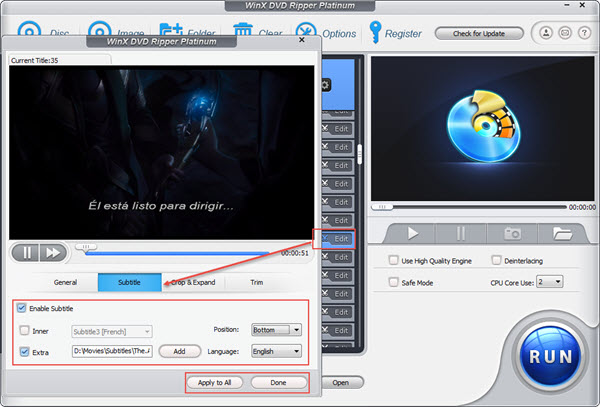 Still have some trouble about how to edit subtitle on Windows 10 with WinX DVD Ripper Platinum? Please feel free to Mail Us >>
Best DVD Ripper and (Subtitle) Editor for Windows (10)/Mac - WinX DVD Ripper Platinum
• Rip and copy DVD movies with removal of copy-protection to mainstream video formats, MP4, AVI, WMV, MOV, FLV, 3GP etc, and fashionable devices, iPhone, iPad, Android, Windows Phone, Surface Pro/Book, Xbox, PS3/4 while keeping a high level of video quality.
• Add external subtitle for DVD or enable/disable internal DVD subtitle tracks, crop DVD movie video to remove unnecessary black/blank bars, trim for garnering wanted clips for later editing.
• Adjust video/audio parameters for example bit rate, frame rate, resolution, aspect ratio for a better viewing experience.