Windows 10 Mobile Video Converter | Convert MTS/FLV/VP9 to Windows 10 Moblie
How to Convert MTS, FLV, MKV, VP9 to Windows 10 Moblie, Windows 10 Tablet, Windows Phone 8, PC, etc?
Q: I'm curious as to what software people like to use to convert videos to Windows Phone compatible formats and resolution. In the past when I had an iPhone, I always used Handbrake, which works better for Apple rather than Windows Phone. So I am curious if anyone has any other favorite programs or presets to convert videos, like YouTube 4K video (VP9), to Windows 10 Moblie.
A: This guide, consisting of the newly updated list of phones running Windows 10, Windows 10 Moblie supported video formats and a best YouTube to Windows 10 Moblie video converter, will help Windows Phone (Windows 10 Mobile/WP8) users learn of the answers of how to convert MTS, M2TS, FLV, VP9, etc video to Windows 10 Moblie.
[Updated] Full List of Windows 10 Mobile
Microsoft announced that more Lumia devices, as well as non-Lumia mobiles like HTC, would be on the support list to upgrade to Windows 10 Mobile, although some of them are yet to be confirmed. There will be an increasing need for a Windows 10 Mobile video converter, so to speak, due to the limits of Windows 10 compatible file types and WP 10/8 users' tendency to enjoy YouTube videos in FLV, VP9, MKV formats. Make sure your Lumia/Android phone will be allowed the ability to upgrade to Windows 10 first and then check out how to download Windows 10 Technical Preview for phones and convert videos to Windows 10 Mobile later.
Windows 10 Mobile – Lumia
* Lumia 550, Lumia 950, Lumia 950 XL, Lumia 520, Lumia 525, Lumia 526, Lumia 530, Lumia 535, Lumia 620, Lumia 625, Lumia 630, Lumia 635, Lumia 636, Lumia 638, Lumia 720, Lumia 730, Lumia 735, Lumia 810, Lumia 820, Lumia 822, Lumia 830, Lumia 920, Lumia 925, Lumia 928, Lumia 1020, Lumia 1320, Lumia 1520
* Microsoft Lumia 430, Microsoft Lumia 435 (Dual SIM/Dual SIM DTV), Microsoft Lumia 532 (Dual SIM), Microsoft Lumia 535 Dual SIM, Microsoft Lumia 640 Dual SIM
Windows 10 Mobile – Android and more
Blu Win HD, HTC One M8, Samsung, Xiaomi Mi 4/E4, etc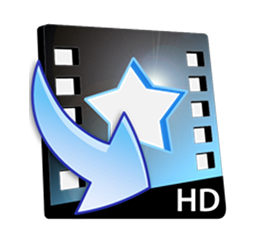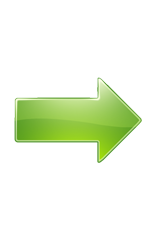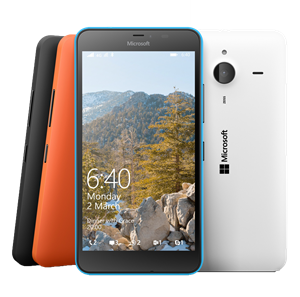 Convert Movie Music Video to Windows 10 Mobile
WinX HD Video Converter Deluxe

– Download and convert movie/music videos from YouTube to indows 10 Mobile compatible video/audio formats for playback.


It can save (and convert, natch) videos from the likes of YouTube, and output presets for every portable device from Android to Windows Phone.
- Rick (CNET Editor)
How to Download Windows 10 for Phones
Here are the quick steps to how to download and install Windows 10 for phones:
1. If you own a Windows 10 supported phone, sign up for the Windows Insider Program on PC and open the site (http://windows.microsoft.com/en-us/windows/preview-download-phone) on your phone.
2. Click the button "Download the Windows Insider app" or you can directly downlaod the app on the Store from your phone.
3. Once it is downloaded, open the Windows 10 for phone app and get it installed on your phone following the instructions.
Only a select few video formats are enabled to be playable on Windows phone, although Windows 10 Mobile added native support for MKV and HEVC (H.265), which makes a video converter for Windows 10 Mobile, WP 8.1/8 a necessity. WinX HD Video Converter Deluxe, an all-in-one video converter featuring abilities incl. YouTube video download, 4K/HD/SD video convert, video edit, etc, might be the best option. It enables convering Camcorder video AVCHD (mts, m2ts), YouTube FLV/MKV (VP9), MPEG, TS, MOD, TOD, etc to Windows 10 Mobile completely and flautlessly.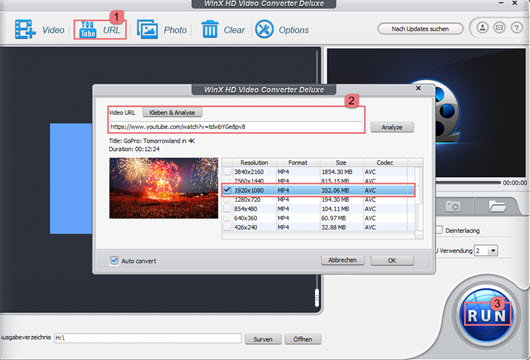 How to Convert YouTube Movie/Music Video to Windows 10 Mobile
WinX HD Video Converter Deluxe is geared toward both downloading and converting YouTube videos at the same time and capable of converting up to 370+ video/audio codecs to Windows 10 Mobile supported video formats. Take converting YouTube 4K video to Windows 10 Mobile as an example here:
Step 1. Download, install and start the Windows 10 Mobile video converter. Click "URL".
Step 2. Right click a YouTube 4K video to copy the URL, or click to play it and the software will auto detect the link, and then Paste & Analyze it; select your preferred output video resolution; tick "Auto convert" box and turn to the Output Profile center;
Step 3. Choose "Microsoft Device" -> select WP8 Mobile Video (Windows 10 Mobile profile is coming soon). Also you can go to General Profiles and find one of Windows 10 Mobile compatible formats, such as MP4, AVI, WMV, etc; tap OK button, specify an ourput folder and hit button "RUN".
More about WinX HD Video Converter Deluxe
* Downloading YouTube online movie/music videos to Windows 10 Mobile, WP 8.1/8, Surface Pro (3), Xbox (New One), iPhone, iPad, iPod, Apple TV, Samsung, HTC, etc
* Download and compress 4K and HD videos MKV, H.265, AVCHD, TS, MOD, TOD, MTS, M2TS, AVI, WMV, MP4, VOB, MPEG, MOV, 3GP, Google TV, WebM, AS, etc
* Make photo slideshows, add SRT subtitles, trim/crop videos, set video/audio parameters to best fit Windows 10 Mobile.