Lumia 950/950 XL Specs, Release Date, Price | Windows 10 Mobile
Comparison between Lumia 950 and Lumia 950 XL on Specifications and News on Lumia 950/950 XL Prices/Discount
Windows Lumia 950/950 XL release date: Revealed at October 6, 2015 and will be available in November.
Lumia 950/950 XL Price: $549 and $649
It is said that the price of Lumia 950 and 950 XL has already dropped to £449.99 and £529.99 and Amazon now has discounts for the two new Windows 10 mobiles in France. Well, the price may vary in different areas, but the specifications are all the same. Mainly we are here talking about the specifications of Lumia 950 and Lumia 950 XL, such as screen size, resolution, camera, supported file formats, etc. And due to the limits of Lumia 950/950 XL compatible file formats, we dope out a video conversion guide to help you fully enjoy your new mobile, like watching any HD movie videos on Lumia 950/950 XL.
Lumia 950 and Lumia 950 XL Specifications (Lumia 950 vs. Lumia 950 XL)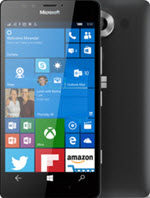 Microsoft Lumia 950
OS: Windows 10
Display: 5.2 '', WQHD (2560 x 1440)
Camera: 20.0 MP
Memory: 32 GB, 200GB
Dual SIM: No
Battery capacity: 3000 mAh (18h talk time)
Supported video formats/codecs: H.263, H.264, AVC, MPEG-4, VC-1, H.265, HEVC
Tips besides Lumia 950/950 XL Specs: Convert Movie Video to Lumia 950
If you put a recorded video in AVCHD (.m2ts) onto Lumia 950 for playback, you will, no doubt, receive a "codec not supported" error message. This is where you need a video conversion, say converting AVCHD to MP4 (mostly acceptable), with a HD video converter software. FYI, always bear in mind the specs of Lumia 950/950 XL, in particular the video formats compatible with Lumia 950/Lumia 950 XL, before you download a movie or music video online on PC for finally playing back on your new Windows 10 mobile, which will save you a lot of trouble and time.
How to Convert Video to Lumia 950/Lumia 950 XL?
Step 1: Download a HD video converting tool (WinX HD Video Converter Deluxe [1] recommended) and get it installed correctly on your PC/Mac.
[1]: WinX HD Video Converter Deluxe supports 320 video codecs and is built in with 420+ preset devices. Simply put, you are allowed to convert videos to any video formats supported by Lumia 950 Windows 10, MP4, MKV, AVI, etc. If you have absolutely no idea what is video codec, then just find your Lumia 950 preset, which will be easier and more appropriate actually. Moreover, you can download and convert online movie videos all at once directly to your Lumia 950 or 950 XL, by using this all-in-one video downloader and converter.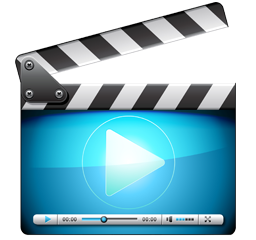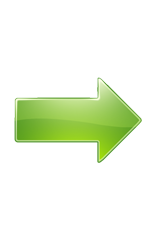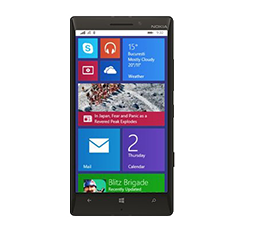 Convert Any Format Videos to Lumia 950/950 XL
WinX HD Video Converter Deluxe/for Mac


convert any SD, HD and UHD videos in MP4, AVI, MOV, MKV, MPEG, etc for playback on Microsoft new Lumia 950 and 950 XL


It can save (and convert, natch) videos from the likes of YouTube, and output presets for every portable device from Android to Windows Phone.
- Rick (CNET Editor)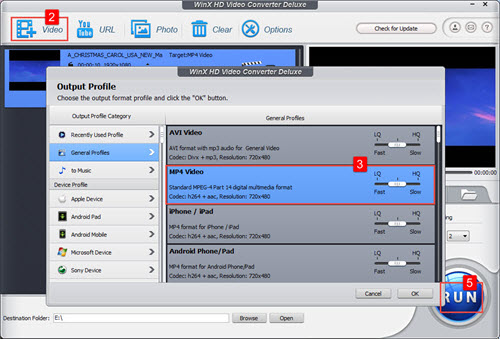 Step 2: Open the HD video converter for Lumia 950/950 XL and click "+ Video" to import the source video clip from the local folder.
Step 3: Choose "MP4 Video" in "General Profiles" from the pop-up "Output Profile" window. Maybe later there will be "to Windows 10 mobile" under "Microsoft Device". Besides, MP4 is not the only format option for Lumia 950 and Lumia 950 XL.
Step 4: To make full use of this video converter, you can set your "CPU Core Use" on the main interface (up to 8). Frame rate, aspect ratio and resolution are all adjustable. Just click the gear icon.
Step 5: "Browse" to select a output folder and press button RUN.
Still have some trouble about Windows 10 mobile Lumia 950 and 950 XL specifications, especially supported file formats? Please feel free to Mail Us >>
Convert any SD/HD/4K/8K videos in formats FLV, WebM, M2TS, MOD, TOD etc, to Windows 10 mobile Lumia 950/50 XL and other popular devices, such as iPhone (6S/6/5S/5), iPad, Android Samsung, HTC, Kindle Fire, Surface Pro, PS3/4, Xbox etc, with crisp output video and deliver a 83x real-time conversion speed.