[Solved] Plex Can't See/Play AVI Files Error
Check the paper list of Plex supported formats and you will find that AVI is on that paper. The eerie thing occurs that some of your AVI files are still not seen by Plex when loading. Why would this happen and how to make it right?
The causes vary a lot from one case to another. We plan to focus not so much on reasons as solutions. Try the below solutions if you get disappointed in somewhere else.
AVI Files Not Playing on Plex? Check Solutions↓
Solution 1: Re-name AVI Movie or TV Show File
In our previous troubleshooting guide - MP4 not playing on Plex, we mentioned that you need to use the normative way to name your MP4 file (partly because of MP4 metadata). The same also applies to AVI movie or TV show files. Try to rename your AVI movie following this official guide and rename AVI TV show files with this article from support.plex.tv.
After re-naming is done, decouple AVI movie files and TV show files into different folders. Then do the Plex Dance.
Solution 2: Downgrade PMS
Downgrade Plex media server version. Old installs are located in AppData\Local\Plex Media Server\Updates, uninstall the current server first and then get older or downgraded version installed on your NAS, Windows, macOS computer, etc.
Solution 3: Transcode AVI and Adjust Parameters
AVI is a container format, which can contain varied types of video codecs, subtitle tracks, audio tracks, etc. Though the most common used codecs like DivX, XviD are supported by Plex, some minor factors such as AVI bit rate, frame rate, resolution, audio codec also matter a lot when it comes to AVI playback on Plex. Yes, you can count on Plex built-in video transcoder to deal with AVI parameter issues via transcoding. As for large-sized AVI files like 1GB or 10GB, you'll suffer seemingly forever Plex buffering or freezing during transcoding.
To transcode AVI with as fast speed as possible, give a shot on WinX HD Video Converter Deluxe. With Level-3 GPU (Intel QSV/Nvidia/AMD) hardware acceleration tech, this tool enables you to bulk transcode AVI files to Plex best settings (MP4 MPEG4/H264 or HEVC codec, 1920×1080, 8Mbps, 30FPS, audio codec AAC, AC3 or EAC3) at GPU hardware accelerated speed without subscription fee. It can also downgrade resolution 4K to 2K/1080p/720p, lower 120/60FPS to 30FPS, tweak bit rate, convert any video to MP4, MKV, AVI, MOV, WMV, iPhone, iPad, Android, Microsoft devices, Xbox, PS5/4, etc. for movies/TV shows playback on any Plex client device without Plex buffering/freezing issue caused by 4 or 5 "simultaneous video transcode".
How to transcode AVI and adjust parameters to Plex recommendations?
Step 1. Launch this Plex video transcoder after downloading. Click + Video button to bulk load AVI movies or TV shows.
Step 2. On Output Profile panel, choose a format that Plex supports, such as MP4, MOV, MKV... profile under General Profiles. Of course, you can still insist on AVI on PC General Video profile. More options are here for your Plex client devices including iPhone, iPad, PS5, Xbox One, etc.
Step 3. Tap setting button on main screen to specify resolution, bit rate, frame rate, audio codec, etc.
Note: to ensure a smooth playback for your Plex client device, you'd better set up resolution as 1080p or lower, frame rate as 30FPS, bit rate less than 8000 Kbps, audio codec as AAC.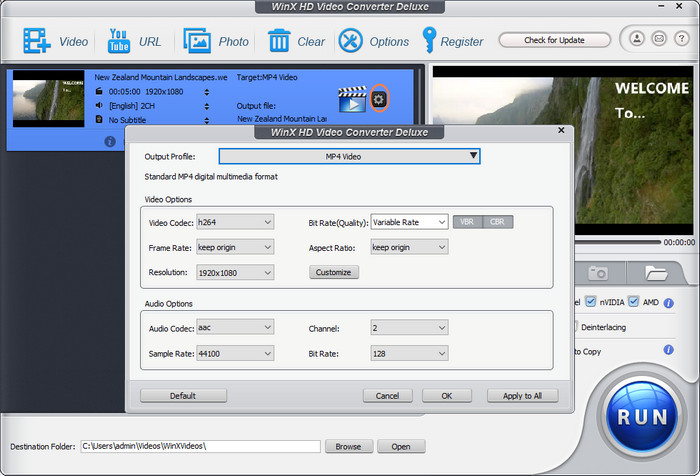 Step 4. Hit RUN to begin Plex transcoding. Intel/NVIDIA/AMD hardware accelerator is enabled by default to elevate decoding and encoding speed. Once finished, you can add the new file to Plex for Direct Play on as many devices as possible without repeated transcoding nor network traffic jam.
Solution 4: Change Plex Scanner
This approach is tested effective by users from forums.plex.tv. Head to folder and edit the folder preferences. Hit "Show advanced options" > change the default scanner from "Plex Movie Scanner" to "Plex Video Files Scanner".
Solution 5: Empty Trash
Access to Settings on Plex media server and find Library. Enable the option "Empty trash automatically after every scan" and do a deep scanning 1 or 2 times. It aims to gurantee the database hasn't secluded some of your AVI movie/TV show files somewhere unreachable.
One article can't cover all the effective solutions. If you have better workarounds, you're warmly welcomed to contact us and share with us. We'd like to update this article with your precious ideas.