Why YouTube TV Keeps Buffering & Quick Fixes for Constant Buffering
Yes, an increasing number of people are obsessed with streaming video through a media server such as YouTube TV during the FIFA World Cup Qatar 2022 and Christmas 2022. And there is nothing more annoying than a constant buffering while streaming via YouTube TV. However, YouTube TV buffering issue happens from time to time, leaving a rotating arrow, spinning circle, or loading message on your screen. Why do videos keep buffering on YouTube TV? How can you kill the constant buffering on YouTube TV? All will be answered in details in this post.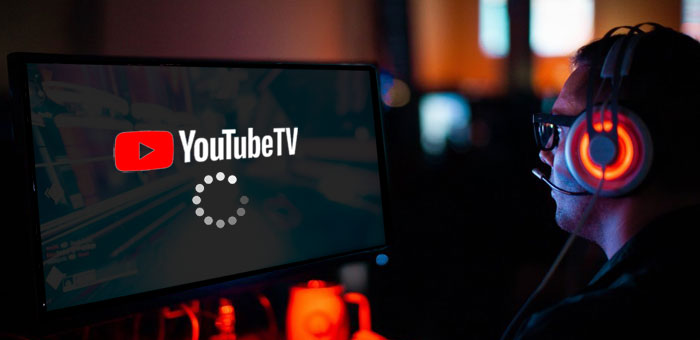 Part 1. Why Does YouTube TV Keep Buffering?
When YouTube TV buffering, it means there might be a delay since the video cannot catch up the point where the file has been streaming. Why does this happen? The culprits of YouTube TV not responding or buffering issue can be various. Here are some common causes:
1. Slow Internet Speed
Internet connection can be the one to blame most likely for YouTube TV not working on Ruku, Xbox, HDTV etc. But this doesn't necessarily mean that your Internet is too slow. People with fast fiber optic connections can also suffer from YouTube TV freezing or not loading. It's all about your internet connection to YouTube server. In brief, a slow connection to YouTube server could delay audio and video data, resulting in a loading screen, while a fast connection is able to stream videos without interruption and accommodate 4K UHD up to 7.1 channel surround sound.
2. Too Many Devices Connected
It's not a wise option to connect multiple devices on the same Internet network, since it will consume the network bandwidth and cause buffering, especially when your router is unable to support a heavy traffic load.
Learn more: How many devices can YouTube TV streaming service connect at once?
3. Browser or App Issues
If you're streaming YouTube TV with browsers on Mac/PC or app on mobiles, the brower and app can make YouTube TV keep freezing as well. For browsers, the cache, history or add-ons may stop YouTube TV from streaming. And for YouTube TV app on iPhone or Android smartphones, buffering would appear with insufficient storage space, overloaded cache and history or poor connection etc. as well.
4. Technical Problems
When you're suffering from constant buffering on YouTube TV, it might be a technical problem with the content provider or your internet service provider (ISP). Basically, ISP throttling means that your Internet service provider slows down certain websites or services. Then you will find YouTube videos freezing, or take forever for loading, uploading and so on.
Part 2. How to Troubleshoot YouTube TV Buffering Issue
As a high number of potential causes for YouTube TV freezing on spinning circle, there is no universal fix to stop buffering. It's just a try-to-see troubleshooting process. Here are some tips:
1. Test your Internet speed
Don't assume that your Internet speed is fast. This is a possibility that you ISP has some temporary technical issue. If you want to stream content without buffering, you can make a compromise with video quality, for example, 4K to 1080p, and turn it back as soon as it's fixed. Here are the Internet speed recommendations for different resolutions. 2. Check if your ISP is throttling YouTube
When other streaming services like Netflix, Disney+, Apple TV works fine, it's very likely that your ISP is throttling YouTube. To confirm that, you can have a test for your ISP on fast.com, Google Video Quality Report or the like.
3. Restart your router
Make sure your router is equipped with the latest fireware so that you're able to stream via YouTube TV with a secure and stable network connection. To do this, the only thing you need to do is to restart your router.
4. Limit the amount of the devices on your network
To prevent excessive devices from sharing your bandwidth, you're always suggested to live stream movies or videos from YouTube TV with a single device, which will reduce the possibility of constant buffering.
5. Restart your computer or mobile
As mentioned above, some apps running in background or cache can also make YouTube TV keep freezing in loading screen. But if you restart your computer or mobile, it will get rid of any potential app or cache related issues.
6. Use a different browser
Again, when streaming YouTube TV on computer, the plug-in issue may lead in YouTube TV not working, since sometimes it works while sometimes it doesn't. The easiest solution comes to try another browser. Of course, if you know clearly which plug-in issues, you can also disable it directly.