YouTube TV vs Hulu Live: 5 Aspects to Check Before the Final Decision
What are you using to stream movies, TV shows, TV series and more videos during COVID-19 lockdown? YouTube TV and Hulu Live, which live TV streaming service is better? Here we'd like to take a in-depth comparison between YouTube TV and Hulu Live from price, cloud DVR, supported channels, devices compatibility, and multiple streams. Now check it before making the final decision!
Note
Hulu (ad-supported) plan is now only sold at $1.99/month for 12 months in the grand 2020 Black Friday deal. Seize chance to get the once-a-year biggest discount before expiration date 11:59 PM PST on 11/30/20. Here is the entrance to the limited time offer.
YouTube TV vs Hulu Live: Which Streaming Service Is Better?
YouTube TV was launched in 2017, and as of 2021 , the streaming service is up to more than 70 live TV channels, including local sports, news and most the major cable options. It also features live streaming as well as could DVR and on-demand functions. Hulu Live TV was debuted in 2017 as well, which added streaming live broadcast TV, cable networks, and expanded access to cable networks not in its standard library.
Being two of the most popular cable TV alternatives with so many similarities, YouTube TV and Hulu Live TV, which streaming service is better? Let's check the following 5 aspects concerning about your choice.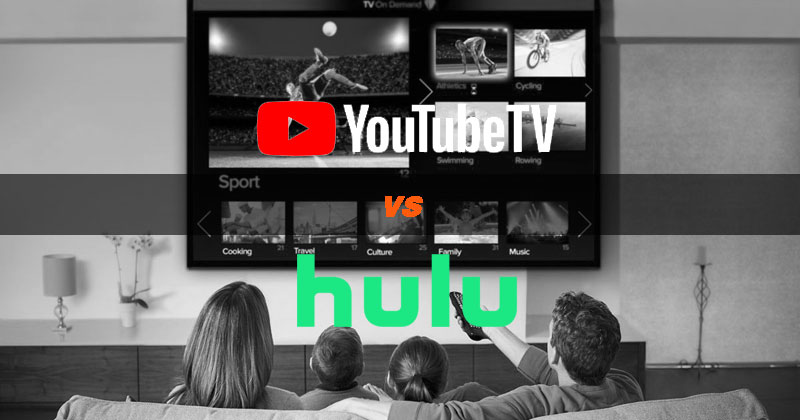 1. Price
The price of the two live streaming services goes pretty much neck and neck for basic accounts and features. YouTube TV's plan costs $49.99 per month, and Hulu Live TV starts at $44.99 per month - $5 less. Unlike many other cable and satellite TV providers, internet based streaming services are not charged for setup and equipment. Meanwhile, YouTube TV users are allowed to use YouTube TV free for 2 weeks, and Hulu Live TV have a 7-day free trial.
Winner: Hulu Live TV
2. Supported Channels
Channels is definitely what users concern most besides price for live TV streaming services. YouTube TV is available for 70 networks or so, being slightly more channels than Hulu Live. Both of them include many of the major popular cable basics, and miss some channels owned by the other side.
For example, YouTube TV supports AMC, BBC America, Bravo, BET, Comedy Central, Fox Sports, TV Land, MTV, and Nickelodeon, while missing options like A&E, History Channel, and Lifetime that Hulu does have. And Hulu Live TV has a solid mix of sports, news and entertainment networks, but lacking some of the big ones, namely AMC and BBC America. Let's dive deep for the channels that supported by YouTube TV and Hulu Live TV exclusively.
| | |
| --- | --- |
| YouTube TV Exclusively Supported Channels | Hulu Live TV Exclusively Supported Channels |
| AMC, IFC, Local Now, MLB Network, NBA TV, Newsy, Start TV, Sundance TV, Tastemade, Tennis Channel, Universo, We TV | A&E, ABC News Live, Boomerang, CBSN, CNN International, History Channel, Lifetime, Viceland |
Winner: YouTube TV
3. Cloud DVR
Cloud DVR is an another consideration for those who'd like to save TV shows in the service provider's datacenter rather than in the DVR/set-top box by the TV. To be frank, YouTube TV's cloud DVR is not only better than Hulu Live, but also almost the best of all live TV streaming services.
YouTube TV Cloud DVR:
No storage limits
Stream your library wherever you go
Record simultaneously, and the recordings can be kept for up to 9 months
Hulu Live TV Cloud DVR:
50 hours storage limits
Upgrade needed to unlock 200 hours storage and extra features, including Fast-forward through commercials, simultaneous recording, stream your recordings anywhere on supported devices
Winner: YouTube TV
4. Devices Compatibility
Both YouTube TV and Hulu Live TV have a wide comaptibility on smart TVs and streaming media players like Roku, Chromecast, and Apple TV.
YouTube TV Supported Devices:
· Phones & tablets running Android 5.0 Lollipop and above, iPhones & iPads running iOS 9.1 or later, Mac and Windows browsers
· Chromecast & Chromecast Ultra, Roku Players & TVs, Amazon Fire TV Stick, Cube and TVs, Apple TV (4th generation & 4K)
· Xbox One, Xbox One S, & Xbox One X
· Sony TVs, NVIDIA Shield, & more with Android TV built-in, Samsung smart TVs (2016+ models only), LG smart TVs (2016+ models only), Vizio SmartCast models, Hisense Smart TV models, Sharp Smart TV models
Hulu Live TV Supported Devices:
· Android phones and tablets, iPhones and iPads, Mac and Windows browsers
· Fire Tablets, Fire TV and Fire TV Stick
· Chromecast, Roku and Roku Stick, Nintendo Switch, Xbox One, Xbox 360
· Apple TV (4th gen or later), LG TV, Samsung TV
Winner: Draw
What you may also interested in: How to cast DVD to HDTV via Chromecast, How to stream movies/music from NAS to HDTV, iPhone iPad
5. Multiple Streams
YouTube TV has an advantage over Hulu Live for using a TV streaming service on multiple screens of your families or friends at once. You can stream on three screens at a time with YouTube TV and only two with Hulu Live TV. But this is not the whole story. Hulu Live TV does have an option to upgrade to umlimited screens that are connected to your home network with an extra $9.99 per month. Besides, this option allows you to stream on the move up to three individual mobile devices.
Winner: Hulu Live TV
Final Thought
As above, we could easily see it's a draw between YouTube TV and Hulu Live TV. YouTube TV allows more channels than Hulu Live TV, and it has better cloud DVR. While Hulu Live TV offers an option for streaming to unlimited screens simultaneously and has slightly cheaper base price. So for those who're planning to cut the cord and trying live TV streaming service, make clear what you concern most. Hulu Live TV seems great with lower price, and YouTube TV is a good choice for watching with channels.