Post by Kaley Torres - Contact Author

Fix Hulu Connection Error on Roku, FireStick, Xbox, Smart TV...
When you watch Hulu live TV or movies, you may be interrupted frequently by a connection error. Strangely, other apps, such as Netflix, Amazon Prime, and Twitch, can work without connection issues. And the Hulu network connection error may only happen on certain device. For example, Hulu disconnects on Roku only, but it can stream properly on your smart TV, iPhone, Android, FireStick, Google Chrome, or something.
If you are experiencing the same problem, our fixes below can be helpful.
Table of Contents:
Fixes for Hulu Connection Error on FireStick
Fix Hulu Won't Connect on Roku Express, Roku Ultra(+), Roku Smart TV...
Fixes for Hulu Connection Error Code 5005 on Xbox One, PC...
Note
Hulu (ad-supported) plan is now only sold at $1.99/month for 12 months in the grand 2020 Black Friday deal. Seize chance to get the once-a-year biggest discount before expiration date 11:59 PM PST on 11/30/20. Here is the entrance to the limited time offer.
Fixes for Hulu Connection Error on FireStick
"Connection error
Sorry, we encountered an error. Please check your connection and try again. For more information or instruction on testing your network connection, go to help.hulu.com." This is a Hulu connection error that many FireStick users have reported on reddit and Hulu community. It appears very frequently, maybe 3 or 4 times an hour or 3-4 times in 20 minute. Follow the tips below to clear out your error.
1. Close Hulu and then restart it.
2. Sideload an apk using the "downloader" app. Note: you need to go to fire stick settings and allow apks from unknown sources.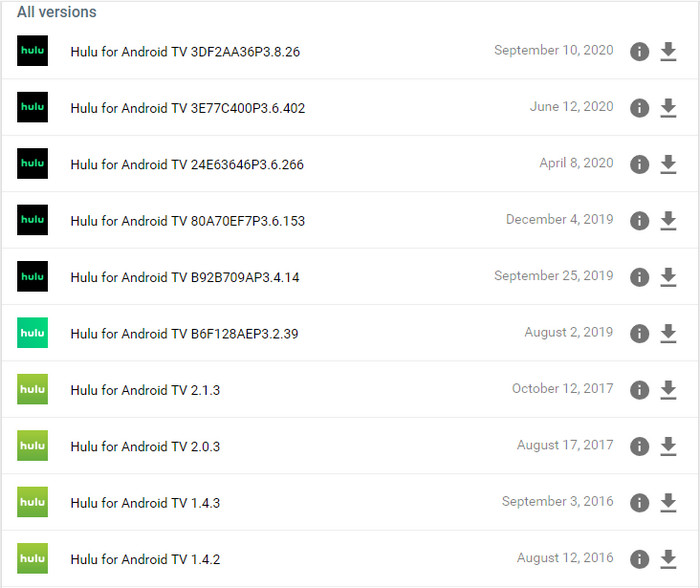 3. Switch from 5GHz WiFi to 2.4GHz if you have a dual-band WIFI router. The internals of Firestick may be not strong enough and seem to get slower faster.
4. Switch to a new router/modem combo.
5. Switch from fire stick to FireTV Pendant, Apple TV, or Roku Stick.
Fix Hulu Won't Connect on Roku Express, Roku Ultra(+), Roku Smart TV...
Fixes for Hulu connection error code 016 on Roku
"Not connected to the Internet
Your Roku player is currently not connected to the Internet. 'Hulu' may require an internet connection. Please set up an Internet connection...Error code:016"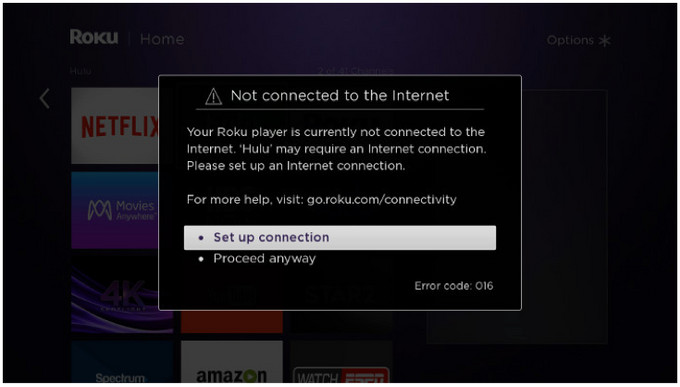 Error code 016 appears when you are attempting to launch a channel but the network or internet connection has been lost. What you should do is to select Set up connection on the pop-up error screen to go to the network settings on your Roku device and follow the on-screen instructions. If the behavior continues, you need to check the wireless signal strength. It may be too weak because your Roku is too far from the router or there are obstacles like walls and cabinets between your Roku and router. Check how to improve the wireless connection to your Roku.
Another solution you can try is to reconfigure your router and switch it from 2.4GHz WiFi signal (channel 1) to channel 6 which has less interference, especially if you live in an apartment complex.
Fixes for other Hulu network errors on Roku
1. Verify that you have the latest firmware on your streaming device or smart TV, then uninstall and reinstall the Hulu app.
2. Change your WIFI router's DNS settings to 8.8.8.8 which is Google's port. It may fix your internet speed.
3. Unplug the coax from your modem, turn off modem & router, and unplug Roku & TV. Leave for tens of minutes, and plug all again when you come back. Everything may work well now.
4. Clear out the TV's cache: hit home button x 5 -> up arrow x1 -> Rewind x2 -> fast forward x2. The screen will go black after a few seconds then reboot.
5. Remove Hulu channel from the Roku home screen by navigating to the channel tile, pressing the * key on your remote and choosing 'Remove channel'. Then restart your device from Settings -> System -> System restart. Once your player starts up again, add the channel back once more. Now, check if Hulu network error disappears.
6. Contact Hulu support to get help.
Fixes for Hulu Connection Error Code 5005 on Xbox One, PC...
"Connection error
Your network disconnected during playback. Please check your internet connection and try again. For more troubleshooting information, visit help.hulu.com. Error code: 5005" This is another common Hulu connection error which often happens on Xbox One and PC. Now, let's check the potential fixes.
1. Restart your Hulu app.
2. Switch from wireless to wired network.
3. Restart your player device, router, and modem.
4. Reinstall Hulu app.
5. Try a different device or browser to watch Hulu. If Hulu can connect well on other browsers, clearing the cache and cookies from the problematic brower may solve the issue.
6. Check your Hulu account status. If there's any kind of alert on your account, you should log out -> clear cookie from your browser -> login back.
7. Check Hulu server status. Hulu connection error is possibly occuring to everyone, because it is down. You can visit Downdetector, Outage.report, or something else to check whether Hulu is down.
8. Update your web browser if you encounter connection error while streaming Hulu through a web browser.