Squid Game Subtitles Download | Season 1 Episodes 1-9
Win the game & get huge cash prize, or lose the game & be killed. Record-breaking Netflix TV series Squid Game season 1 is raging on fire sweeping 90 countries within just 10 days. If you are watching it, you probably don't watch the same show as the Koreans for there are translation errors between the English subtitles and the dubbed version, and between the English subtitles and the script, according to some English-Korean bilinguals. So, this is a Squid Game subtitle download guide to help you get the exact English subtitles plus subtitles in other languages that really unpack specific scenes in Squid Game show.
How to Watch Squid Game Episodes 1-9 Free with Subtitles?
If you're watching Squid Game free without subtitles, you can download Squid Game subtitles episodes 1-9 online and add it to the TV series with WinX HD Video Converter Deluxe.
Add subtitles (SRT) in any language to Squid Game.
Enable/disable inner subtitles and add extra subtitles to MP4, MKV, MOV, etc. videos.
Convert videos from/to any formats up to 4K.
Have basic editings (trim/crop) to videos.
Part 1. Squid Game English Subtitles Download Free | Season 1 Episodes 1-9
Here are some links we find from Addic7ed or other subtitle download sites for you to directly download Squid Game English subtitles. You can directly copy the URL and put it into your search box to free download the subtitles file. Then, add subtitles to Squid Game TV show with the help of WinX HD Video Converter Deluxe.
Squid Game - 01x01 – Red Light, Green Light: https://www.addic7ed.com/original/169086/1
Squid Game - 01x02 – Hell: https://www.addic7ed.com/original/169087/1
Squid Game - 01x03 – The Man with the Umbrella: https://www.addic7ed.com/original/169088/1
Squid Game - 01x04 – Stick to the Team: https://www.addic7ed.com/original/169089/1
Squid Game - 01x05 – A Fair World: https://www.addic7ed.com/original/169090/1
Squid Game - 01x06 – Gganbu: https://www.addic7ed.com/original/169091/1
Squid Game - 01x07 – VIPS: https://www.addic7ed.com/original/169092/1
Squid Game - 01x08 – Front Man: https://www.addic7ed.com/original/169093/1
Squid Game - 01x09 – One Lucky Day: https://www.addic7ed.com/original/169094/1
Part 2. Top 5 Sites to Download Squid Game Subtitles | Season 1 Episodes 1-9
One of Squid Game viewers have tweeted that the English subtitles have deviated widely from the original script/actual language, so exact Squid Game subtitles download should be put on the agenda. Below are top trustworthy sites to download and watch Squid Game TV series episodes 1-9 with right subtitles especially the English subtitles.
No. 1: Netflix
Now, Netflix offers two translations for English speakers: English subtitles' and 'English [CC] (Closed Caption) subtitles', which are intended for the hard of hearing and include soundtrack notes and descriptions of background noises. From Korean speakers, the plain English subtitles are far superior, with some on Twitter claiming that the former translation is based on the original Korean script, while the CC one is a direct translation from the dubbed English script. So, when you stream Squid Game on Netflix, you are suggested to switch to "English" subtitles version for a more nuanced translation. BTW, Netflix also provides other Korean dramas with English subtitles.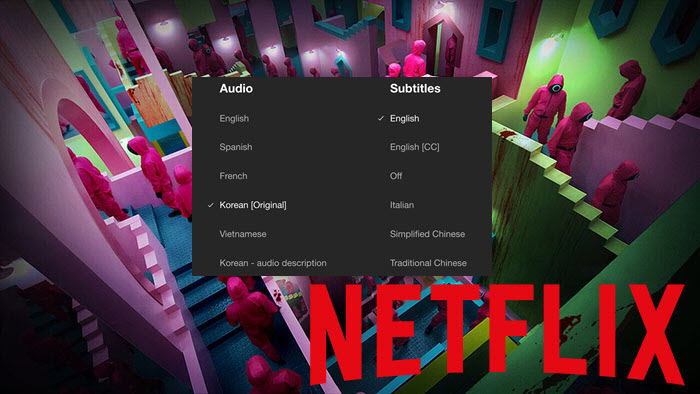 No.2: Subscene
Squid Game subtitles download are already available on Subscene. As of now, you can download Squid Game subtitles in English, Arabic, Persian/Farsi and Bengali. Simply download the language version you need and add them to Squid Game videos with the help of WinX HD Video Converter Deluxe.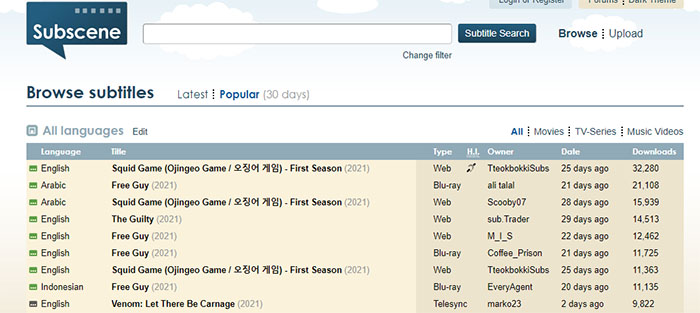 No.3: Podnapisi
As the worldwide hit, giant Squid Game viewers also increase the download number of Squid Game subtitles. On Podnapisi subtitle download site, there are already over 10,000 downloads of Squid Game episode 1 subtitle and it is sort of growing. Besides Squid Game subtitles, Podnapisi owns over 58,000 movies and 6,600 TV shows in 100 languages to help movie lovers learn better about film and TV works.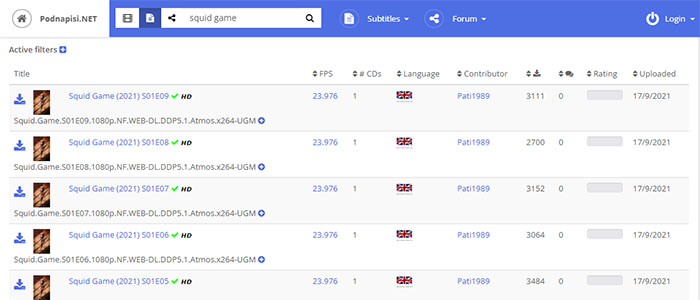 No.4: Addic7ed
Addic7ed is a subtitle download site to provide subtitles in 18 languages covering TV series, hot movies, popular shows, etc. As of now, Squid Game TV show season 1 episode 1-9 subtitles on this site are available to download for everybody, but only English version can be downloaded. BTW, if you are a member of this site, you can also view and edit the subtitles which are not ideal.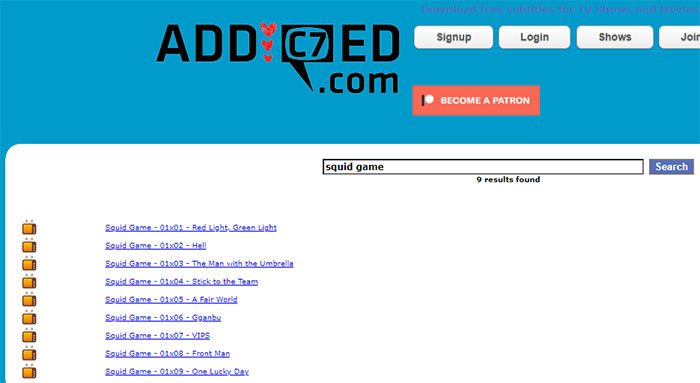 No.5: YIFYSubtitles
As a popular subtitles download site which classifies subtitles into Comedy, Drama, Thriller, Action, Romance, News, Family, Sport, etc. based on the TV series, movies or shows, YIFYSubtitles offers great convenience for you to download subtitles in different language. It's no exaggeration to say this Squid Game subtitle download site is the most suitable one for not only English-speaking individuals, as it comes with many language choices, covering Arabic, Bengali, Brazillian, Portuguese, English, Farsi/Persian, French, Hebrew, Indonesian, Thai and Vietnamese.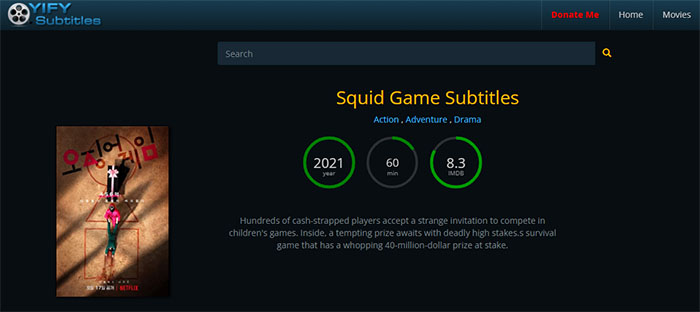 Click here if you want more subtitle download sites to download subtitles for Squid Game Series or other movies and TV shows.

.
Part 3. How to Watch Squid Game Episodes with Exact Subtitles?
After downloading Squid Game subtitles from one of the above sites, you can add the subtitles to your episodes 1-9 with the help of WinX HD Video Converter Deluxe.
Step 1. Free download WinX HD Video Converter, install and run it.
Step 2. Click "+Video" button to load Squid Game video you want to insert the subtitle to.
Note: After importing video successfully, this subtitle inserting tool will present an Output Profile window to prompt you to choose an output format. You can choose one same to the original, or select a different one. Then, hit Ok.
Step 3. Click Edit button, move to Subtitle tab, tick Enable Subtitle > Extra, and press Add button to open the SRT subtitle downloaded from sites above. After that, just hit Done.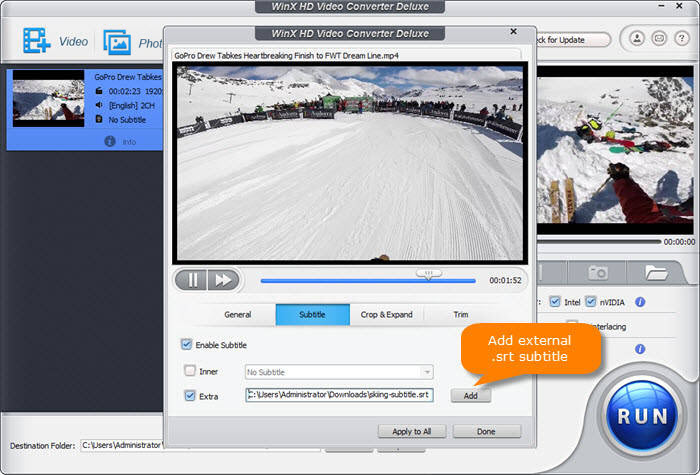 Step 4. If you have completed all settings, you can press lower right RUN button to begin inserting downloaded Squid Game subtitle to the video you downloaded.
Step 5. After adding subtitles to Squid Game, you can watch the series full episodes 1-9 with a media player like 5KPlayer.
Disclaimer: Digiarty Software does not advocate downloading or copying copyright content for any commercial purpose and suggests referring to the copyright laws in your countries before doing so.