Watch Korean Dramas with English Subtitles Full Episodes
"Does anybody know of some K-dramas available that have Korean subtitles? I would like to watch an episode with Korean subs to try to improve my (poor) listening comprehension."
When K-Pop becomes globally popular, it also brings into being the crowd-pleasing and well-received K-dramas. From the newest hit Squid Game (2021) to classic Full House (2004) that all wind through regions like a whirl, these K-dramas shows Korean industrialized level of production of shows and stars. If you are a die-hard fan of K-dramas, here is the place about how to watch Korean dramas with English Subtitles full episodes.
How to Watch Korean Dramas with English Subtitles?
If you are watching a Korean drama offline without subtitles, you can download subtitles online and then add it to your Korean TV show with WinX HD Video Converter Deluxe.
Add subtitles (SRT) in English to Korean dramas.
Enable/disable inner subtitles and add extra subtitles to MP4, MKV, MOV, etc. videos.
Convert videos from/to any formats up to 4K.
Have basic editings (trim/crop) to videos.
In This Article:
Part 1. Top Sites to Watch Korean Dramas with English Subtitles
What's in vogue on Netflix: Squid Game, Little Woman, Flower of Evil, Stranger, etc.
Korean Netflix has offered funny, intense, romantic and suspenseful Korean dramas with English subtitles to make you laugh, cry, sigh, scream, shout or whatever you feel like. Before the success of Squid Game, Netflix has unveiled a three-year licensing deal with South Korean cable TV network JTBC to acquire the worldwide streaming rights to more than 20 Korean-language drama series titles. As of now, Netflix streaming service has provided more than 4,000 Korean titles including new and classic ones for fellow K-Drama enthusiasts to pick, which is superior than other streaming services.
How to watch Korean dramas with English subtitles on Netflix?
1. Turn on Netflix and log in with your account.
2. Find the Korean TV shows that you want to watch.
3. Click or tap on the text icon in the bottom-right corner of the video.
4. Under "Subtitles", select "English".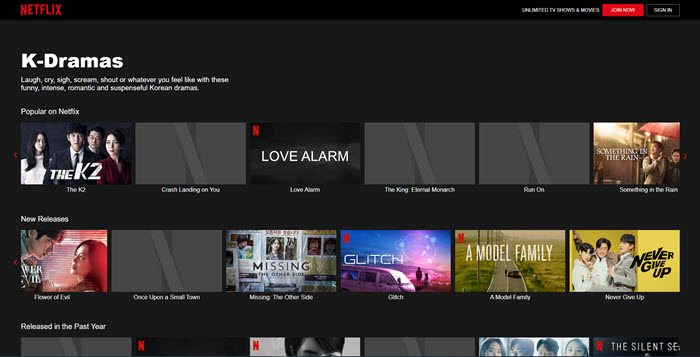 What's in vogue on Netflix: Love In Contract, What's Wrong with Secretary Kim, Descendants of the Sun, etc.
ViKi is especially suitable for fans from Southeast Asia, as it features not only Korean dramas, but also Chinese, Taiwanese, Japanese, and Thai TV series. All the contents on ViKi is legal, so you are reassured to watch them without copyright issues. All the Korean dramas have been well organized for easy discovery, you can select Korean dramas from romantic comedy, crime & mystery, thriller & suspense to action, romance and family & kids. Still, the website offers a subtitle community forum for anyone to contribute and create subtitles for shows, which also helps it be a popular place to watch Korean dramas with English subtitles full episodes.
How to watch Korean dramas with English subtitles on ViKi?
1. Find a drama to watch on this site.
2. Under the playback windows, click on the "CC" icon to turn on or turn off English subtitles for your Korean drama.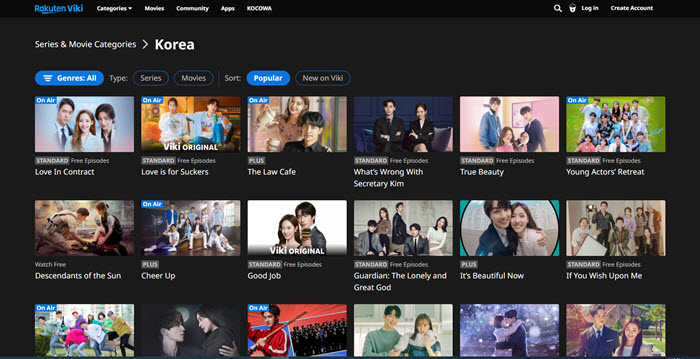 What's in vogue on ViewAsian: Curtain Call, The Witch's Game, May I Help You, Under The Queen's Umbrella, The Empire, etc.
Korean shows and movies have become extremely popular worldwide in recent years, especially the Korean drama series. So, ViewAsian streaming service which mainly targets Asian audiences also highlights the Korean dramas on its main webpage, despite it also provides TV series from China, Japan, The Philippines, Thailand, India and America. Different types of shows are classified based on genre, including action, criminal, comedy, animation, etc. However, this website is not like giant streaming service Netflix, you may be hard to find the works from famous stars like Lee Min-ho, Kim Soo-hyun, Hyun Bin, Jun Ji-hyun, etc.
How to watch Korean dramas with English subtitles on ViewAsian?
No requirement for any manual settings, this site offers English subtitles directly when you watch the K-dramas. For sure, some dramas don't have English subtitles that you need to add subtitles by yourself if needed.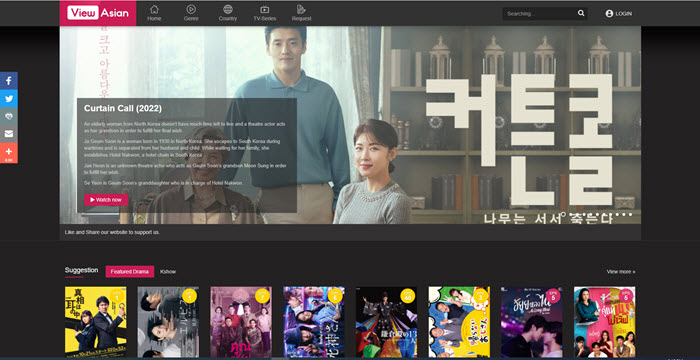 What's in vogue on Kocowa: Game of Witches, Vengeance of the Bride, Bad Prosecutor, Cheer Up, The Love in Your Eyes, etc.
Coming with a Netflix-like UI design, Kocowa is obviously designed for English speakers to watch Korean dramas with English subtitles full episodes. It is also one of the well-known places to stream a large collection of Korean TV shows in the Americas, with English and other language subtitles. By subscribing to this service, you can get access to over 17,000 hours of Korean TV. Also, it is available for you to enjoy TV series anywhere with the official iOS or Android app. If needed, you can stream media across platforms, including Google TV, Android, iOS, Apple TV, Chromecast device, and Roku.
How to watch Korean dramas with English subtitles on Kocowa?
1. Sign in Kocowa with your account.
2. Watch your desired Korean drama.
3. In the bottom right corner of the playback window, click on the "CC" icon and choose "en" to turn on the English subtitles for your Korean TV series.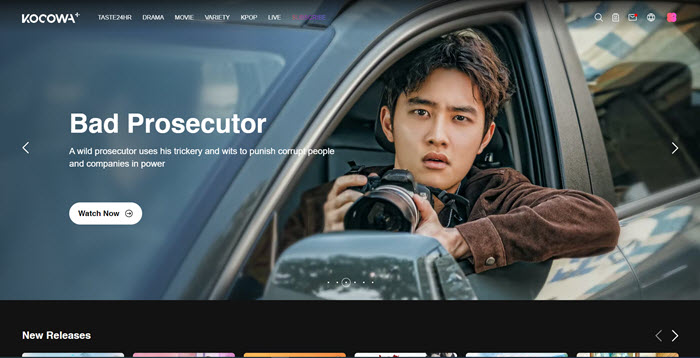 | | | | | |
| --- | --- | --- | --- | --- |
| 5. DramaCool | 6. KissAsian | 7. DramaNice | 8. Fdrama | 9. MyAsiaTV |
| 10. KShow | 11. DramaFeverOnline | 12. KDramaHood | 13. AsianCrush | 14. iFlix |
| 15. Hulu | 16. FixDrama | 17. Viu | 18. New Asian TV | 19. WeTV |
Note: Please keep in mind that not all Korean dramas are available in English language. That's why sometimes you need to download subtitles by yourself. So, below are top subtitles download sites where you can download specific and right English subtitles for Korean dramas. BTW, the single subtitles download site may not contain all the subtitles for all K-dramas, you can switch to another one to have a try.
Part 2. Top Sites to Download English Subtitles for K-Dramas
1. Subscene
Enter the name of your favorite Korean drama in the search box, and then there will be different languages including English for you to choose from. Besides English, you can also choose Arabis, Persian/Farsi, Bengali, Danish, French, Greek, etc. for your K-dramas. Simply click on the English language version you need to download and then add the English subtitles to your Korean TV series with a tool.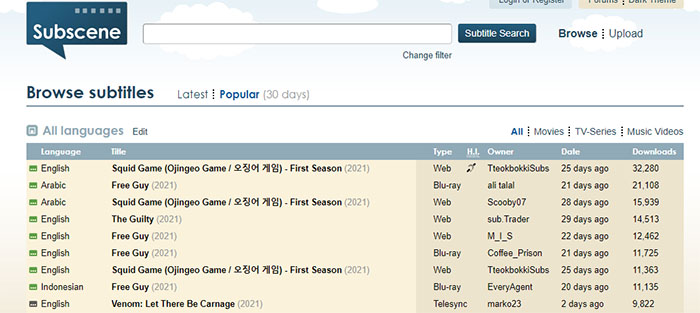 2. Podnapisi
Podnapisi owns over 58,000 movies and 6,600 TV shows in 100 languages to help fans to learn better about the film and TV works. As for the Korean dramas, your can find English subtitles for popular Korean dramas including Squid Game, Money Heist: Korea – Joint Economic Area, Vincenzo, Happiness, All of Us Are Dead, My Name, Healer, Crash Landing on You, and more that deserve watching.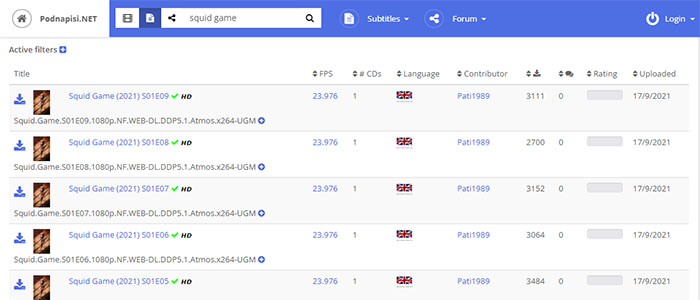 3. Addic7ed
This is another good subtitles download sites to download English subtitles for Korean dramas and TV series from other countries. Usually, it provides subtitles in 18 languages for film and TV works covering TV series, hot movies, popular shows, and so on. If you sign up to be a member of this site, you can also view and edit the subtitles which are not so ideal.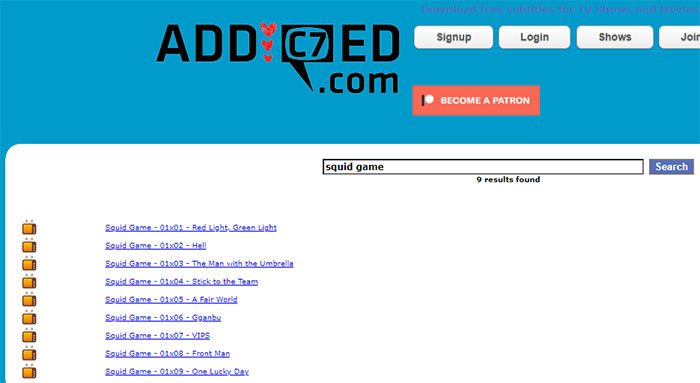 Click here for more free subtitles download sites >>
Part 3. How to Add English Subtitles to Korean Dramas?
Now that you have get the English subtitles for Korean dramas, you can add the English subtitles to your Korean drama with the help of WinX HD Video Converter Deluxe.
Step 1. Free download WinX HD Video Converter Deluxe, install and run it.
Step 2. Click "+Video" button to load K-drama video you want to insert the subtitle to.
Note: After importing video successfully, this subtitle inserting tool will present an Output Profile window to prompt you to choose an output format. You can choose one same to the original, or select a different one. Then, hit Ok.
Step 3. Click Edit button, move to Subtitle tab, tick Enable Subtitle > Extra, and press Add button to open the SRT subtitle file downloaded from sites above. After that, just hit Done.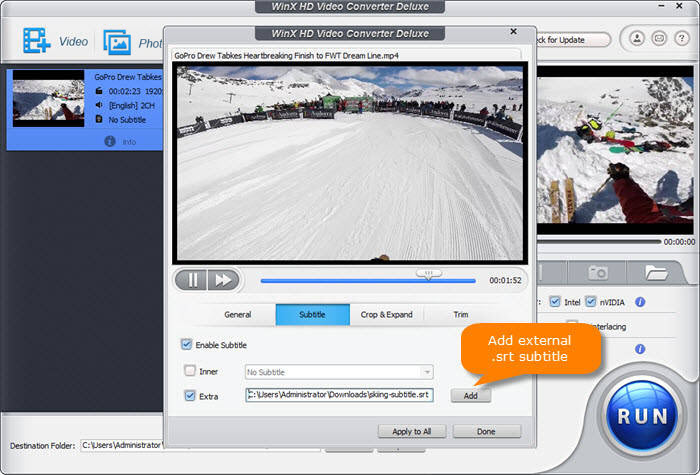 Step 4. If you have completed all settings, you can press lower right RUN button to begin inserting downloaded English subtitle to the video you downloaded.
Step 5. After adding English subtitles to Korean TV drama, you can watch the series full episodes with a media player like 5KPlayer.
Disclaimer: Digiarty Software does not advocate downloading or copying copyright content for any commercial purpose and suggests referring to the copyright laws in your countries before doing so.
Part 4. Best Korean Drama with English Subtitles Deserving Watching
K-Pop, K-dramas and K-movies have become the worldwide phenomenon, indeed. No matter you are not familiar with this field, or you are die-hard fan of Korean dramas or Lee Min-ho, Kim Soo-hyun, Hyun Bin, Jun Ji-hyun, etc. You should know these amazing and addictive Korean TV series with English subtitles.
Squid Game
Money Heist: Korea – Joint Economic Area
Vincenzo
Sweet Home
Happiness
All of Us Ate Dead
My Name
Signal
Healer
Crash Landing on You
| | | |
| --- | --- | --- |
| 11. Business Proposal | 12. Descendants of the Sun | 13. Hometown Cha-Cha-Cha |
| 14. Coffee Prince | 15. Boys Over Flowers | 16. True Beauty |
| 17. Weightlifting Fairy Kim Bok-joo | 18. Her Private Life | 19. Our Beloved Summer |
| 20. Run On | 21. Start-Up | 22. Love Alarm |
| 23. Nevertheless | 24. Touch Your Heart | 25. Goblin (Guardian: The Lonely and Great God) |
| 26. Hotel de Luna | 27. The Uncanny Counter | 28. Tale of the Nine Tailed |
| 29. The King: Eternal Monarch | 30. Mystic Pop-up Bar | 31. Memories of the Alhambra |
| 32. Legend of the Blue Sea | 33. W | 34. My Love from the Star |
| 35. Alchemy of Souls | 36. The Penthouse: War in Life | 37. SKY Castle |
| 38. It's Okay to Not Be Okay | 39. Love (ft. Marriage and Divorce) | 40. The Heirs |
| 41. Hi, Bye Mama | 42. My Mister | 43. Mother |
| 44. Kingdom | 45. 100 Days My Prince | 46. Pachinko |
| 47. Mr. Sunshine | 48. The Red Sleeve | 49. Rookie Historian Goo Hae-Ryung |
| 50. The Ghost Doctor | 51. Extraordinary Attorney Woo | 52. Hyena |
| 53. Law School | 54. Chief of Staff | 55. Search: WWW |
| 56. Reply 1988 | 57. Itaewon Class | 58. Something in the Rain |
| 59. Because This Is My First Life | 60. Navillera | 61. Record of Youth |
| 62. Lovestruck in the City | 63. Dear My Friends | |