Watch Netflix on Old iPad Not Compatible with Netflix App
Netflix is a great app to watch movies and TV shows on iPad, however, many users received "The app is not compatbile with this iPad" error message on their iPad Pro, iPad Mini, iPad Air, particularly old iPad model. There are several ways to stream Netflix on iPads even though your iPad isn't compatible with the Netflix app. First, check Netflix compatible iPad models list, then find workarounds to Netflix not compatible with iPad problem, for example, download old version of Netflix on iPad, download the Netflix app from another iOS device, etc.
Hot search: Netflix DVD rental is closing, what are the alternative services to rent DVDs?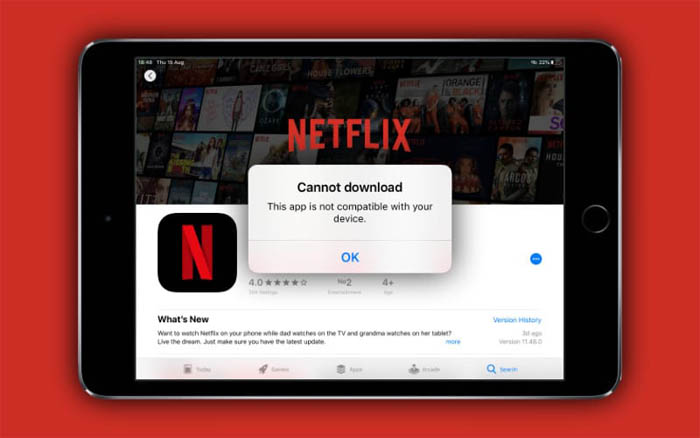 Table of Contents
Watch DVD Movies on Any iPad Generation (iPad Air/Mini/Pro)
If you have some movies and TV series on DVDs, free download WinX DVD Ripper Platinum to
Digitize Movies and TV Series on DVDs to iPad Air, iPad Mini, or iPad Pro for more convenient viewing.
Copy kids movies on DVDs, educational materials on DVDs to iPad for kids to watch.
Back up DVDs to ISO, TS Folder, MP4, NAS, Cloud, hard drive, etc.
What iPads Are Compatible with Netflix
Netflix app requires iPads running iOS 13.0 or later. The following iPad can support the Netflix app.
12-inch/11-inch/10.5-inch/9.7-inch iPad Pro
iPad (5th/6th generation)
iPad mini (4/5 generation)
iPad Air (2/3 generation)
iPad 3, iPad mini 2, the original iPad Air, and older iPads are not compatible with the Netflix app. Note that Netflix is compatible with iPads running iOS 5.0 or later that have downloaded the Netflix app already. To check the iOS version of your iPad, go to Settings > General > About, and you should see the iOS version number listed next to Version.
Related: How to Stream Netflix 4K on iPad and Other Streaming Devices
How to Watch Netflix on Noncompatible iPads
1. Update your iPad to newer iOS if it supports
If your iPad supports updating the latest iOS version, update your iPad iOS version. Tap on Settings > General > Software, tap Download and Install, tap Install, and your iPad will update to the latest version of iOS. If asked, enter your passcode. Before you update your iPad, make sure you've made a backup of your iPad using iCloud or your computer. After finished, try Netflix again.
2. Download old version of Netflix for iPads
Before you take this method, you should know that this way works for iPads running iOS 12 or older with the Netflix app installed earlier. That means your old iPad on 12 and earlier should have the Netflix app. You can't download an older version of iPads not compatible with Netflix and having no Netflix app before. Use the following steps to download old version of Netflix for iPads.
Step 1: Sign up with your Apple ID, go to Apple Store on your iPad
Step 2: Find the Purchase tab and search for Netflix app from the Purchased page.
Step 3: Tap the iCloud icon and you will see the message like "Download an older version of this app? The current version requires iOS 12 or later, but you can download the last compatible version".
Step 4: Tap the Download button. Now you download an older version of Netflix on your iPad, including iPad mini 2/3, iPad 3, and iPad Air.
Note: When you try to download the Netflix old version from the App Store, you might get the error message "Netflix is not compatible with this iPad." You will need to use another device compatible with Netflix to watch Netflix content.
Video Tutorial - How to Download and Install Netflix on Old iPad
3. Get the Netflix app from another iOS device
If your iPad iOS is below 13.0 and you have not downloaded the Netflix app, you still have a way to get the Netflix app on your old iPad.
Step 1: Download the Netflix app on a newer iOS device that uses the same Apple ID.
Step 2: On the newer iDevice, go to App Store, find the Netflix app, download and install it.
Step 3: Now, on your old iPad, go to App Store, then Purchased, you'll see the Netflix you just purchased on the newer iOS device with the same Apple ID.
Step 4: Then tap the iCloud icon to download Netflix to your old iPad that is not compatible with Netflix.
Note: if your iPad iOS is 5.0 or earlier, you will need another device to stream Netflix.
4. Watch Netflix on iPad via Safari without the Netflix app
You can watch Netflix on iPads using a web browser. Netflix.com is supported on Safari, Chrome, Edge, Opera browsers. Visit the Netflix website, select Sign in, enter your Netflix email and password to log in. You can add Netflix to your home screen to have a makeshift Netflix app for the same streaming experience without installing the app on your iPad.