Review on Fastest DVD Ripper - WinX DVD Ripper Platinum
WinX DVD Ripper Platinum is one of the best pieces of software of its kind on the market at present. And it has been updated to work with Windows 10 perfectly. With a few minor clicks and gesticulations of the mouse you can easily copy any DVD to PC hard disk or laptop ready to be stored and filed accordingly.
Thanks to its superb Multi-core CPU support (up to 8 core processor), CUDA and hyper-threading, WinX DVD Ripper Platinum is claimed to be the fastest DVD ripping solution currently available to the mainstream consumer base and I really must agree having trialed various pieces of ripping software in the past.
WinX DVD Ripper Platinum and its Mac version can help fast rip any DVD to MP4, MOV, AVI, iPhone, iPad, Android...
With this wonderful DVD ripper software, copy protection issues, DVD encryption and specific region locking are no longer the archaic obstacles from times of yore and it certainly takes no computer genius to cooperate with the sleek, chic and self-explanatory user interface. DVD CSS is also no mean feat for this little beast and it even supports ArccOS and Disney X-Project DRM!
This efficient and speedy piece of kit can rip DVDs effortlessly and effectively and convert given source media into a range of useful and conventional formats such as MP4, MPEG, MOV, 3GP and AVI ready to be used in conjunction with your favourite playback medium, for instance an iPhone, iPad, mobile phone or games console.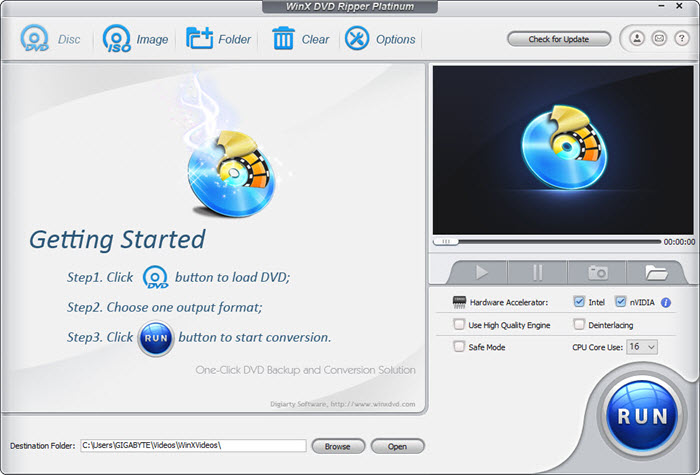 It's even possible to back up HD 5.1 Channel AC3/DTS Dolby Digital Audio to hard drive or USB within a matter of minutes, which means that creating your own personal DVD library has never before been so smooth! I would without hesitation recommend this remarkable little piece of gadgetry to anyone wishing to create copies of their favourite DVDs or family videos. This leading publisher has really succeeded in creating a perfect DVD ripping suite, capable of providing an easily accessible user interface and fantastic functionality.
This software works beautifully well with a wide range of DVD burner software packages and DVD authoring suites such as WinX DVD Author, making it the perfect addition to anybody's DVD archiving, mastering and editing arsenal. On top of all this WinX DVD can also be purchased directly from the software publisher's web page. So no need to take a trip out to get an absolute steal of a product at an absolute steal of a price - just $39.95. An all-round winner for the novice DVD enthusiast or even an experienced DVD and video archiving junkie!