WinX DVD Ripper (Platinum) Review - Is It the Best DVD Ripper for You?
When we Google "DVD ripper", "DVD ripping software", "rip DVD", and other similar words, we can always see WinX DVD Ripper (Platinum). So is it really a good DVD ripper? Here, we will give a detailed review of WinX DVD Ripper (Platinum). Is its interface clean and tidy? How about its DVD compatibility? Are copy-protected DVDs supported? How is its functional configuration? How is its DVD conversion speed? How long does it take to rip a DVD? How good is the quality of its output? We will answer questions including but not limited to all of the above. Now read our WinX DVD Ripper (Platinum) review.
Part 1. What Does WinX DVD Ripper (Platinum) Do?
WinX DVD Ripper (Platinum) is a piece of desktop-based program that can convert DVDs to digital files. To be specific, it can:
Convert specified DVD content to MP4, MOV, AVI, WMV, 3GP, FLV, and more video formats.
Clone all DVD content to ISO image and VIDEO_TS folder.
Convert ISO image file and VIDEO_TS folder to mainstreaming formats like MP4.
Extract audio files from DVD as MP3, AAC, AC3.
Trim and crop movie. Add external subtitles to movie.
Convert interlaced DVD to progressive scanning video.
Convert region-locked DVDs to region-free files.
Bypass DVD copy protections on its own.
You can click the download button below to get the setup file and install it to experience these features.
Part 2. Is There a Free Version of WinX DVD Ripper?
There used to be a standalone free version called WinX DVD Ripper. Below is a screenshot of its interface.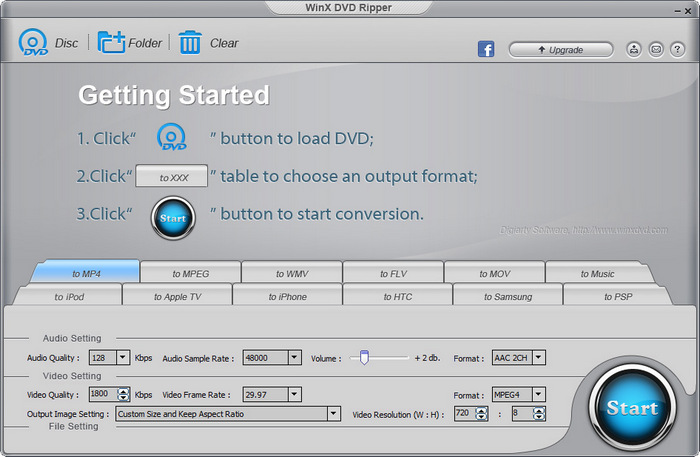 However, this version is no longer available for download. The product page of WinX DVD Ripper still exists. Click the download button on the product page, you will get the setup file of WinX DVD Ripper Platinum. Don't be in a hurry, because you can find an entry to get a license of WinX DVD Ripper Platinum for free on the product page. In this way, you can enjoy all the features of WinX DVD Ripper Platinum for free.
Ok, now we've figured this out. Next, we'll start reviewing WinX DVD Ripper Platinum. We're going to show you the whole progress from download, installation, to operation.
Part 3. WinX DVD Ripper Review: Is It Safe to Download?
Yes. WinX DVD Ripper is safe to download and use. After we downloaded the installation file of WinX DVD Ripper (31.64 MB only), we used one of the famous online virus scan tools named VirusTotal to scan. As a result, we did not find any malware. The following screenshot is our scan result. Now, let's double click on the .exe file to install it. First of all, it required me to select a language to use during the installation: English, Spanish, German, French, Italian, Japanese, or traditional Chinese. Next, I came to the Setup screen. Following the setup wizard, I took a few clicks only to finish the installation. This lightweight tool only requires 102.1 MB of storage. Once done, I got nothing except for WinX DVD Ripper. No additional software was installed on my computer. Part 4. WinX DVD Ripper Review: How It Works?
Next, it prompted me to enter my email and license to activate the software. So, I entered the license that I obtained for free before. As you can see, the product was activated successfully. Next, I saw the main interface of the product. The interface is very slick and intuitive, including a top menu bar, a preview window, a few simple setting options, and the quick start guide.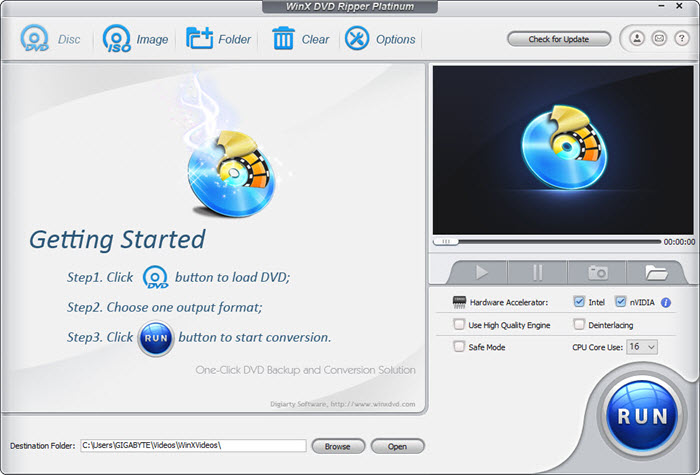 According to the user guide , we can see that only 3 steps are needed to complete the DVD conversion. Now let's insert a DVD to have a try.
After inserting my DVD (Up 2009 film) into the DVD drive, I went back to WinX DVD Ripper Platinum and then clicked the DVD Disc button at the top left corner. Then, a small window popped up. I found that my DVD was already selected. So then, I just need to click the OK button.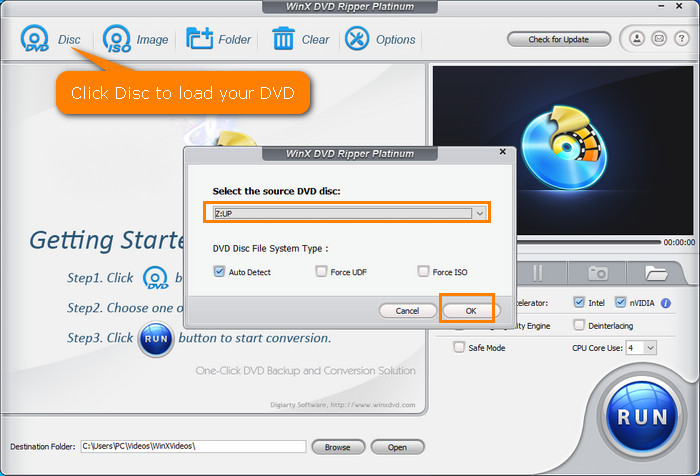 Then, it began loading my DVD. About 3 seconds later, the Output Profile window appeared. All output presets are well-organized. In the left sidebar, we can see more than ten categories. Each category includes several to dozens of presets.
Recently Used Profile
General Profiles: MP4 Video, AVI Video (Divx/Xvid+MP3)…
DVD Backup: DVD to ISO, DVD to folder, main title copy, full title copy
Apple Device: to iPhone video, to iPad video, to Apple TV, to iTunes, to iMovie…
Android Pad: to Samsung Pad video, to Google Pad video, to Huawei Pad video…
Android Mobile: to Samsung mobile video, to Google mobile video, to Huawei mobile video…
Microsoft Device: to Xbox video, to Surface video…
Sony Device: to PS4 video, to Xperia video…
Other Devices: to BlackBerry, to Nokia, to ZEN…
YouTube Video: MP4, MPEG4, FLV
Facebook Video: MP4, MOV, AVI, FLV
Vimeo Video: MP4
General Web Video: WMV, AVI, MOV, MP4
PC General Video: AVC, AVI, MP4, MPEG, Chromecast, WMV, MOV
Mac General Video: MP4, M4V, MOV
TV Video: Samsung, Sony, LG, Panasonic…
To Music: MP3, AAC, AC3/DTS
TS Video: TS, M2TS
Here, I went to General Profiles and chose MP4 Video which is the most popular choice thanks to its good compatibility. It's worth mentioning that there is an output quality slider. Dragging it to the left will reduce the output quality and increase the output speed. Dragging it to the right will improve quality and decrease speed. After selecting output format, a small window popped up saying new Disney encrypted DVD detected. Then, I clicked OK.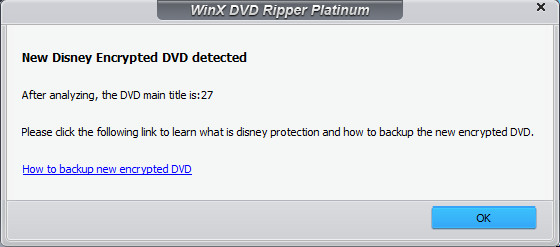 The right movie title was already selected, although this DVD has 99 titles with a slew of phony titles designed to confuse this kind of software. The English audio track was selected automatically. The subtitle was set to disabled. Each has a drop-down menu, so I can change it if necessary.
When I clicked the Edit button, I accessed to the built-in video editor which allowed me to trim, crop, expand, and subtitle video. And there is a setting button for advanced users. After clicking this button, I entered an interface where I could adjust audio and video parameters, including bit rate, frame rate, aspect ratio, resolution, etc.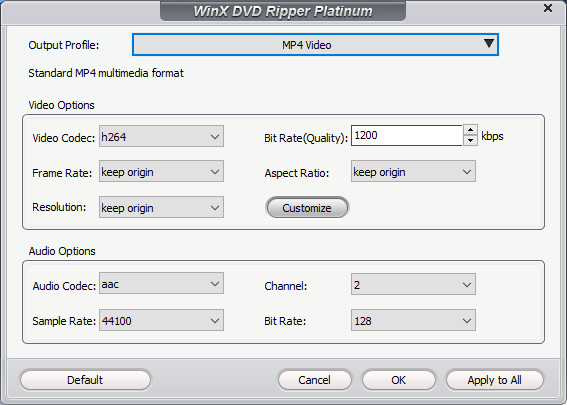 Now that all our setup work was done, I hit the RUN button. So, a progress window showed up.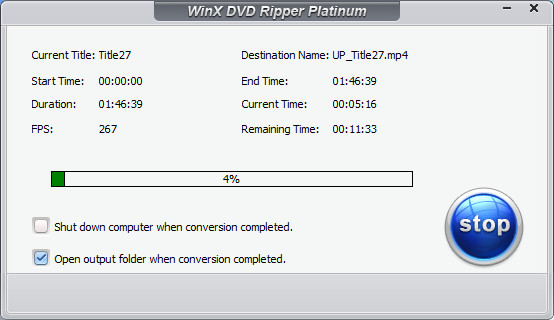 Once done, I got a 918 MB MP4 file. I played the whole movie with VLC and didn't find any problems that always happened in other DVD rippers, like video audio out of sync. The above is all the operation process. You can see that the operation is simple and the interface is clean.
Part 5. WinX DVD Ripper Platinum Review: How Long Does It Take to Rip a DVD?
How long the DVD ripping process takes depends on the version of the software we're using, the DVD drive speed, the output settings, and our computer configuration. With the release of version 8.5.0, it added the support for GPU hardware acceleration which improved the ripping speed to 2X faster than before.
Ripping the Up DVD to MP4 took me 8 minutes 12 seconds only. The fps speed reached 265 – 300 fps. This is much faster than other similar programs.
My computer information: Intel(R) Core(TM) i5-4460 CPU @ 3.20GHz, 8.00 GB RAM, Windows 10
Source DVD information: name - Up (2009), video length - 1:46:39.
Output setting: MP4 (h264+aac), keep original resolution, keep original frame rate, keep original aspect ratio, video bit rate 1200 kbps, audio bitrate 128, sample rate 44100, channel 2.
Part 6. WinX DVD Ripper Platinum Review: How Good Is the Output Quality?
It depends on our output settings. If we choose an output profile under DVD Backup, we'll get the original quality.
If we choose the MP4 Video under General Profiles and keep the default settings, we'll also get a good result. The screenshot below is a comparison of the original quality of the DVD and the quality of the converted MP4 file. The naked eyes can hardly see any difference. Part 7. WinX DVD Ripper Platinum Review: Customer Service
WinXDVD provides good customer service. We can contact technical support through email (support@winxdvd.com) or social media. They will reply within 24 hours.
Part 8. WinX DVD Ripper Platinum Review: Verdict
Install package: lightweight and clean.
Compatible OS: Windows and Mac.
Supported input file formats: DVD disc, ISO image, VIDEO_TS folder
Compatible DVDs: home-made DVD, copy-protected DVD including 99-title discs, and even some scratched DVDs.
DVD decrypting capability: yes.
Supported outputs: more than 350 output profiles.
Ripping speed: superfast.
Edit video: yes.
Language support: English, German, Chinese, French, Italian, Spanish, and Japanese
Pros:
Easy to use, even for newbies.
Breaks DVD region code restrictions and copy protection schemes without additional tool.
Provides custom profiles for all popular devices, programs, and SNS.
Allows adjusting output quality.
Supports hardware acceleration to boost ripping speed.
Built with video editing tools.
Cons:
The interface looks slightly outdated.
Doesn't support ripping CDs and Blu-rays.
To sum up, WinX DVD Ripper Platinum is a good choice when you need to rip a DVD, be it a home video or a commercial movie. It will not require you to install libdvdcss or something to decrypt DVD, because it can do it on its own thanks to its powerful DVD decoding mechanism.
With a few minor clicks and gesticulations of the mouse you can easily copy any DVD to PC hard disk or laptop ready to be stored and filed accordingly. It can convert given source media into a range of useful formats such as MP4, MPEG, MOV, and AVI ready to be used in conjunction with your favorite playback medium, for instance an iPhone, iPad, mobile phone or games console. The default settings can give you a perfect balance between quality and file size.
The support for GPU hardware acceleration, Multi-core CPU, and Hyper-threading technology makes it possible to complete a DVD ripping job in minutes, even on a moderately configured computer.
I would without hesitation recommend this remarkable little piece of gadgetry to anyone wishing to create copies of their favourite DVDs or family videos.
Disclaimer: Digiarty Software does not advocate ripping copy-protected DVDs for any commercial purpose and suggests referring to the DVD copyright laws in your countries before doing so.
WinX DVD Ripper Reviews from Other Sites: