How to Mount DVD ISO Image Using DVD Copy Software
ISO is short for International Organization for Standardization and taken from ISO 9660 file system. ISO image, the file of which has a file extension of .iso, includes all the data of files contained on the archived DVD which are not compressed. Therefore, ISO image can claim to be a real digital copy of the original DVD.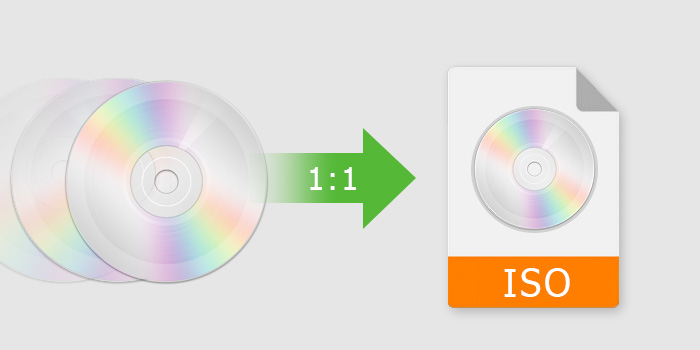 Free Download WinX DVD Copy Pro to Mount DVD to ISO Easily!
Strapped for time? Click one of the links below to jump straight to your most interested part.
Part 1: What is ISO Image Capable of?
There are many things that ISO image can truly do:
A. ISO image file can be directly burned into DVD - ISO is the only DVD output format which completely keeps the original structure of DVD and maintains the original menu, titles and chapters, etc., so ISO can be burned to DVD directly;
B. ISO image file can be played by most players, for example, 5KPlayer, VLC, MPlayer, KMPlayer, SMplayer, Splayer, etc;
C. ISO image is composed of one file only, so it is convenient to manage, save and carry.
Usually, general DVD copy software can help us copy DVD to a file or folder. WinX DVD Copy Pro, taken as an example, can copy DVD to DVD, backup DVD to VIDEO_TS folder, copy DVD to single MPEG2 file with original video tracks and original surround AC3 audio. or clone DVD to ISO so that you can keep ISO file on either hard disk or network as a file, and play or process it anytime you want, or further burn ISO into DVD.
Moreover, this reformed DVD backup tool can also help mount DVD ISO image file to a virtual drive as if you have inserted a real DVD disc into CD-ROM. That is to say, you can clone DVD to ISO image and then mount the cloned ISO image by the same software without the need of any third party ISO image mounting software.
Part 2: How to Clone DVD to ISO and Mount DVD ISO Image?
In order to mount DVD ISO image as a virtual drive, you need to create ISO image first. The method thereof is to clone DVD to ISO. After download and launch WinX DVD Copy Pro for preparation, there are four steps for cloning DVD to ISO: When you have a DVD ISO image on your computer, you can simply mount ISO image with the same DVD clone software which can emulate a drive in your Windows Explorer automatically. The way to mount DVD ISO image is as follows:
Step 1: Click on "ISO Mounter" button on the left under "Tools" column;
Step 2: Browse to input ISO image as Image Source;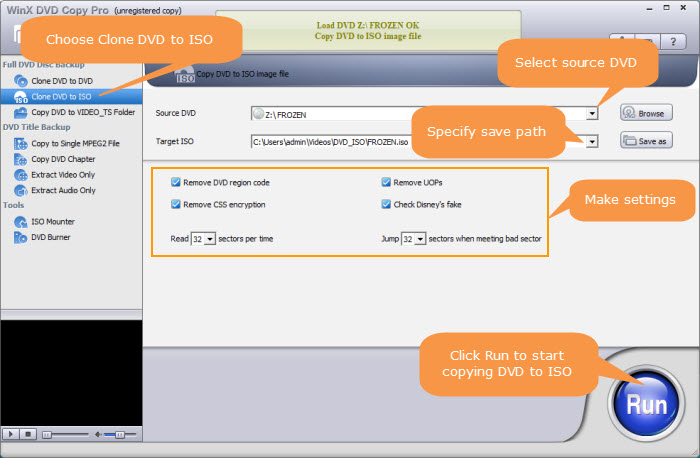 Step 3: Choose a target drive as the virtual drive;
Step 4: Just hit the "Run" button.
WinX DVD Copy Pro Features
WinX DVD Copy Pro can mount DVD ISO image file by creating a virtual drive on the computer. Afterward, you can further rip ISO image into other video format, play back ISO image on players, burn ISO image to DVD or back up ISO to USB portable hard drive.
* 1:1 Copy DVD to MPEG2 file/ISO image.
*1:1 Clone DVD to DVD disc fast.
* Mount ISO Image to DVD Disc
* Burn VIDEO_TS Folder to DVD disc.