How to Convert and Transfer VHS to DVD on PC for Your Home Theater
This article will walk you through converting and transferring VHS tapes to DVDs and ripping these DVDs to digital files on computer.
Q: I have old family 8mm films that go back to the around 1943 and super8 films that were converted to VHS. Then I wanted to convert the VHS to DVDs before the TAPES degraded naturally. What can I do?
A: VHS tape is old and backward video storage medium or analog recording videotape that is dying off. But for the backup of decades-old footages and films, many still need to know how to convert VHS, VHS-C, MiniDVD, Betamax, 8mm, Hi8, Digital 8, Video 8; foreign (PAL) tapes NTSC to DVD, for the sake of recalling memories or reviewing classics, since optical disc formats provide much better quality and longer survival time than video tape. Please read the following VHS to DVD conversion guide.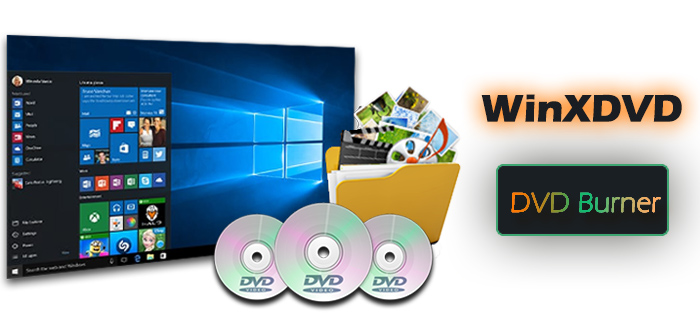 How to Convert VHS for Modern Home Theater
It is actually improper to use the word "Modern" here because VHS is so much antique. But if managed and utilized properly, such old tapes can help build a surprising home theater on your end. Also see: How to Convert VCR Tapes to DVD >>
Part 1. Convert and Burn VHS to DVD using RCA & DVD Burner Software
Traditionally, there are four methods to convert VHS to DVD. You can convert VHS Cassette to DVD using a VHS-DVD combo recorder, or similarly, VHS player and DVD recorder, or with the help of an analog-to-digital adapter or the VHS to DVD conversion service. Here we take use VHS player as an example:
Step 1: Connect VHS player or camcorder to the built-in USB capture device via RCA.
Step 2: Connect the capture device to your PC's USB port.
Step 3: Capture and transfer films to DVD.
The recording method won't allow for any editing features. Analog-to-digital adapter is much more convenient and advanced than the combo recorder as it is a digital era, so we recommend you to digitize the VHS tapes (or say, old analog movies) at first. Namely, connect the analog-to-digital adapter to your computer and VCR, and turn them to digital video files, before finally you can burn the footages to DVDs with the help of WinX DVD Author.
- "I have DVDs that I want to copy, they are our home movies that were on VHS and I dubbed them to DVD. The DVDs have a VOB file on them. What is the best way to make duplicates of these DVDs?"
If you need to copy VOB to DVD, please download and try WinX DVD Author, which is a free video to DVD burner and editor without any plug-ins, adware or malware. It accepts blank DVD+/-R, DVD+/-RW, DVD DL+R, DVD DL+/-RW. Here's how to burn a video to a DVD disc.
Step 1: Add a video file converted from your original VHS tape by clicking Add File (+) button.Supporting batch mode, the DVD author allows you to add two or more Hi8 or V8 home videos at one time.
Input Formats Supported: MKV, AVI, ASF, MP4, MPEG, MOD, MOV, WMV, FLV (YouTube), RM, RMVB, Xivd, DviX, H264, 3GP, QT, VOB, etc

Output Formats Supported: DVD Disc, DVD Folder, VOB File
Step 2: Click "Title Menu" and "Chapter Menu" to create title menu and chapter menu. You can also add text through "TT" button.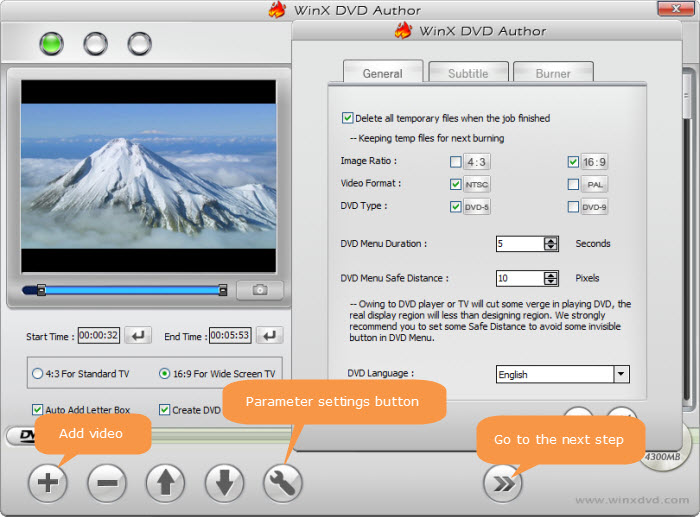 Step 3: Choose your output video file folder and output format (NTSC/PAL) and "Start" your DVD creating. Then you can burn the VHS video straight to DVD and share these gems with the family.
Tips: The DVD burner also enables you to customize the subtitles, adjust video parameters like Image Ratio, Video Formats, DVD Type and DVD Menu Duration or add background music or pictures according to personal editing needs.
Part 2. Copy VHD to DVD using a VCR & a Video Capture Device
To transfer VHS contents to DVD disc, you can also connect a VCR to your computer and then resort to a video capture device to move VHS contents to DVD disc. Follow the below instructions to get VHS transferred to DVD:
Note: make sure that your PC has enough RAM available and that the speed of both your processor and your hard drive can be as fast as possible. Cuz your VHS files will become quite large when it begins converting analog video to digital video. This not only chews up a lot of hard drive space, but if your computer isn't fast enough, your transfer might get stuck, or you may randomly lose some video frames, file data during VHS video to DVD transferring process.
Connecting your VCR to a desktop or laptop via an analog-to-digital video capture device.
Record your VHS video to the PC's hard drive.
Write the video to DVD disc using a PC's DVD writer.

Some analog-to-digital video capture devices also come with software that goes a long way in making the VHS video transfer more flexible with editing features to polish your video content with titles, chapters, etc.
Part 3. Resort to a Professional Service
If you'd rather not go through the hassle yourself and are apt to invest a bit more money at the project just to get it done, the professional services are best for you to help you transfer your tapes to DVD disc without any sweat.
YesVideo is the one worth your try! It provides its service through local retailers like Costco, CVS, Walmart, and Target. Not only will they transfer VHS tapes for $25 apiece (or less grounded on the retailer), but you can also digitize photographis, old film reels, and slides, let alone 8MM, and other types of tapes. This service might cost you some money, but it liberates you from the annoying yet tricky work. Almost no work needs you to get involved. Therefore, it's highly recommended if you need quick yet pain-free method in the VHS to DVD converting job.

Part 4. Rip DVD to Digital Video File on PC/Mac
If you have home movies from VHS tapes that had been burned onto DVD, you can change it to digital files by ripping DVDs to AVI, MP4/H.264, MPEG/MPEG2, WMV, FLV, MOV, M2TS videos or ISO image files that are widely accepted. The DVD conversion can be realized on PC or Mac by WinX DVD Ripper Platinum or DVD Ripper for Mac such that you can play the VHS footage videos on Samsung tablets, iPhone, Apple TV, etc.
- "We want a program that will quickly rip these DVDs to MP4. How fast can your program rip a 2 hour movie to MP4?"
WinX DVD Ripper Platinum is well known for its blinking fast speed with Super Encode Engine based on MMX- SSE & 3DNow! and Hyper-threading tech, as well as the maximum utilization of newest CUDA and multi-core i5 i7 CPU. In general cases, it backs up a 2-hour (feature-length) DVD movie within half an hour, which also depends on the condition of computer.
Step 1: Load your source DVD by clicking "DVD Disc" button. If no, you can add ISO image or DVD folder instead. The DVD ripper supports both NTSC and PAL formats.
Step 2: Choose an output format. For DVD to MP4 conversion click "General Profiles" under Output Profile Category, choose "MP4 Video" or "MPEG4 Video" and click OK. You can also find this format under "PC General Video" or "Mac General Video" column. If you need to play the DVD movie on iPad, iPhone, Android or other tablet/mobile/game console, you can select the ready-made device profile directly.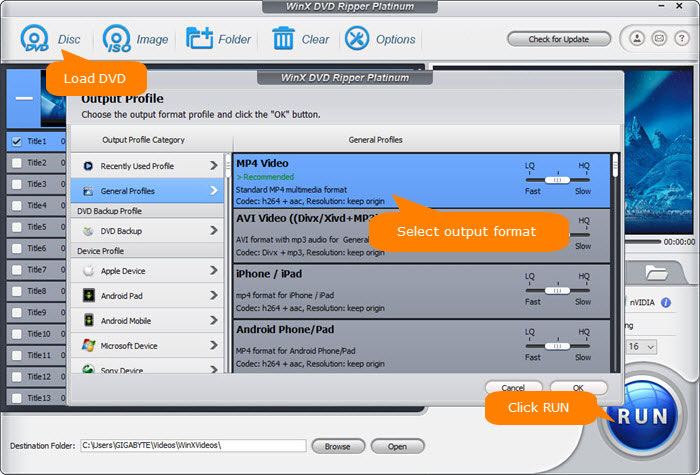 Step 3: Hit RUN and start ripping the DVD to MP4 video file.
Tips: WinX DVD Ripper Platinum (or for Mac) supports edit the DVD by merging several titles, adding extra subtitles or enabling inner subtitles, crop & expand the image, and trim video segment.
Disclaimer: Digiarty Software does not advocate ripping copy-protected DVDs for any commercial purpose and suggests referring to the DVD copyright laws in your countries before doing so.