How to Convert MKV M2TS for Playback on Sony PS4/PS5
Sony's PlayStation 5 is one of the most anticipated releases of 2021 in the gaming world. It is said by the developer Sony to be with an overarching theme of a "frictionless and seamless" gaming experience. But much more than that, it is also a miraculous device to watch videos with the configurations of 4K resolution, HDMI (1080p and 4K), optical S/PDIF, Blu-ray drive, streaming function and support for and an additionally upgradable to 500-gigabyte hard drive.
It is a wonderful idea to watch movie on Sony PS4/PS5. However, some common high definition video formats such as M2TS, MKV cannot be played on PlayStation4/5. In such cases, you need to convert MKV M2TS to Playstation for playing more HD movies and videos on Sony PlayStation.
This article will introduce how to convert HD MKV MTS M2TS videos to Sony PS4 with an MKV to PS video converter which is capable of converting any videos to Playstation friendly videos.
How to Convert MKV/M2TS to PS4/PS5 on PC/Mac?
WinX HD Video Converter for Windows/MacDownload Best MKV/M2TS to Playstation Converter now to convert store MKV/M2TS or other HD videos to Sony PlayStation4/5 fast.
WinX HD Video Converter Deluxe is a simple-to-use program which comes with advanced features for encoding video files. - Editor's Review from Softpedia
Strapped for time? Click one of the links below to jump straight to your most interested part.
Part 1: Convert MKV/M2TS or Other HD Videos to PlayStation Video on PC/Mac
Want to play HD movies on Sony PS4? You need the assistance of a HD video conversion software program to convert TS/MTS/M2TS/MKV/MOD to Sony PS4/PS5 videos for playback. You can rely on WinX HD Video Converter Deluxe for Windows PC and WinX HD Video Converter for Mac for your Mac Pro, Mac Mini and iMac.
Step 1: Load MKV/M2TS video to the HD video converter
Launch the video converter on PC or Mac computer, click "+ Video" button on the top left to add your MKV/M2TS movie file to the software. And then the video will be read and recognized automatically. You can add multiple movies at one time.
Step 2: Choose the output profile
Find Sony Device, click and choose to PS4 Video, select one PlayStation (AVI/H264/MPEG4/MPEG2/WMV2) among the right options.
WinX HD Video Converter Deluxe (or for Mac) is capable of converting MKV to AVI, MPEG4, H.264, MPEG2 and WMV2 for your Sony PlayStation console.
Step 3: Make personal settings changes and RUN
The converter enables you to preview the movie(s) to be converted. You can also choose to or not to edit the video, rename the video, or change the output folder destination. After clicking the giant RUN button on the bottom right, you are good to go and feel the stable and fast conversion on Mac or PC. Can PlayStation play HEVC? refer to HEVC playback support on PS4/PS5.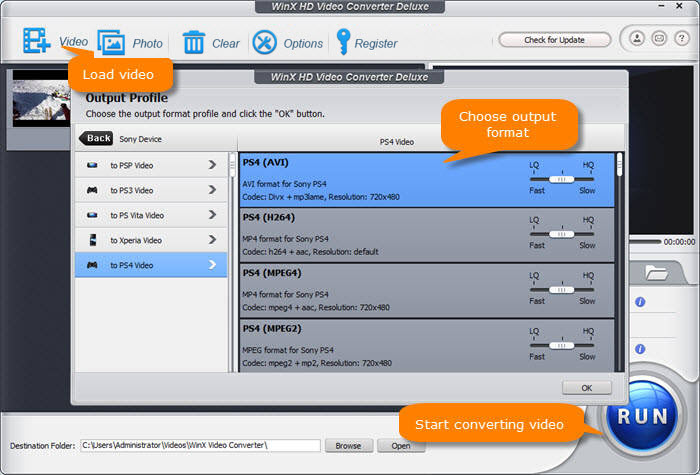 Part 2: Transfer HD Movies to PlayStation Video from PC/Mac
Before transferring the converted HD movies to PlayStation from your computer, please make sure of the following things to get ready:
● The computer with the movie file that has been converted as above;
● A USB external hard drive or flash drive;
● A PlayStation4
1. Transfer the converted movie file from your computer to the USB. You should format it to FAT-32 if you are using an external hard drive.
2. Insert the USB flash drive or hard drive into one USB port of PS4 console.
3. Turn your PlayStation on after making sure there is a disk in the system, and then go to the main menu.
4. Select "Video" and then find your USB device.
5. Select "Display All" to see all the video files existing on your Sony PlayStation.
6. Select the file you wish to transfer and press the triangle button.
7. Choose "Copy" and confirm the transferring, then the movies are transferred and copied to your PS4 hard drive.
PlayStation 4 is thereby used as a host and a controller, through which you can play the HD movies on the display of computer monitor, video projector, digital television, or digital audio device with the help of HDMI or optical S/PDIF.