Convert Blu-ray to DVD with best Blu-ray to DVD Converter
WinX DVD Author is the best free tool to convert video to DVD
DVD is, by some measurements, the greatest success in consumer electronics history. Following its 1997 debut, DVD took the format just a few years to completely conquer the home-video market previously ruled by VHS tapes.
Now that HD DVD is dead, Blu-ray is poised to take over as the consumer home-video format of choice. Blu-ray offers high-definition video and high-resolution audio, providing a superior viewing experience to DVD, although you need a modern home theater to take advantage of it. Usually we may regard that Blu-ray is superior then DVD all the way. However, once in a while we may need to convert Blu-ray to DVD just like cases below.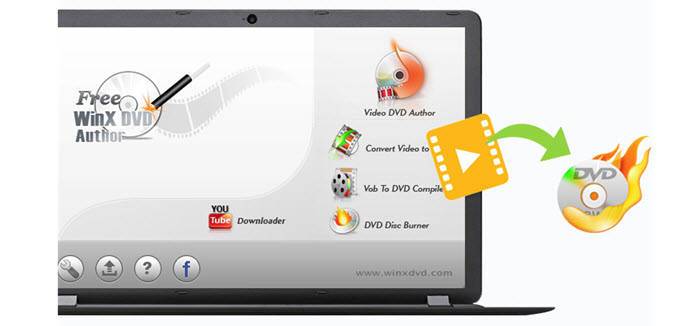 Situations We may Need to Convert Blu ray to DVD
First of all, when you overdraft your account and have no balance outstanding to purchase new Blu-ray disc Player, then by converting Blu-ray to DVD disc, you can still take afterheat of your DVD Player.
Secondly, do not blindly believe in Blu-ray image is much clear than DVD's. Typically, the Bluray cost around double the figure for an ordinary DVD, while many have a recommended price of more than $30. However, a test found fewer than one in three Blu-ray films delivered an outstanding difference. The organisation's experts used two identical TVs to simultaneously watch Blu-ray and standard DVD versions of 17 films. Around half of the Blu-rays offered only a marginal improvement then DVD.
In particularly, when you sit before EDTV (480p) rather then HDTV (720p, 1080i, 1080p), again Blu-ray will just be downscaled to DVD level. It means that after converting Blu-ray to DVD with professtional Blu-ray to DVD Converter, you can not tell the difference before and after conversion. If fortunately you have a Blu-ray Player, as well as super-big HDTV, do you think 100% there is no need to convert BD to DVD? No. A useful Blu-ray burner is pretty costly. If you convert Blu-ray to AVCHD DVD, it can not only achieve 1080p full-HD quality, but also playable on majority of Blu-ray Player (Need a Free Blu-ray Player Software on your Computer?).
Basic Comparison between Blu-ray and DVD
Cost: Blu-ray's main drawback is cost. Prices for players are still generally over $200 and movies cost about $25.
Digital backup solution: Generally regular video format like AVI, MP4 can used as backup of DVD disc onto hard disk. But as for around 50GB BD, it seems only compress Blu-ray to MKV format can solve this trouble.
Available titles: Another downside is that the number of titles on Blu-ray is still much smaller than DVD. There are currently about 970 Blu-ray titles available, compared with more than 90,000 on DVD.
Load times: When Blu-ray first came out, load times were unbearable, it could take more than 3 minutes to load a movie. Since then, players have gotten much faster, but they still don't compare with the speed of loading a DVD.
Portability: Lastly, if you start buying Blu-ray movies, you may get frustrated that your new movies won't work in places where you only have a standard DVD player.
Disclaimer: Digiarty Software does not advocate ripping copy-protected DVDs for any commercial purpose and suggests referring to the DVD copyright laws in your countries before doing so.