How to Watch 4K Netflix on Mac?
Netflix 4K content has been available to stream for years, but it's never been an option for Mac users to watch Netflix at 4K resolutions. Mac users are limited to watch Netflix at 1080P because Apple hardware didn't support the HEVC codec used by Netflix. But now, with the release of macOS 11 Big Sur, it is able to watch Netflix on Mac. The new system brings many new features, one of which is a Safari upgrade to stream 4K and Dolby Vision content. In this post, we'll show you how to watch Netflix 4K contents on Mac computers.
Hot search: Netflix DVD rental is closing, what are the alternative services to rent DVDs?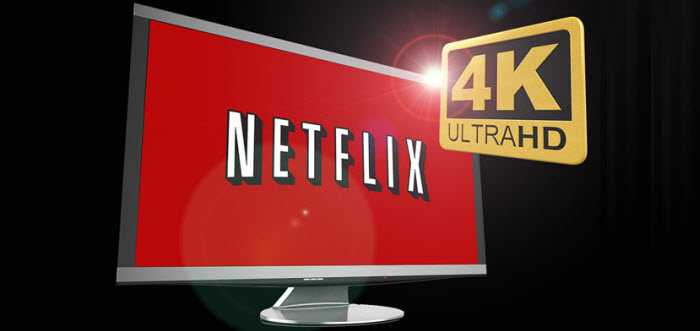 Table of Contents
Part 1. How to Watch Netflix in 4K on Mac Big Sur & Later?
To watch 4K Netflix on Mac Big Sur or later, you have to meet the following requirements:
1. Hardware and Software
First of all, you need to upgrade your computer system to macOS Big Sur and Safari 14 to get the ability to play HEVC Netlifx content. In addition, not all Macs support 4K HDR Netflix playback. If your current Mac doesn't support 4K HDR, it might be time to upgrade to any of the following Macs:
MacBook Pro released in 2018 or later plays HDR on native display
MacBook Air released in 2018 or later plays HDR on native display
iMac Pro plays HDR on native display
Mac mini released in 2018 or later plays HDR via external display
Mac Pro released in 2019 plays HDR via external display
2. A 4K Monitor
Even with a supported Mac hardware, you'll still need a 4K HDR monitor or TV to watch Netflix 4K videos on Mac. There are different 4K monitors from LG, ASUS, BenQ, Samsung, Dell, etc. That's not all what you need to get it work. To connect your Mac to an external 4K minitor/TV via via HDMI or DisplayPort, you also need an Apple USB-C Digital AV adapter or an HDMI 2.0 cable.
3. Internet
High resolutions require more data to transmit. Netflix 4K streaming will use 7GB per hour on each device. Therefore, to play Netflix 4K content on Mac smoothly, you'd better have a pretty fast broadband connection. If not, you may see endless buffering or interruptions. More than that, Netflix will automatically downscale the video from 4K to 1080P or lower according to your internet speed. Netflix suggests you to at least have the following internet speed:
3.0 Megabits per second - Recommended for SD quality.
5.0 Megabits per second - Recommended for HD quality.
25 Megabits per second - Recommended for Ultra HD quality.
4. Netflix Plan
To watch Netflix 4K on Mac at 2160P, you will need a premium level Netflix 4K subscription, which means, you need to pay more. Upgrade your Netflix plan to Premium level at $15.99, then you can stream Netflix content in 4K UHD, HD, and SD as you like. You will also need to set the data usage settings to Auto or High to allow Netflix deliver the best possible quality if your internet is fast enough.
Part 2. How to Watch Netflix in 4K on Mac Earlier?
If you don't have the combination of macOS Big Sur, a capable Mac, a fast internet connection, and Netflix 4K Premium plan, you can only watch Netflix on macOS at 1080p resolution — and only if you're using Safari. If you're using Chrome or Firefox, Netflix may stream as low at 720p. In this case, how can you watch 4K Netflix on Mac?
1. Download Netflix 4K Content
Some of the Netflix 4K movies and TV shows are also available elsewhere like YouTube. You can download those media to watch without limits. Just try an online video downloader like WinX HD Video Converter Deluxe (free download link, macOS Big Sur supported). You simply need to find the Netflix 4K content, copy the URL, paste it to the software, and wait. It's able to download video as is fast without quality loss.
2. Use Virtual Machine Software
If you don't have a Netflix 4K capable Mac, nor do you want to upgrade to Big Sur, another method is to run Windows on your Mac via virtual machine software. The apps you can use include Parallels, VMWare Fusion, and Bootcamp. But there are still requirements to watch Netflix 4K on Mac this way:
You still need a Netflix 4K plan.
You'll need a copy of Windows 10 to watch 4K via Microsoft Edge browser or Netflix app for Windows 10.
You'll need a Mac introduced in 2017 and later.