Part 1: Common Problems with MOV Files
MOV is developed by Apple as a standard format that uses a proprietary compression algorithm, meant to offer remarkable footage with little loss of quality and minimal compression artifacts. It is a go-to format for not only iPhone, iPad, but also a variety of cameras and drones.
By default, iPhone and iPad take high-quality videos in MOV. The shootings are commonly encoded in H.264 and H.265/HEVC codecs, with resolution as high as 4K 2160p.
The leader in the drone industry - DJI supports capturing MOV and MP4 footages with various resolutions, frame rates, and codecs. Newer models like Mavic series can record 4K MOV in HEVC. Phantom 4 Advanced/Pro is capable of shooting 4K Ultra HD footages at up to 60fps.
Videographers are also familiar with MOV/MP4 format if they are prone to capture videos with Canon, JVC, Nikon, etc. Most often, the 4K/HD videos are encoded in H.264, while some cameras from JVC, e.g. the GY-HC550, capture MOV in Apple ProRes 422.
MOV is supposed to go well with media player, video editor, and more. However, incompatible codec & 4K resolution make things trickier. You may get into trouble when processing MOV files, particularly with CPU-intensive 4K HEVC. Here're some problems users reported.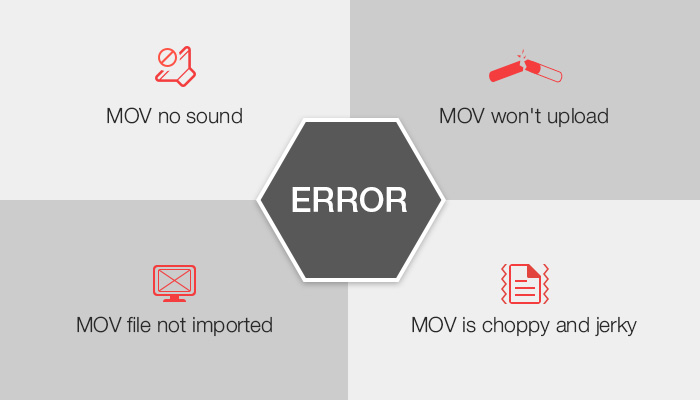 • Cannot read/import MOV file.
Most often, Android phone or media player like Windows Media Player fails to recognize MOV. This is down to the file type that is not supported by your device or software. If so, convert MOV to MP4 format or install HEVC codec and codec pack first.
• MOV video is choppy and shows artifacts
Playing MOV videos is occasionally choppy and freezing. Some video buffs reported frame-accuracy error and strange artifacts when editing MOV with iMovie, Adobe Premiere Pro, etc. You can transcode MOV to a more friendly codec and compress the large file to smaller size to get rid of the problems.
• MOV won't upload to YouTube or Instagram
Sharing isn't always smooth. There will be file import error, slow upload speed, etc, if the video is too big, with improper format, resolution, aspect ratio, etc.
• MOV no sound or out of sync
If you find your file shows picture but no sound or out of sync issue, it might stem from the audio and video codec.
To solve all the problems mentioned above, there's a good chance that you have to compress and convert large MOV footages to MP4 format for easier playback and sharing. And a reliable MOV to MP4 converter, preferably retaining the highest possible quality, is required for the job.
[Solution] Convert MOV to MP4 Format to Fix MOV Video Errors
WinX HD Video Converter Deluxe is a GPU-accelerated MOV to MP4 transcoder that is able to convert MOV (HEVC/H.264) to MP4, AVI, WMV, and other device-specific format with 47X real-time faster speed. It also reduces large 4K MOV file size by up to 90% for easier sharing and space saving, without compromising video quality.
Part 2: Make Sure You Are Using the Right Tool to Convert MOV Format to MP4
You never lack ways to swift MOV to MP4 format. There are a number of MOV video converter programs, from web-based services to desktop tools. Some popular video editors and media players also support converting MOV container to MP4. Read the comparison below and use a proper way to do the conversion from MOV format to MP4.
• Desktop MOV to MP4 Video Conversion Software
Pros: No size limit, fast speed and good quality, parameters settings.
Cons: Performance varies from one software to another
Top 5 MOV video converters include WinX HD Video Converter Deluxe, Handbrake, FFmpeg, Wondershare Video Converter Ultimate, and Any Video Converter. WinX HD Video Converter Deluxe wins No.1 position thanks to its unique Level-3 hardware acceleration, High-quality Engine, and support for numerous file types.
• Online Free MOV to MP4 Converter
Pros: Ease of use, no third-party software required.
Cons: File size limit (maximally 100MB-150MB), ads &redirects, no support for batch conversion, unstable and slow conversion speed, limited formats supported, internet connection required.
You have tons of free online MOV to MP4 converter to choose from. Well-ranked services are Zamzar, online-convert, convertfiles, and aconvert. The main advantage of online tools is the ease of use. Users just need to upload a source MOV file, select an output, and start conversion. This way is only suitable for small file sizes. Free accounts are only allowed to convert max 150MB or 100MB, which is far from enough for 4K UHD MOV footages. Ads, redirects, no batch conversion, and data security issues, are big drawbacks. The time it takes to finish the conversion online is also affected by internet connection speed and how many users are using the service.
• Video Editor for MOV to MP4 Transcoding
Pros: convert and edit MOV videos
Cons: Complicated for novice users, limited presets and output file types, MOV videos not importing.
Some video editing programs offer an option to change MOV container format to MP4. For example, Adobe Premiere Rush supports importing MOV file from drone, camera, iPhone, etc. and exports to MP4 format. iMovie has the same function to edit MOV file and output the final content to MP4 file extension. However, it's a pity that your MOV footage may fail to import as is mentioned above. On the one hand, the HEVC codec encoded in MOV is only supported on certain software such as the subscription version of Premiere Rush CC. On the other hand, these video editors are not designed for media conversion, they lack many features that a video converter has.
• Media Players to Free Convert .mov to .mp4
Pros: ease of use.
Cons: No video and audio settings, limited output file format.
Media players like VLC can change video format. Open VLC on your computer, click the Media tab on the top left corner, select Convert/Save from the drop-down list, and the Open Media window pops up. Add a source .mov file, click the Convert/Save button, click the Profile drop-down icon, select Video - H.264 + MP4 (MP4), and click the Start button to begin to free convert MOV to MP4. If you want to process large 4K UHD HEVC MOV files and set video and audio parameters, VLC would be disappointing.
Conclusion: if you have a MOV video file smaller than 150MB, online tools are good ways to go. VLC media player, iMovie, and Adobe Premiere Rush can be used to merely change MOV container format to MP4. When converting huge 4K MOV or CPU-intensive MOV HEVC videos to MP4, a cutting-edge desktop program like WinX HD Video Converter Deluxe would be the first choice.
Part 3: [Tutorial] How to Fast Convert MOV to MP4 without Quality Loss
Here we use WinX HD Video Converter Deluxe to show you how to get started.
Step 1: Load source MOV files.
Select your source to load. Click the + Video button, browse your files, and find where the source is located, select it, and the video should be loaded immediately. You can add more than one .mov video at a time for batch conversion. Drag & drop loading is also supported. If source MOV files are stored on iPhone, drone, or cameras, you need to transfer them to your computer first.
Step 2: Select an output profile
When prompted to select an output format profile, choose General Profiles > MP4 Video (Codec: h264 + aac, Resolution: keep origin). Click the OK button to close the window.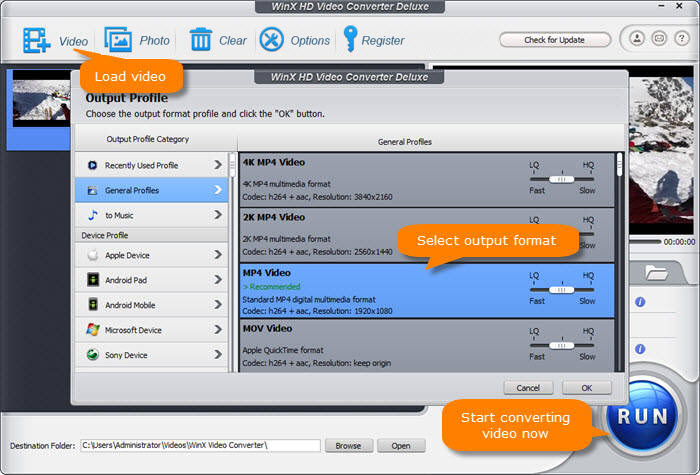 Recommended profiles for MOV to MP4 conversion

The program offers various profiles to make your MOV video compatible with your devices like Apple, Android, Microsoft, Sony devices, TVs, to name a few.

• For iPhone

On the Output Profile window, go to Device Profile > Apple Device > to iPhone Video, select the iPhone model you are using. It covers from iPhone 11, iPhone 11 Pro/Max to old iPhone 5. You can select H.264, AAC codec or MPEG4, AAC codec format for any iPhone model.

- For iPhone 7 running iOS 11 or later, choose HEVC codec format to save more space and high-quality playback.
- If you want to email the MOV clip on iPhone, keep the video smaller than 25MB.
- To store more MOV clips on iPhone, lower 4k resolution to 1080p/720p and change codec from H.264 to HEVC (preferablly on iPhone 7-11).

• For Android

Head to Device Profile > Android Mobile, and select a brand, or to General Mobile Video. H.264, AAC codec and MPEG4, AAC codec are provided. Resolution is set to 720x480 or by default.

• For uploading

Find Web Video Profile that lists presets tailored for YouTube, Facebook, Vimeo, and Instagram. Generally, MP4 (H.264, AAC) is recommended. You'd better know the video sharing site video upload requirement in terms of file size, duration, bitrate, frame rate, aspect ratio etc.
| | | | | | |
| --- | --- | --- | --- | --- | --- |
| | Video format | File size | Frame rate | Bit rate | Aspect ratio |
| YouTube | MP4(H.264) | Max 128GB | Max 60fps | Variable bitrate | 16:9 |
| Facebook | MP4(H.264) | 1.75GB | 30fps | Max 4000 Kbps | 16:9, 9:16, 4:5, 2:3, 1:1 |
| Instagram | MP4(H.264) | 15MB | 30fps | 3500 kbps | 9:16 |
You can use WinX HD Video Converter Deluxe to compress large 4K MOV video by downscaling 2160p to 1080p, 720p, or lower, cutting out unwanted parts, and lowering the MOV video bit rate. After picking a format, select the edit button to get more video editing features like trimming, merging, cropping black bars, splitting, and more. Click the Settings button to adjust the output MP4 video audio parameters, including video audio codecs, bit rate, frame rate, video aspect ratio, audio channels, etc.
• For editing
The latest version of iMovie, Adobe Premiere Pro, Lightworks, DaVinci Resolve all support decoding MOV HEVC video. But the MOV footages in HEVC or inter-frame coding won't go well if your software version, computer hardware and operating system are old. For example, Premiere Rush CC free version and Hitfilm don't support MOV H.265. Many video editors go stuttering or crashing when processing MOV files with I-P-B frames.
We recommend you to go to Output Profile > Common Video Profile > PC General Video (AVC Video, MP4 file format with codec h264+aac), or Mac General Video (MP4 Video - H.264).
Step 3: Choose a destination folder
Click the Browse button to choose a different location to place your output .mp4 video.
Step 4: Start processing the conversion
Select the blue RUN button at the bottom to start converting MOV to MP4 on your computer. It's the same to convert MKV to MP4, MP4 to MOV, AVI to WMV, etc.
Video Tutorial: How to Fast Convert MOV to MP4 without Losing Quality
Part 4: Common Misunderstandings about Changing MOV to MP4
There's no quality loss during MOV to MP4 conversion
Remuxing MOV container format to MP4 is a lossless process that directly takes the video and audio data from the MOV container to another container MP4. However, it decreases quality to transcode MOV videos to MP4. Transcoding is a lossy process of decoding and re-encoding a format to another, for example, HEVC is changed to H264. Transcoding includes changing the video and audio stream bit rate and size. WinX HD Video Converter Deluxe supports remuxing MOV to MP4 without losing quality. Its built-in High-Quality Engine helps reserve 98% original quality - you can tell no difference between the source MOV video file and the output MP4 file.
Video files size is reduced by converting MOV Format to MP4
The video file size remains the same after switching the MOV container format to MP4. Factors affecting video file size are bitrate and duration. To compress the MOV video file, you can lower down the video and audio bitrate and cut out unwanted parts of the video. Use our steps to reduce the MOV video file size without losing much quality.
MP4 is better than MOV
MOV not importing/not playing problems are flooded on the forum and many users require converting MOV to MP4. Some users think MP4 is a better format for shooting on the DJI Mavic, Phantom, iPhone, Canon/Nikon cameras, and other devices. MOV and MP4 are just container formats. In terms of quality and file size, MOV and MP4 are almost the same. However, MP4 is universally compatible. MOV format is more friendly in the Apple environment.
Directly change .mov to .mp4 to solve compatibility issue
It's common to receive not reading/importing/recognizing/uploading, unsupported file format errors. Changing the file extension may solve such an issue. In fact, things could be more complicated. The error can be caused by codec incompatibility, CPU-intensive HEVC codec and 4K Ultra HD, bit rate, frame rate, and others.
Part 5: FAQ about MOV to MP4 Transcoding
How to Play MOV on Windows 10
MOV format is not natively supported on Windows 10. To play MOV footages on Windows 10, you need a MOV player, MOV codec for Windows 10, HEVC codec for MOV HEVC media files, or you convert MOV to MP4 format accepted by Windows 10.
Windows Media Player Doesn't Play MOV Videos?
MOV is on the list of file types supported by Windows Media Player. But a lot of users complain Windows Media Player can't read or recognize MOV files. It's tricky to play MOV (HEVC) and 4K Ultra HD MOV content on Windows Media Player. Read the post to make MOV videos play smoothly on Windows Media Player without issues.
MOV Won't Upload to YouTube, Facebook, Instagram, etc.
Plenty of video sharing sites like YouTube, Facebook, Instagram, etc. accept MOV clips. But when you try to upload mov files to YouTube or others, issues still happen from time to time. Note that MOV footages can be less consistent than MP4 videos. We recommended you change .mov to .mp4 and try again. On the other side, you should check whether the source MOV file meets the upload requirements, such as file size, resolution, and frame rate.
Why do MOV Footages fail to Open and Play on Mac Computer?
MOV format is compatible with the Mac ecosystem. MOV videos should play on Mac computers using VLC media player, QuickTime, or other video players for macOS. However, quite a few users are suffering from the MOV playback issue on Mac. MOV is just a container format and can hold different contents. If you want to play a MOV HEVC footage, your computer needs to run macOS High Sierra or later using the A10 processor and newer.
Can't Import MOV to Adobe Premiere, Lightroom, DaVinci Resolve, iMovie, etc.
You shoot footage using a drone, camera, or iPhone and would like to edit MOV files on Premiere Pro, Lightworks, Resolve, Windows Movie Maker, etc. The MOV clip seems to fail to import. The error can be caused by corrupted or damaged MOV video files, old software or operating system version, hardware breakdown, etc. Check fixes to MOV not importing to Adobe Premiere Pro.