iTunes Runs Slow on Windows 10/8/7 – 10 Tips to Speed up iTunes for Windows (10)
Speed up iTunes

iTunes Runs Slow on Windows 10

Posted by Estrella H.| Last Updated: July 26, 2017
iTunes runs slow on Windows (10/8/7)? Learn how to speed up iTunes for Windows (10). Top 10 tips to make iTunes run faster on Windows (10).
Q 1: Why iTunes is so slow on Windows 10? How to make iTunes for Windows run faster?
Q 2: I've been running iTunes 12.3.1.23 on my Windows computer for a while now, but it runs incredibly slow on Windows 10, when will it be fixed?
Q 3: iTunes 12.4.3 opens and runs very slow in Windows 10 and it freezes a lot on Windows. How to make iTunes launch and run faster on Windows?
Complaints about iTunes running slow on Windows computer have a lot more. Indeed If you've ever run iTunes on both Windows and Mac operating system before, you may have found iTunes for Windows is much slower than iTunes for Mac. iTunes is an app that Apple never intends to produce for Windows, it is a complete bloatware that takes too much RAM of computer and has a habit of slowing down computers greatly. If you open up iTunes on Windows, it can sometimes be a disaster for your computer. Feel so frustrated and can't endure the slow iTunes? Below are top 10 tips to speed up iTunes for Windows (10).
iTunes Runs Slow on Windows 10/8/7? Say Goodbye to iTunes.

Best iTunes Alternative Win (10) - WinX MediaTrans
Transfer photos/music/video/ringtone/iBooks between PC and iPhone.
Convert video to MP4, audio to MP3 to play any video/audio on iPhone.
Transfer speed is No.1 fast. Safe and clean. Smooth and stable.
iTunes Runs Slow on Windows 10/8/7? – 10 Tips to Speed up iTunes for Windows (10)
To get better performance of iTunes for Windows and make it run faster on Windows 10/8/7, we summarize 10 tips to fix 'iTunes runs extremely slow on Windows (10)' problem. Just have a try.
Tip 1: Get a fast iTunes installation
iTunes is not an app along with Windows computer, so users need to download the iTunes installation package from online and install it manually on your Windows (10) computer. Need to mention that the iTunes installation file is usually very large and needs quite a long time to finish the installation. To ensure a fast installation, you are advised to uncheck both of those two options adding music files to My Music Folder, and choose 'No' when it asks 'Keep iTunes Media Folder Organized'.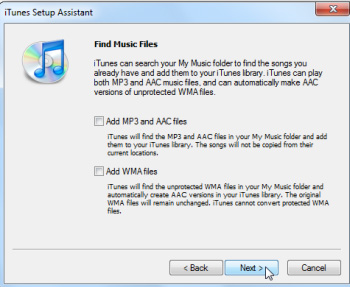 Tip 2: Disable those services you won't use
iTunes makes some default settings when installing, because Apple assumes users have iPhone, iPad, iPod, Apple TV and other Apple products, all of which most users may seldom use. Therefore there are some default services you can disable to make iTunes run faster on Windows (10). Go to iTunes > Edit > Preferences > Devices, uncheck 'Look for remote speakers connected with AirTunes' and 'Look for iPod touch, iPhone, and iPad Remotes'; Click 'Apple TV' to uncheck 'Look for Apple TVs'; Click 'Sharing' to uncheck 'Look for shared libraries'.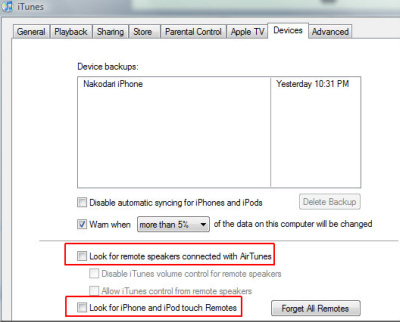 Tip 3: Delete smart playlists in iTunes
Another measure you can take to make iTunes load and run faster on Windows 10/8/7 is to remove smart playlists. iTunes will constantly analyze your library to update and generate Smart Playlists, which will largely slow down the iTunes performance. Right click the smart playlists marked with purple icons and delete all unused smart playlists. Or if you don't want to remove the smart playlists, you can disable the Live Updating option.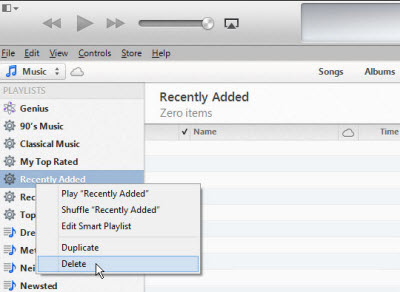 Tip 4: Disable iTunes automatic syncing
iTunes will auto sync the connected Apple devices with the latest iTunes library, which may cause iTunes freeze and run slow on Windows computer. What's worse, the auto syncing process will change the iPhone existed library, which means it will erase all your iPhone original data. What if you just want to sync songs to iPhone/add videos to iPhone without erasing iPhone original library? You are suggested to disable iTunes automatic syncing and figure out a way to fast transfer files between computer and iPhone without data loss. As to the data syncing, most people run into a "not syncing error". If it happens to you too, check our help page for "iPhone won't sync to iTunes".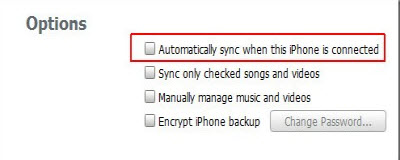 Download Best iTunes Alternative to Transfer Photos/Music/Videos from/to iPhone/iPad without Data Loss
WinX MediaTrans – Enable users to smoothly transfer photos/music/videos/ringtones/iBooks between computer and iPhone iPad iPod with no data loss at world's No.1 fast speed. Auto convert video to MP4/audio to MP3 during computer to iPhone/iPad transfer. Making free custom iPhone ringtones is also available with this all-in-one iPhone manager.