5 Best iPhone Photo Manager/Management App & Software Review
Free download 2023 Best Music Manager for iPhone - Edit and Manage Songs/Playlist/Ringtones on iPhone easily.
Look at music library on your iPhone! It is swarmed with hundreds of songs or even larger. New added ones, precious items and some you want to abandon come together involving you into a mess. More than randomly putting favorite tracks into iDevices, a well-managed music library drives you to pick out desired songs easily and make more space. If so, a great music organizer is essential for editing and managing songs/playlists on iPhone.
1-click Solution to Manage Music on iPhone iPad iPod
Try This Best Music Organizer - WinX MediaTrans
Edit music metadata/title/artist and remove unwanted songs;
Create new playlists to classify songs, delete old playlists;
Make iPhone ringtone and support converting music to MP3
Fast transfer music between iPhone iPad iPod and computer.
iPhone Music Manager List
Top 5 iPhone Music Manager and and Organizer Software Review
#1. WinX MediaTrans
A great majority of iDevices users have installed iTunes with the hope of garnering a versatile tool to download, manage, play and sync music. iTunes boasts its all-sided function to organize (sort, edit, delete) songs and playlists but receives negative reviews for a bit complex operation and unexpected errors which may cause disappearance of songs. Therefore, some users attempt to seek out a better third-party music organizer making music management more reliable and convenient.
WinX MediaTrans is what we should introduce. It is not only music transfer software to transfer music from iPhone to computer and vice versa, but works as a music organizer offering the simplest method to edit and manage songs/playlists in iOS devices. It can quickly access all songs stored in iPhone, iPad, iPod and edit metadata of each song, including title, artist, album and year. This WinX music organizer also enables users to create playlists to sort mixed song into matched groups (like pop, R&B, rock, electronic, dance music, indie and other customized groups). In addition, it helps users add music and remove unwanted songs from playlists or devices.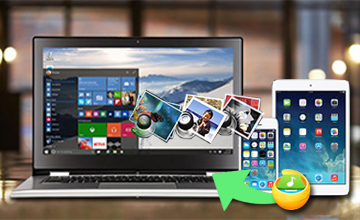 #2. Google Play Music
Apple does make tools for connecting and syncing data between iDevice and PC/Mac, like iTunes. But it seems that a lot of people get fed up with its inconveniences and poor performance in managing music or video media files. Firstly there is strict format limitation. And then you can't select one of the songs you want to transfer. iCloud is good to use, however has to be used with iTunes. Guess you are waiting for an iTunes alternative music manager and that's why we are talking about Google Play Music right now.
The free iPhone music manager experienced hand of mobile management. It stores up to 50,000 songs for free. Specifically on music, you are allowed to listen to music on your iPhone or via browser on PC. You can easily organize your music on your iPhone with this iPhone music manager by grouping them by artists, albums and genres. The app contains ads and requires payment for extra advanced features.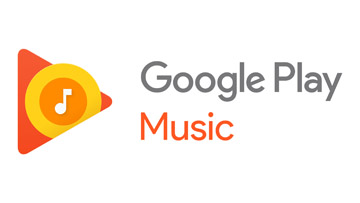 #3. VLC for iOS
Different from the above-mentioned iPhone music manager, highly acclaimed VLC player also features music player for the iPhone. It allows you to play most music and video files including FLAC on iPhone. Multiple audio tracks are supported, too. The iPhone music manager app can transfer music through a browser via Wi-Fi on iPhone, or via Dropbox and Google Drive or other cloud services. It also supports music and other sharing over SMB, FTP, and UPnP. You can delete music from iPhone in a click.
VLC for iOS specializes in music playback. When it comes to listening to music in the background, you can run other apps on iPhone at the same time. The app is a must mention. As you can see, it supports media files, as well. You can use it to play videos, music, audio files, and other local media stored on your iPhone.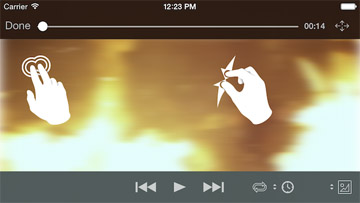 #4. Music Manager
2-in-1 music manager & player for iPhone - Music Manager, is also a free iPhone music manager app available on Apple App Store. It helps you easily play songs from your local music library. On top of music playaback on iPhone, it manages your iPhone songs library in a flexible way. No registeration or software installation needed! But one thing you must bear for the app - Ads. If you're okay with ads and pedestrian bugs, here we go! Go to the Apple App Store to get it on your iPhone.
You have to pay $0.99 for the iPhone music manager app after a free trial. It requires iOS 11.0 or later. The app is available in a wide range of languages, including English, French, German, Spanish, Italian, Japanese, Korean, Portuguese, Russian, Simplified Chinese, and more.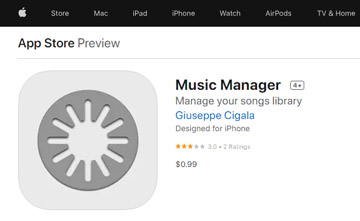 #5. SoundShare for iOS
SoundShare for iOS should not be placed at the last of the review list, right? But why? The sequential order doesn't equal to the quality (or level) of one product. Instead, SoundShare for iOS is received more preference. We'd like to introduce SoundShare for iOS. The iPhone music manager connects many music services together into just one and is recommended by CNET.
If you only need more than one feature, download and install SoundShare for iOS. The app enables you to access and play every song on Spotify. You can also easily manage your Spotify playlists on iPhone. The iPhone music manager app is standing out of the crowd to let you add any song to your Apple Music playlists. At the same time, you can create new playlists inside SoundShare and collaborate with your friends like comment, mention, share, collaborative playlists.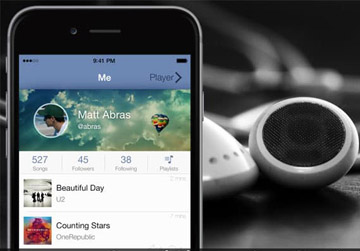 How to Manager Music to iPhone with Free Music Manager
Step 1. Access Music Manager
Plug in iPhone, iPad or iPod to computer. After the message pops up asking you if trust this computer on your device screen, tap Trust. Launch WinX MediaTrans, it will access your device automatically. The main interface appears. Hit Music Manager to enter the page where all songs saved on your device will be listed.
Step 2. Edit and Organize Songs/Playlists
Check the song you want to edit and then hit Edit button on top navigation bar. Then, a music info dialogue box pops up where you can rename song title, modify artist name, add album and year. If you want to replace some precious songs with new tracks, select unwanted items and click Delete Music to remove them and hit Add Music to import fresh music.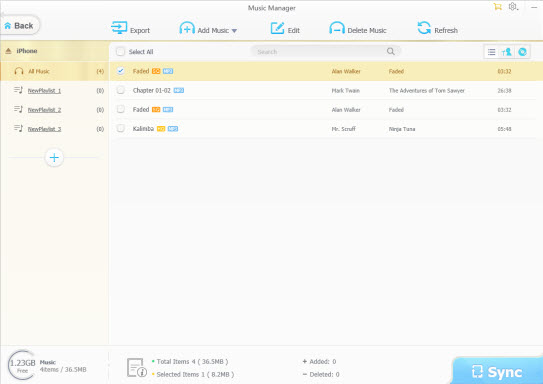 On the left sidebar, the plus symbol leads you to create new playlist and name it. To add music to playlist, directly drag songs to it. Remove mouse to the playlist, you can find two icons to edit and delete playlist.
Once you move mouse to a specific song, four icons: Add to playlist, Export music, Edit music and Delete music appear helping you access quick management.
Step 3. Sync to Perform Modification
Hit Sync button located at the right bottom of interface to make all changes achieve on your iPhone, iPad or iPod.
Free iPhone Music Manger Round up
From free basic to advanced iPhone music manager, we have covered it all. Many of them have music playing features too. If you are not willing to try them one by one then, you can opt for free and reliable iPhone music manager app - WinX MediaTrans. Having a good app to manage songs for iPhone will give you clarity about your songs playlist and improve music listening experience.