iTunes Not Opening on Windows (10/11) PC/Mac? Here's How to Solve It
Summary: If iTunes won't open on your Windows PC, Mac all of a sudden or after update, here are a few ways to give it a kick start.
There are a large amount of question results online about "iTunes won't open" that clicking the iTunes icon but nothing happens. Generally, the "iTunes not opening" issue often occurs on Windows (10/7) PC and new Windows 11, especially after new iTunes or Windows update. Why does iTunes refuse to boot? And what should you do when iTunes won't start on Windows, or any other OS? Please keep reading on this post on iTunes won't open workarounds.
Trying to Sync Your iOS Device but iTunes Fails to Open?
Time to get rid of iTunes and transfer your iOS data with WinX MediaTrans giveaway copy!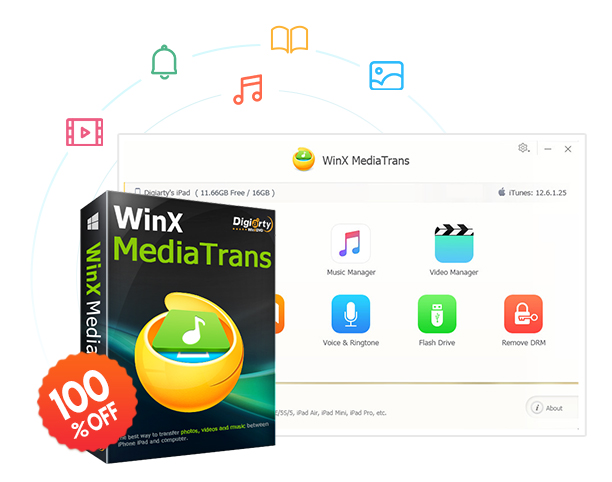 Giveaway
WinX MediaTrans
Sync music, videos, photos, ebooks, ringtones, etc.

Transfer data selectively or in bulk. No data erasing.

Move non-iTunes music. Make ringtone. Auto rotate/convert.

Superfast data sync speed. No more iTunes errors.
Table of Contents
Part 1. Some Basic Troubleshooting Tips on Mac or Windows platform
Why wont iTunes open? iTunes' failure to open error or iTunes not opening automatically when iPhone connected is possibly due to improper iTunes installation, old corrupted iTunes file, antivirus or firewall settings, peripheral devices like Bluetooth or USB. Just follow the basic troubleshooting steps to iTunes not opening error.
Restart the device and launch iTunes again.
Uninstall iTunes with all music files cleaned up and reinstall iTunes of the latest version. Make sure the hard drive has enough space for iTunes. And it's recommended to download .exe or .dmg package file from official iTunes download page, lowerring the odds of network packet loss or corruption.
Related: How to Download iTunes for Windows 10 (32 & 64 Bit)
Part 2. How to Fix iTunes Won't Open on Windows 10/11/8/7/XP
Q: iTunes won't open on my Windows PC! When I press "Ctrl-Alt-Del"and open Windows Task Manager, I can see iTunes running under "Processes", but the program itself never appears... I've tried reinstalling and PC rebooting, nothing works. What should I do?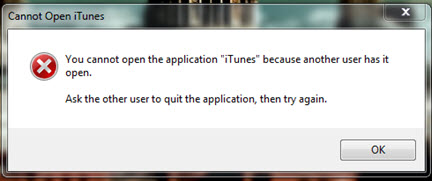 Solutions:
End all iTunes related processes in Windows Task Manager and reopen iTunes. (If it fails, try removing the SC Info foler).
Restart Windows based PC or laptop and then open iTunes at several minutes after all programs are fully loaded.
Open iTunes by right clicking (not double clicking) the icon and "Run as administrator". This may fix some iTunes launch issues with the 12.6.1.25 build.
Open iTunes in safe mode by pressing Ctrl + Shift, or with non-Microsoft anti-virus software, firewall and Internet disabled.
Empty iTunes library file located in Music\iTunes\ by directly deleting or moving to other path. (If it works, do remember to rebuild the library later.)
Update/Uninstall Quicktime or repair Quicktime by Start -> Control Panel -> Programs n Features -> Quicktime -> right click to choose ("Change" and then) "Repair". (for Windows 7/XP/Vista)
Exit the BTTray.exe Bluetooth utility if installed, and delete the iTunes shortcuts from Start menu, desktop, task bar, etc, then repair iTunes from the programs.
Remove iTunes and all of its residual components, and then do a clean reinstallation. >> Check all iTunes components
Do the system restore.
Sometimes iTunes not opening happens with "Cannot Open iTunes" error message of "another user has it open" showing up. In this case, you should make sure the iTunes opened in other profile is closed, and only have one profile to start iTunes at a time.
Also read: 5 Most Common iTunes Errors on Windows 10
Part 3. How to Fix iTunes Won't Open on iMac, Mac mini, MacBook Air/Pro
Q: Unexpectedly starting from yesterday, my iTunes has become unresponsive. Every time I go to click on it on the dock, it fails to open. Please help!
Note:For the newest versions of macOS, namely Catalina, Big Sur, and Monterey, there is not a version of iTunes. So the iTunes not opening on Mac error just occurs on Mojave or below.
Many Mac won't open iTunes problems are also caused by OS X or iTunes update, along with corrupt settings/library and other factors. To isolate this issue fast, please try the following hand-picked methods in turn.
Solutions:
Ensure either Mac OS X, or Quicktime or iTunes is of the newest version.
Go and open terminal iTunes under Finder -> Go -> Applications -> iTunes -> Show Package Contents -> Mac OS or by opening the Terminal -> run "sudo rm -r /Applications/iTunes.app" -> reinstall iTunes.
Switch to another newly created user account. If iTunes starts normally, then change back to the original one.
Rename the iTunes music library folder, and execute iTunes again.
Check whether there're something located in Library -> iTunes -> iTunes Plugins folder. If so, delete or remove it/them out, and relaunch iTunes.
Delete or move any file that contains "com.apple.itunes" off Home/Library/Preferences folder.
Boot up Mac in safe mode and do disk permissions repair by going to: Application -> Utilities -> Disc Utility -> Verify Disc -> Verify and click the button of "Repair Disc Permissions".
Part 4. How to Fix iTunes Won't Open on PC/Mac with Easier iPhone File Manager
If nothing above works, you can revert back to previous iTunes/OS version that runs everything well. Or turn help to some best iTunes alternatives.
iTunes, as an Apple-developed media player and mobile manager, focuses more on playing, managing, editing iTunes Store purchased music and movie files and syncing them to iOS with the same Apple ID logged in. So, it's somewhat unskillful at photo and non-iTunes purchases' transferring/managing. With the addition of iTunes' annoying user experience, here comes the best iTunes replacer - well-rounded WinX MediaTrans.
Note: iTunes is removed from the latest macOS Catalia and it's suggested to sync specific data with the 3 seperate apps (Apple TV, Apple Music and Podcasts). If you want an easy yet all-in-one data transfer app to sync photos, music, videos, podcasts, ringtones, etc within one app easily and fast, why not trying WinX MediaTrans.
Transfer photo/video/music between iOS and PC fast with no Apple ID.
No stuttering/data losing, flexible file selecting and format conversion.
Support making iTunes purchases DRM-free for enjoying on more devices.
Act as USB driver to help take whatever files with iPhone iPad and iPod.
If you think the "How to Fix iTunes Won't Open" post useful, please kindly share it!
If you still have problems about how to fix iTunes won't open on Windows/Mac, feel free to Email us >>