How to Troubleshoot iTunes Keeps Freezing on Windows 10?
Fix 1. Run iTunes on Windows 10 as an administrator
Firstly, close your frozen iTunes. If it doesn't respond after you click the close icon, shut down it via task manager. If the whole PC freezes, force close it. Then, reboot computer, right-click on iTunes icon, and select "Run as administrator".
Fix 2. Run iTunes in safe mode
In this way, you can isolate iTunes from any interference caused by third-party plug-ins. To start iTunes in safe mode, hold down the Shift and Ctrl keys on your keyboard when opening iTunes. Then, you should see a message "iTunes is running in Safe Mode. Visual plug-ins you have installed have been temporarily disabled." If iTunes no longer freezes on Windows 10 after running in safe mode, the culprit should be third-party plug-ins and you'd better remove them.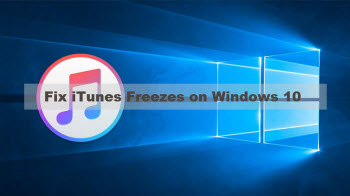 Fix 3. End APSDaemon.exe
Close iTunes, and then open Task Manager. Navigate to Processes tab, locate APSDaemon.exe and close it. Then go back to iTunes and see if the issue gets fixed. If this solution works, take the following actions to avoid doing the same thing every time your restart your Windows 10 computer: go to Run > enter msconfig > click Startup tab > uncheck "Apple Push" > hit on OK > reboot computer.
Fix 4. Remove SC files
If there's no APSDaemon.exe file, remove SC files, and then restart computer and iTunes to have a try.
Fix 5. Repair or reinstall QuickTime
To repair QuickTime, go to Control Panel, then Programs and Features, click QuickTime, and tap on Repair.
Fix 6. Move iTunes preference folder
Move one of iTunes preference folders to the desktop and see if iTunes not responding on Windows 10 error persists. If it does, move it back and try another folder. Below are the locations for those folders:
C:\Users\username\AppData\Local\Apple Computer\iTunes
C:\Users\username\AppData\Roaming\Apple Computer\iTunes
Also read: 5 Most Common iTunes Errors on Windows 10: Fix Various iTunes Problems on Windows 10