Can't Update iTunes? How to Solve iTunes Update Error on Windows/Mac
Summary: Best Fixes of "Can't Update iTunes" Error on Windows (10/11) and Mac
- Not able to update iTunes on my Mac BookPro. The error message is "The update could not be verified. It may have been corrupted during downloading. The update will be downloaded and checked again the next time that Software Update runs".
- I have an old version of iTunes. I'm trying to update iTunes but I can't! iTunes says "It's impossible to contact the server." I'm using Windows 10 64 bit. Any suggestions?
It's a must-do to update iTunes to latest version to manage and sync files on iOS devices. But, the complaints of "Can't update iTunes" like above questions are widely posted in communities with posters' hope of getting a perfect answer. Have wasted too much time to try responses one by one but go into a disappointment? Here, we are glad to share the best fixes to troubleshoot iTunes not updating errors on Windows (10/11) and Mac.
Can't Bear iTunes Errors Any More? Try iTunes Alternative Now!
WinX MediaTrans offers a smarter way to sync files. Fast transfer photos, music, videos, e-books, podcast etc, from iPhone to computer and vice versa. Selective backup is allowed. No data loss!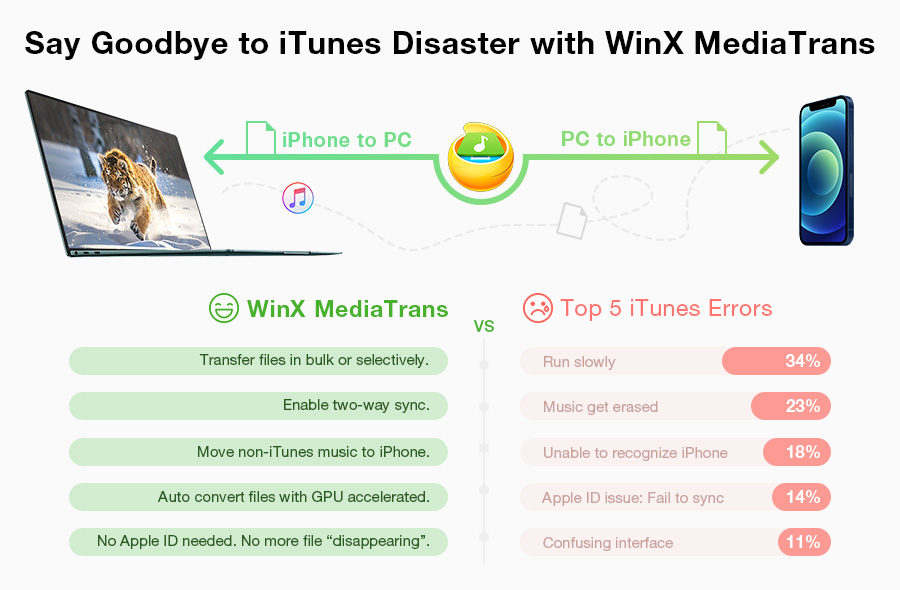 Table of Contents
Part 1. Why Won't My iTunes Update on Windows 10 or Mac?
Technically, iTunes not updating on your PC is rooted from the computer system and app itself. Here are 4 major reasons why iTunes won't update on your Windows or Mac computer.
Tip 1: Manually Download the Latest Version of iTunes
Reason 1. You are not priviledged as an administrator during iTunes update. Only an admin user is required for some software installation.
Reason 2. Another reason why you cannot update iTunes on your PC is that you are working with an older version of your Windows or Mac OS. This means your iTunes may not be compatible with your operating system.
Reason 3. Some software, mostly known as the security software, may cause software conflict, and therefore prevent iTunes from updating and installing successfully.
Reason 4. iTunes not updating error can also be probably caused by iTunes itself. Particularly, when iTunes has corrupted files or lost some files, you cannot update iTunes on your PC as a result.
Part 2. How to Fix "iTunes Won't Update" Error on Windows (10) and Mac?
After you've figured out all the possible reasons that lead to iTunes not updating error, you can try the following tips that can help you update iTunes to latest version conveniently.
Tip 1. Make sure to log in to your computer as an administrator.
To log on as an administrator, make sure to have a user account on the computer with an Administrator account type. You can check the account type after you have logged on.
Tip 2. Install the latest Windows updates.
Visit the Microsoft Windows Update website and download the latest updates. iTunes for Windows requires windows 7 or later, with teh latest service pack installed.
Tip 3. Manually download the latest version of iTunes.
For Windows:
Before manually downloading iTunes to Windows 7 and later, please completely uninstall all iTunes components from your PC following the order below: iTunes > Apple Software Update > Apple Mobile Device Support > Bonjour > Apple Application Support 32-bit > Apple Application Support 64-bit.
After all is done, please go to iTunes official download page to download and re-install iTunes on your Windows computer.
>> Further Reading: How to Download iTunes for Windows 10?
For Mac:
macOS doesn't allow users to delete any application. You just need to directly download and install the latest version of iTune on your Mac.
Tip 3. Update Apple Software Update App on Windows
Open Apple Software Update on your Windows computer and then check whether an available update of itself. If yes, uncheck any other updates except Apple Software Update. Next, click Install. After the update is finished, open Apple Software Update again and it will search for updates automatically. Check iTunes and click Install to start downloading and installing the newest iTunes.
If you still can't update iTunes, Open Apple Software Update app and only check the update of itself. Click Tools > Download Only. After downloads is finished, the update files under C:\ > Users > [User name] > AppData > Local > Apple > Apple Software Update will be shown automatically. Double click AppleSoftwareUpdate.msi and Apple Software Update will be successfully updated. After that, update iTunes again using Apple Software Update app.
Tip 4. Remove components left from a previous instalation.
If iTunes fails to download, you can check and remove components left from the previous iTunes installation and reinstall it again. To do this, please press the Windows and R key on your keyboard to open teh run command > enter %programfiles% in teh Run window > click OK to open the Program Files folder > delte the folders like iTunes, Bonjour and iPod.
Tip 5. Disable conflicting software.
Some background process known for security software can cause the issue that iTunes won't update on PC. If so, you can disable or uninstall teh security software, and restart your computer to see if iTunes not updating or installing error is fixed.
Tip 6. Download a Troubleshooter to Fix iTunes Not Updating Issue
If iTunes won't update with an error message "The Windows Installer Service could not be accessed", it may be caused by the corrupted registry keys which block program installation or removal. Microsoft offers a troubleshooter available for Windows 7 to Windows 10 to repair this issue. Before using this troubleshooter, please make sure that you have logged in your computer as an administrator.
Also read: 5 Most Common iTunes Errors on Windows 10/11
Part 3. Best iTunes Alternative - Remove All iTunes Errors Once and For All
Without iTunes, you can also manage iOS files! WinX MediaTrans, the best iTunes alternative, contributes a simpler, smarter and firmer solution.
Two-way Transfer: Fast sync photos, music (ringtones), videos, e-books (audio books), Voice Memos, podcast and iTunes U between computer and iPhone, iPad, iPod Touch in a few of clicks.
DRM Removal: Decode iTunes purchased songs, movies, TV shows, audio books etc, with DRM-free for a more flexible playback on non-Apple devices or sharing with friends.
Auto Conversion: Change the music/video format from FLAC, MKV, AVI, MTS etc. to MP3, AAC, H.264 for smooth playback when adding to iDevices. It can also export EPUB books from iDevice as PDF, TXT, HTML for reading on Android and Kindle Fire.
Music Management: Edit music metadata; create and rename a new playlist; add/remove songs into/from a playlist; create ringtong.
Files Deleting: Delete songs, videos, e-books and other media files from iDevice permanently.
Flash Drive: Turn iDevice as a flash drive to save all types of files, Word, Excel, PPT and so on.