Fix iTunes Keeps Crashing/Not Working on Windows with These 8 Tips
Q 1: iTunes crashed when I try to open it. I uninstalled iTunes, downloaded it again and reinstalled, but the result is still the same, it gets stuck when opening it and just allows for force quit.
Q 2: iTunes keeps crashing on Windows 10 with an error message saying "iTunes has stopped working...."
It's really bothersome that iTunes keeps crashing and often unexpectedly quits to work on Windows computer. Read the 8 possible solutions below to fix iTunes keeps crashing/not working on Windows (10/11) problem.
Can't Fix iTunes Keeps Crashing? Want to Abandon iTunes?
Try WinX MediaTrans – Best iTunes Alternative for Windows 10/11. The iTunes alternative can better transfer music, videos, photos, eBooks, ringtones, and more between Windows PC and iPhone iPad iPod without data loss. It shows more stable data transfer performance, thanks to Hyper-threading tech. No freezing, no crashing, no high CPU usage.
8 Tips to Fix iTunes Keeps Crashing/Not Working on Windows 10/11
1. Restart computer. Restart iPhone/iPad. Sign out your iTunes account and sing in again.

2. Download and install the latest/previous version of iTunes.

3. Check the firewall of your computer to see if it blocks iTunes.

4. Try to temporally disable third-party plug-ins or anti-virus software on your computer, since some of them may cause the iTunes keeps crashing/not working on Windows issue. This can be simply realized by starting iTunes in Safe Mode. Press "Shift" and "Ctrl" button on the keyboard while you open iTunes. And you'll see a message saying "iTunes is running in Safe Mode. Visual plug-ins you have installed have been temporarily disabled." If this doesn't work. Remove any third-party plug-ins.

5. Disconnect your computer from Internet and open iTunes again.

6. Check if the drivers are outdated and update the drivers on your PC.

Recommended reading => iPhone Not Connecting to iTunes Solved

7. Locate this file "QTMovieWin.dll" on your computer. Copy it from "C:\Program Files (x86)\Common Files\Apple\Apple Application Support" to "C:\Program Files (x86)\iTunes".

8. If you can't fix iTunes keeps crashing problem and also don't want to be so troublesome to contact Apple Support, try an iTunes alternative for Windows 11/10/8/7.
Avoid iTunes Keeps Crashing/Not Working in A Click – Try iTunes Alternative
Indeed, the operation of iTunes is very complex and troublesome. If you are tired of those intricate and confusing iTunes errors, and iTunes keeps crashing on Windows 10 issue persists, you may quit iTunes and turn to a stellar iTunes alternative. WinX MediaTrans is worth of a try.
1. Transfer music from Windows (10) PC to iPhone iPad iPod or in reverse without data loss. Support adding third-party sources music, unsupported music files to iPhone and convert them to iPhone supported AAC/MP3.
2. Transfer videos, photos, eBooks, ringtones and more between PC and iPhone iPad iPod at No.1 fast speed.
3. Remove DRM from iTunes music, movies, audio books and export them to PC in plain MP3/MP4 for wider playback.
4. Convert MKV, AVCHD, M2TS, AVI, WMV, FLV and almost any video to MP4, which means it allows you to add unsupported videos to iPhone (8) for playback.
5. Make free ringtones for iPhone from any favorite song.
6. Convert EPUB to PDF, TXT, HTML.
7. Turn iPhone iPad into flash drives to store PDF, Excel, Word, etc.
8. Transfer speed is ultrafast. 1GB video can be transferred in about 1 minute.
9. 100% clean and safe. Extremely easy-to-use. Stable and smooth.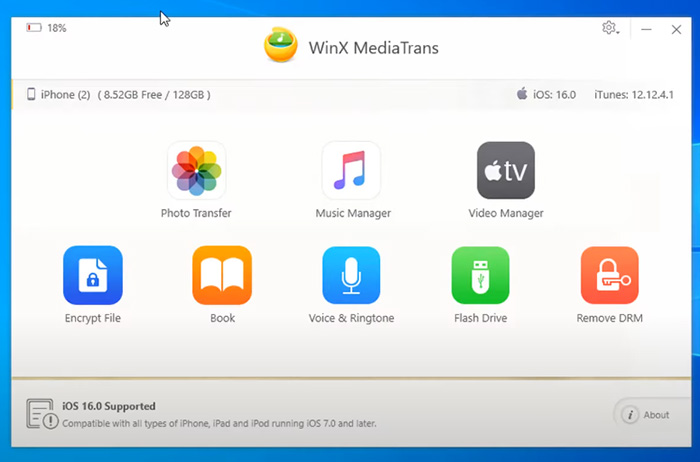 Conclusion
We hope this post is helpful to fix "iTunes keeps crashing" issue on Windows 10/11 PC. The selection of a solution depends on your hardware and software condition. Commonly, a simple restart is the first way to go. If all the fixes fail to fix iTunes crashing issue on your computer, quit the app and resort to other alternatives for Windows or macOS.