Can't Install iTunes on Windows 10? Get Fix of iTunes Install Error on Windows 10!
iTunes

iTunes Error

Posted by Estrella H.| Last Updated: July 20, 2017
iTunes not Installing on Windows 10 Troubleshooting
Windows 10 wins a reputation since its release and hits a 26.8% market share according to the most recent report. Most regular Windows users have updated to Windows 10 but go into the trouble when installing iTunes.
- I'm trying to install iTunes 64bit on a new Windows 10 installation and I'm getting the following error:
An error occurred during the installation of assembly
microsoft.vc80.crt, type="win32", version="8.0.50727.6195", publicKeyToken= "ifc8b3b9a1e18e3b" processor architecture="amd 64".
- I just do a full recovery on my windows 10 and install iTunes but coming up with error message:
Apple application support was not found. Error 2 (windows error 2).
What should we do to solve iTunes install error on Windows 10? The following troubleshooting ensures you to get iTunes installed correctly.
How to Fix "iTunes Won't Install on Windows 10"
If you can't install iTunes on Windows 10 successfully but receive he error codes "HRESULT: 0x80073715" or "error 2", please follow the steps to re-install iTunes on Windows 10.
Step 1. Uninstall all Apple components on Windows 10.
Open Control Panel and find iTunes related software components and uninstall them in order.
iTunes (if you had installed iTunes before but failed to update it on Windows 10, you should uninstall the former installation at first) > Apple Software Update > Apple Mobile Device Support > Bonjor > Apple Application Support 32-bit > Apple Application Support 64-bit
Step 2. Disconnect all Apple devices with Windows 10 and restart your computer.
Step 3. Re-download iTunes to Windows 10.
• Clear your browser cache and visit the page: www.apple.com/itunes/download/ to download the latest version of iTunes.
• Select the right architecture (32 or 64-bit) for Windows 10. Generally speaking, this page will automatically detect your system type and give a correct iTunes installer.
Tip: if you are using an older or low end video card on Windows 10 (64-bit), please download iTunes 12.8 for Windows (64-bit – for older video cards).
Step 4. Install iTunes in Administrator mode.
1. Disable firewall and running anti-virus software.
2. Right click the .exe file you just downloaded and select Run as administrator. Next, follow the wizard to install iTunes on Windows 10.
People also read:
How to Fix iTunes Freezes on Windows 10 When Opened, iDevice Connected, or During Sync/Restore
5 Most Common iTunes Errors on Windows 10: Fix Various iTunes Problems on Windows 10
Is iTunes Essential for Windows 10?
No matter how many complaints on iTunes have, this software shows its superiority in the aspect of music management. Users can create own iTunes library to add, delete, edit and sync music files. But if you have installed a frequently-used music app (for example Spotify) on Windows 10 and just need to sync contents between iOS devices and PC, iTunes becomes a bit helpless especially when install error appears on Windows 10. Yet, 3-rd party file transfer software turns to be good iTunes alternative for Windows 10.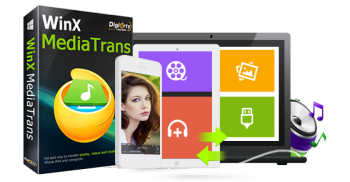 WinX MediaTrans is a recommendable iOS file transfer program for Windows (10). It aims to help users sync music (songs/albums/playlists/ringtones), photos, videos (movies/TV shows), e-books, Voice Memos, podcasts, etc. between iOS devices and PC in a simple, quick and safe way. It allows users to select a special item, multiple or all items to sync. When adding videos and music, it can auto convert incompatible formats to iOS accepted MP4 (H.264)/AAC/MP3 at a super fast speed thanks to the support of hardware acceleration. In addition, it enables users to delete unwanted media files from devices permanently and edit songs/playlists for better organization.
Notice: WinX MediaTrans will never erase data on your iPhone, iPad, iPod Touch or PC during syncing. What's more, it is verified as 100% safe and clean software bundled no adware, virus and other useless/malicious software. >> Further Reading: How to Use WinX MediaTrans