E-book Converter: Remove DRMs and Convert Kindle Books to iBooks
What Is the Best E-book Converter? It seems the time we've seen the downfall of physical objects like cassette tapes and CDs. What about paper book? No, paper book isn't dying yet; it just turns to collection. When paper printing is becoming luxury, e-book appears more environmental friendly, accessible, handy and portable. Anyhow, we can pull out any kind of handset device for content reading whenever we are free and bored.
The types of electronic books extend to every aspect, as board and infinite as traditional books, including novel, journal, essay, poem, comic, national mythology, artistic literature and many more. On the other hand, the formats of e-books are also wild and dazzling. The point is that not likely all the books you download from e-book download sites (e.g. Google EBookstore, Amazon Free Kindle Books, Free EBooks, Open Library, Internet Archive) are compatible with your e-book reader or mobile equipment. Then what should we do?
We should head to the solution of converting incompatible e-books to the formats supported by your device such as Kindle.
Part 1. All-in-One iBook Converter & DRM Remover Software
WinX MediaTrans - the best way to transfer and convert e-books.
Remove eBooks DRM and convert iPhone's ePub to PDF, TXT, HTML.
Export e-book files from iPhone/iPad/iPod to computer. Add EPUb/PDF e-books and MP3 audiobooks to iPhone iPad.
Bi-direction solution to transfer music, photos, movies, videos, eBooks, ringtones, audiobooks, etc. between iPhone iPad and PC/Mac.
How to Convert EPUB Books to Other Formats?
Step 1. Download and install the e-book converter.
Download, install and open WinX MediaTrans on your Windows computer, and insert your iPhone/iPad/iPod onto the computer via the USB cable. If it is your first time using the program, please tap "Trust This Computer" on your mobile's screen, and check Preferences > Devices > Prevent iPods, iPhones, iPads from syncing automatically > OK in iTunes.
Step 2. Choose the book items.
On the UI, click "Book" and the software will show all the books that exist in your iDevice. Choose one or more items (.epub). Step 3. Convert Epub to PDF, TXT or HTML.
Drop down "Export" button on the top, choose among "PDF" (printer format), "TXT" (pure text) and "HTML" (webpage format) for Android and so on.
Step 4. Start converting and syncing.
Push "Export" button and begin the process of converting iBooks formats and exporting the EPUB files from iPhone/iPad/iPod to PC or hard drive at the same time.
Part 2. Create E-books with E-book Converter
There are the most popular e-books 2017, like The Handmaid's Tale, In Farleigh Field: A Novel of World War II and Beneath a Scarlet Sky: A Novel. But most require the purchase for download. It is barely possible to find the electronic edition of the best sellers for free.
The best e-book creator on the internet will guide you to, for example, create e-books in the cloud, format MOBI and EPUB eBooks for Amazon Kindle, iBookstore, Barnes and Noble, Smashwords, LULU or download e-books ready for distribution onto online e-book stores. If necessary, you can transfer e-books to iPad, or add your created e-books that are in EPUB, PDF or MP3 format to your iPhone or iPod.
Part 3. Remove E-book DRM with E-book Converter
More e-books, particularly audio books, come with DRM protections, which depresses many multi-device owners. Especially for Apple users, it seems impossible to read the e-books that are purchased from iTunes Store on Non-Apple gadgets, like Android smartphone and Amazon Kindle.
In this case, we need to remove iTunes DRMs with an e-book DRM remover. WinX MediaTrans happens to have this marvelous feature. It can remove DRM protections from iBooks/iTunes Store purchases, including M4A/M4B audio books, music and movies. Let's see how to conduct audio book DRM removal:
Step 1. Download and install the e-book DRM remover.
Download, install and open WinX MediaTrans on your Windows computer, and insert your iPhone/iPad/iPod onto the computer via the USB cable. Before use, please make sure that you have installed iTunes.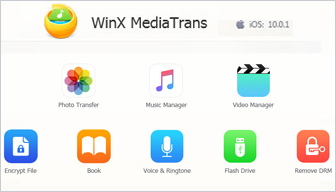 Step 2. Share iTunes Library with WinX MediaTrans
On the main interface of WinX MediaTrans, click "Remove DRM". Launch iTunes, and click on Edit > Preferences > Advanced Preferences > check "Share iTunes Library XML with other applications" > OK.
Step 3. Add audio book files.
Click "Add File", and select audio book files from iTunes library. If the files are protected, they will be shown with a "DRM" icon. But to decode, you should make sure iTunes is not launched first.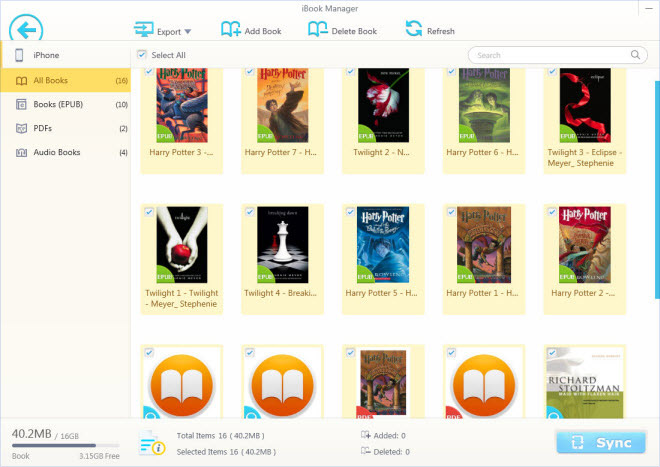 Step 4. Start book DRM removal.
Hit "Remove" button on the bottom right to start removing DRMs from the audio books with this e-book converter.
Part 4. Convert Kindle Books to iBook ePub Format
If you have a bunch of kindle ebooks, you'll feel disappointed to find that your Kindle books can't open in other iBooks app or Apple books app. That's because Amazon prefers changing the extension of kindle ebooks so the kindle ebooks content cannot be copy-pasted and pirated. Generally, the kindle books are only readable in kindle reader after it verifies your ownership. Yet, there is always a solution for you to troubleshoot your problem when it comes to open kindle books in Apple books or other iBooks apps. That is to convert kindle books to iBook best format - ePub format.
To convert Kindle books Mobi, AZW, AZW3 to epub format, Any eBook Converter can offer you a smart approach, helping you remove DRM from Kindle books and convert Kindle eBooks to EPUB, PDF, MOBI, AZW, TXT or KFX format for limitless playback.
Step 1. Download, install and launch Any eBook Converter. Then this eBook converter will automatically recognize your kindle books. Drag the Kindle books you wanna convert, which will clear the DRM from the ebooks soon.
Step 2. Find and tap the "V" icon on the bottom of the interface and choose "EPUB" as your resulting format. Then, click the "Settings" icon on the upper right corner of the UI to specify the output path for your output eBook files.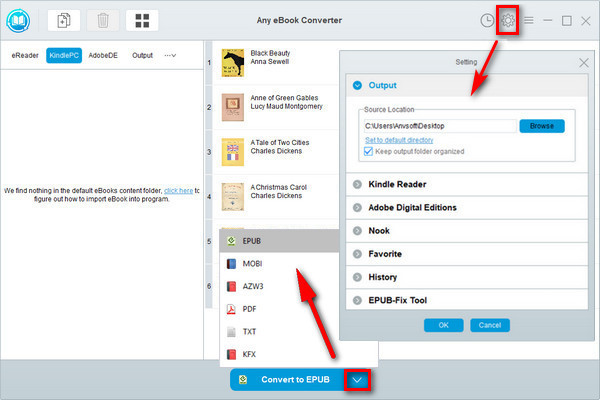 Step 3. Hit the "Convert to EPUB" button to start converting your Kindle books to EPUB iBook format. Once the conversion is done, it will pop up a window to show you a successful status.
The free trial version of Any eBook Converter only allows you to convert one book at a time. Upgrade to its full version if you want to unlock this restriction and bulk convert kindle books at one go.