Top 3 Free Open Source DVD Burner Software for Windows, Mac, Linux
We have written an article about open source DVD rippers. Some people wonder if there is open source software for DVD burning. Yes, there is. In this post, we have rounded up the best 3 free open source DVD burner software for Windows, Mac, and Linux. With these tools, you can burn video DVD, data disc, audio disc and do more jobs.
Part 1. Top 3 Free Open Source DVD Burner Software
1. InfraRecorder
InfraRecorder is a free open-source CD and DVD burner for Windows 7, Vista, XP, and 2000. It debuted in 2006. In 2007, it was rated as the best free alternative to commercial DVD burning software by CNET. With it, you can burn ISO/Bin/Cue images to a DVD file, in addition to creating a backup of your data on a DVD.
But the pity is that there has been no development activity since the release of V0.53 on September 1, 2012. Besides, if you are wanting to burning CDs and Blurays, you'd better seek for another DVD burning software.
Main features:
Create custom data, audio and mixed-mode projects and record them to physical discs. Dual-layer DVDs are supported.
Create and burn data and audio disc images.
Blank (erase) rewritable discs using four different methods.
Fixate discs (write lead-out information to prevent further data from being added to the disc).
Import session data from multi-session discs and add more sessions to them.
Extract WAV and ISO image files from discs.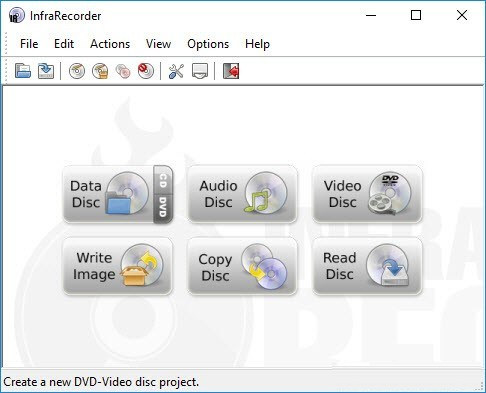 2. DVD Flick
DVD Flick is another Windows-based open-source DVD burning program. The stable release of DVD Flick is 1.3.0.7 (June 26, 2009). It takes a number of video files stored on your computer and rearrange them into a DVD that can be played on your DVD player. You can even add your own subtitles in SSA, ASS, SUB and SRT, audio tracks, and menus for navigation.The DVD burning software relies on FFMPEG project to decode file format and produce final DVD.
Since the development of this software has been discontinued for more than 10 years, many users are looking for DVD Flick alternatives.
Main features:
Supporting over 45file container formats, 60 video codecs and 40 audio codecs, it can burn many video files to DVDs.
Allow creating a DVD menu, importing audio tracks and subtitles to compose a DVD-Video movie and burn it to a disc.
Create an ISO image for later burning.
Support four subtitle formats: SubStation Alpha (.ssa/.ass), MicroDVD (.sub), SubRip (.srt) and SubView.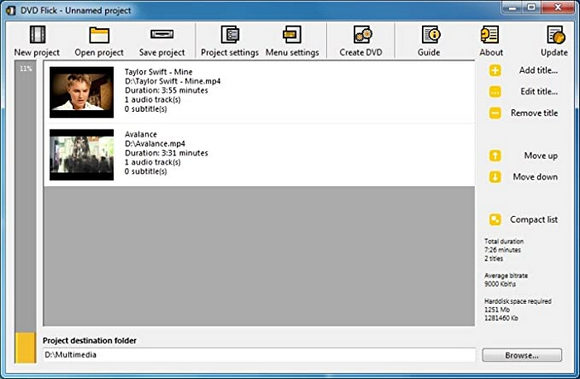 3. DVDStyler
Unlike InfraRecorder and DVD Flick which are compatible with Windows only, free open-source DVDStyler can burn DVD on Windows, Mac, and Linux under the GNU GPL. It was initially released in 2003. It is now available for download in a stable v3.2.1 released on November 2, 2021. The free open source DVD burner software is skilled in writing data to DVDs of different sizes like 1.4GB, 2.6GB, 4.7Gb, 8.5GB, etc and focuses on the creation of photo slideshows with customizable interactive menus. There are many menu templates you can choose from.
DVDStyler boasts itself of creating professional-looking DVDs, which can be slightly exaggerated, since it shows its age a little. In addition, it lacks the features of creating ISO and burning CDs/Blurays. But if you are wondering a program to achieve your DVD burning purpose, DVDStyler is absolutely a good choice.
Main features:
Create DVD video with self-designed DVD menu or premade menu template.
Support adding multiple subtitle and audio tracks into DVD.
Accept lots of video and audio formats as inputs, such as MP4, MPEG-2, and MP3.
Allow importing of image file for background.
Make photo slideshow.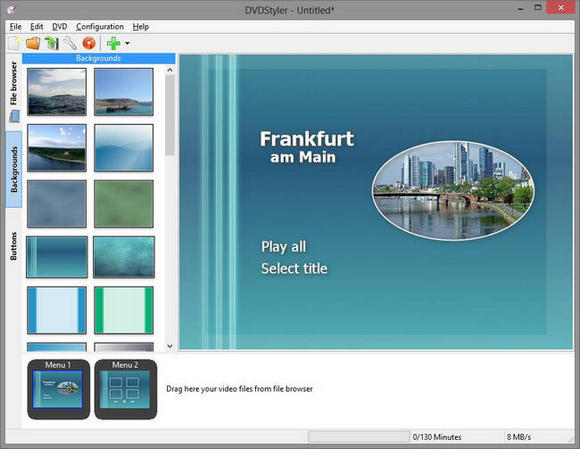 Part 2. A Free Closed Source DVD Burner You'll Want to Try
Besides those open source DVD burners, we also want to share a 100% clean, free, and closed source DVD burning program with you, namely WinX DVD Author. This DVD writer software has been recommended by many consumer technology news and reviews sites like TechRadar[1]. It was rolled out in 2006. It is now still available to download and use on 32bit and 64bit Windows 10 or lower.
Main features:
Burn video DVD from almost any video formats like MP4, MKV, AVI, VOB, MPEG, FLV, MOV, ISO and VIDEO_TS folder.
Make a professional-looking movie DVD by creating menu, adding subtitle, choosing High Video Quality engine, etc.
Create a DVD at super fast speed by making use of its powerful decoder encoder engine.
Trim off unwanted parts before burning video to disc.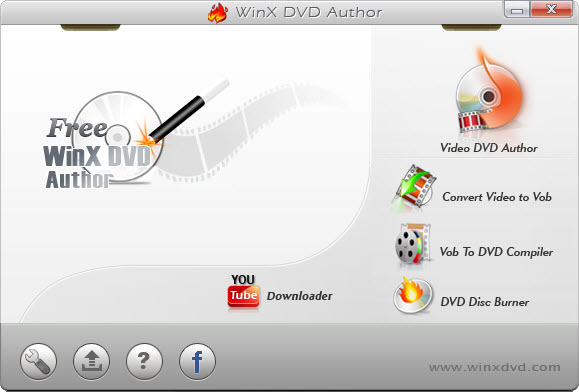 Part 3. FAQ about Open Source DVD Burner Software
Which software is best for burning DVD?
You may be faced with a wide range of options when it comes to burning a DVD disc. Generally, ease of use is the primary factor to consider. If you want an easy to use program, choose WinX DVD Author, and Ashampoo Burning Studio.
Does windows 10 have a DVD burner?
Yes, windows 10 has built-in DVD burning software. You can take advantages of the File Explorer or Windows Media Player to burn movies, videos, photos, and other data to a DVD or CD. But batch burning or creation of a bootable drive is not available. You can turn to third-party DVD burning software for help.
How do I burn a DVD on windows for free?
To burn a DVD for free on Windows, you can try Windows Media Player.
Click Start and open Windows Media Player.
Switch to Library to start burning process if you used to listening to music with Windows Media Player.
Click the Burn > Burn options arrow for more options.
Click Data CD or DVD if you want to burn video.
Insert a blank DVD after you open the disc drive.
Click the Burn option menu > More burn options > Devices tab and select the drive.
Click Clear list to remove the current burn list.
Drag the videos and audios you want to burn from your media library to the list pane.
Rearrange the order of your burn list.
Click Start Burn and begin burning the media on your Windows PC.
References
1. "Best free DVD burner in 2023". TechRadar.