HVC1 Codec won't Play in VLC? How to Fix VLC HVC1 Errors?
My VLC doesn't recognize certain newer .mov files while it's playing older ones. I check with MediaInfo and the new files have hvc1/AAC/mebx. When playing the HVC1 videos with VLC, I only see the first three or so frames and hear the sound, then it will give me 'VLC does not support the audio or video format hvc1.' error message. How to play hvc1 format in VLC?
When playing some 4K HEVC videos with HVC1 codec, there may be choppy playbacks, endless hiccups and glitches. You may also see the error "No suitable decoder module: VLC does not support the audio or video format hvc1. Unfortunately there is no way for you to fix this". Why does that happen and how to solve VLC HVC1 codec errors? Check this post (fixes to VLC HEV1 errors are also included).
First of all, you can download HEVC codec to fix the hvc1 codec error >>
Fix VLC HVC1/HEV1 Errors in Clicks, No Extra Codecs Required
WinX HD Video Converter Deluxe - Fix HEVC HVC1 not playing in VLC easily. Fast convert 4K/8K videos encoded with HEVC (HVC1/HEV1) to MP4, H.264, MPEG4, AVI, MOV, WebM, etc. for VLC, WMP, any other players, PCs/Macs, TVs and portable devices. No need to install other codecs.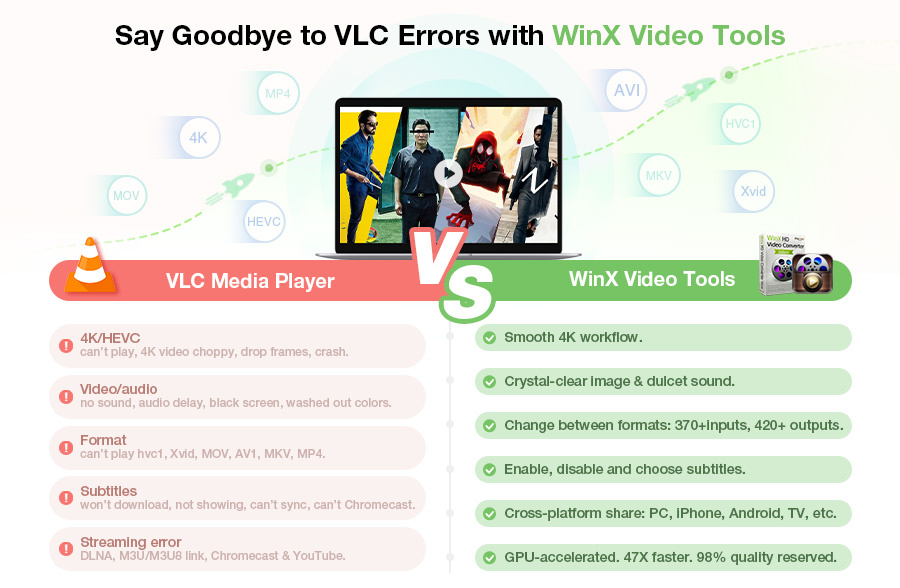 Part 1: What is HVC1 Codec?
HVC1 is a file extension that contains RAW data encoded with H.265/HEVC video compression file format. HVC1 is a codec ID for HEVC codec. Simply put, codec ID is a unique registered identifier that represents the encoding stored within the Track. H.265 videos use both HVC1 and HEV1 codec IDs. For example, newer Apple devices record videos using HVC1/H.265 codec, and HEVC decoder by Apple is limited to "hvc1" subcodec, while Handbrake tags h.265 files as 'hev1'.
HVC1 /HEVC/H.265 indicates parameter sets shall not be in ES.
HEV1 /HEVC/H.265 indicates parameter sets may be in ES.
According to Wiki, an elementary stream (ES) is usually the output of an audio encoder or video encoder. ES contains only one kind of data (e.g. audio, video, or closed caption). An elementary stream may also be called "elementary", "data", "audio", or "video" bitstreams or streams. The format of the elementary stream depends upon the codec or data carried in the stream.
To check the codec ID of HEVC files, use the MediaInfo: menu -> View -> Tree -> Video -> Codec ID "hev1" or "hvc1". VLC, as it supports different containers, codecs, and tags, is a useful video player that is able to open HVC1 videos.
Part 2: What to Do if VLC can't Play HVC1 Codec?
Though VLC is supposed to play HVC1 videos, you may still encounter HVC1 VLC errors sometimes. This can be caused by many reasons, for example, bad VLC hardware decoding, corrupted file, 4K or higher resolution, old computer configuration, etc. To fix VLC no suitable decoder for HVC1 errors, try the following solutions: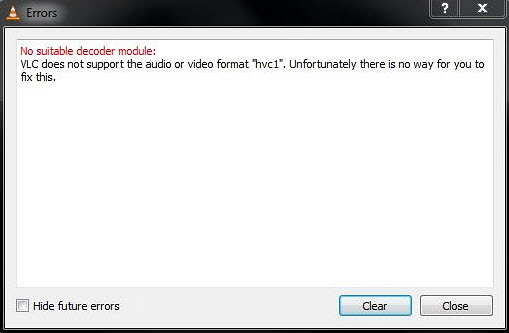 Solution 1: Install HEVC codec for VLC
Download a third-party codec pack that may solve VLC not playing HEVC errors and help VLC play HVC1-encoded videos. The HEVC codec pack we recommend is vlc-libde265, which is an open source implementation of H.265 codec for VLC to decode HEVC/H.265 videos using libde265. Download the plugin for VLC via PAA, then open Terminal and run the commands below to install:
sudo apt-add-repository ppa:strukturag/libde265
sudo apt-get update
sudo apt-get install vlc-plugin-libde265
Solution 2: Change HVC1 codec ID to HEV1
If installing a codec pack won't fix the "VLC doesn't support hvc1" error, change the HEVC codec ID from HVC1 to HEV1 and try again. You can do this in two methods:
Download Handbrake and convert HEV1 HEVC to MKV/MP4 in x265 codec. Handbrake will use HEV1 codec ID instead of HVC1. Then try the converted video with VLC.
Use this to set the codec tag: ffmpeg -i input -c:v hevc_videotoolbox -tag:v hev1 output.mp4
Solution 3: Convert HVC1 HEVC to MP4 for VLC
When changing the HEV1 and HVC1 codec for VLC with ffmpeg is too hard for you, there is the simplest solution: convert the HEVC HVC1 videos to H.264 files. This will also fix VLC HVC1 errors caused by advanced HEVC specifics and old hardware. The HEVC HVC1 video converter we recommend is HD Video Converter Deluxe.
This program can convert (4K/8K) HEVC video with HVC1 (or HEV1) codec ID to H.265 HEVC, H.264, MP4, MOV, AVI, WMV, and many more formats for VLC. With Intel, NVIDIA, and AMD hardware acceleration, it's able to convert HVC1 HEVC videos at 47X real-time faster speed while maintaining good output quality. You can follow the step-by-step guide to convert HVC1 video to VLC supported MP4 format with WinX HD Video Converter Deluxe.
Step 1. Load HEVC HVC1 videos
Free download the HVC1 to VLC video converter and run it. Then drag and drop the HVC1 videos to the converter, or click + Video button to open target file(s).
Step 2. Select an output format for VLC
Once the HVC1 videos are loaded, you'll be taken to the output format window. Since VLC support almost all video formats, just select any video format. For example, you can go to General Profiles and choose MP4 Video. If it's a HEVC HVC1 video in 4K/2K, you can choose 4K MP4 Video/2K MP4 Video. It also supports convert HVC1 videos to HEVC format.
Step 3. Begin converting HVC file
Click the RUN button to start. After the conversion, you can play the hvc1 converted video on VLC without any problem.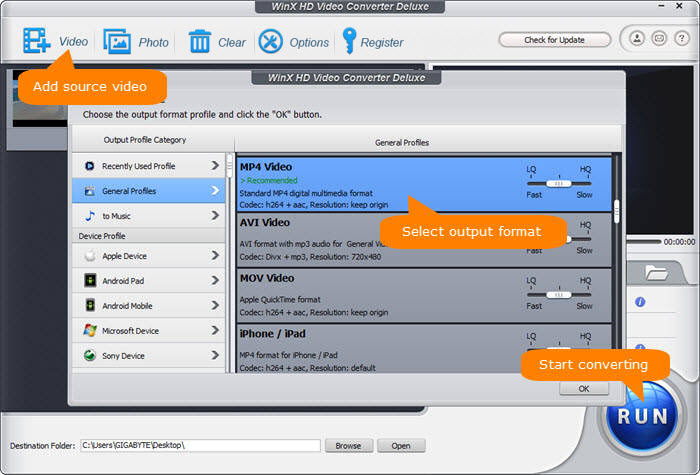 Solution 4: Upgrade VLC to the latest version
If your VLC can't play HVC1 videos in HEVC format, make sure you're running the latest version of the VLC player. Its codec library is updated constantly and may get support to the HVC1 codec.
Part 3: What to Do if VLC can't Play HEV1 Codec?
On the contrary to VLC HVC1 errors, there are times when VLC does not support the audio or video in HEV1 HEVC videos. For example, there is a user crying on Microsoft Community that the VLC won't play HEV1. VLC only plays the audio, but no video, giving a similar error message "No suitable decoder module: VLC does not support the audio or video format 'hev1'. Unfortunately there is no way for you to fix this." And all his video players fail to play the HEV1 video, including VLC, Cyber Link Power Media Player 12, Windows Media Player, and Video Jack Player. Sometimes, the playback freezes and the picture gets garbled/scrambled. How to solve the VLC HEV1 error? Follow the Solution 1 to VLC HVC1 error above to install libde265 via PPA for VLC player. This should fix the VLC HEV1 won't play errors in most cases.
Re-encode the HEV1 HEVC videos to HVC1. Avoid Handbrake as it tags the HEVC videos with HEV1. Try FFmpeg with the command line like ffmpeg -i input-hev1.mp4 -c:v copy -tag:v hvc1 -c:a copy output-hvc1.mp4
Use a different container like MKV and check if VLC plays the HEV1 videos.
Update your VLC to the latest version or try the nighty version.