HEVC Codec Pack for VLC Media Player Free Download
VLC can play HEVC files, using h26x to decode and x265 to encode it. Since version 3.0, VLC supports HEVC hardware decoding on Windows, Android, macOS, and iOS. However, some users still receive an error message during HEVC playback, "core decoder error: Codec 'hevc' (MPEG-H Part2/HEVC (H.265)) is not supported." Sometimes, VLC delivers poor performance when playing 4K UHD HEVC content, such as video freezing, stuttering, or choppy full of artifacts. Extra HEVC codec or codec pack is required for better HEVC handling.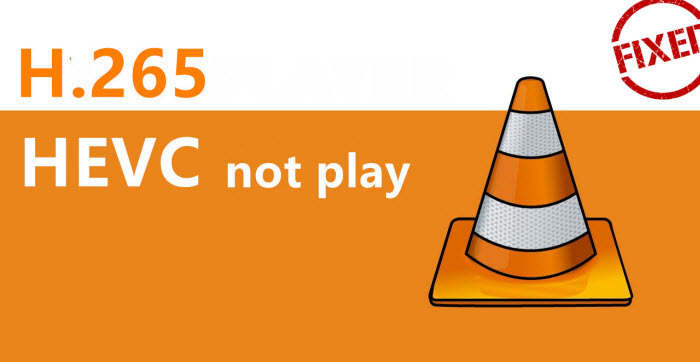 Table of Contents:
Part 1: Free Download HEVC Codec for VLC
• Libde265
Libde265 is an open-source HEVC video codec implementation. The decoder supports HEVC-VA, HEVC-V2 (chroma 4:2:2, 4:4:4, monochrome, and bit depths up to 14 bits). It comes with two example programs, dec265 ( a player for raw h.265 bitstreams), and sherlock265(a video player to overlay h.265 bitstream graphical representations). Many applications like FFmpeg decoder, FFmpeg fork, Windows Directshow filters, VLC plugin, has been integrated with Libde265.
• Media Player Codec Pack Plus
The codec pack enables you to play various video compression types including x265, H.265, HEVC, 10bit x265, and other formats such as x264, 10bit x264, DivX, MP4, to name a few. It's compatible with Windows 10 and earlier, any media player compatible with DirectShow. With Media Player Codec Pack Plus, VLC should play 10bit HEVC x265 4K UHD (HDR) content on your computer.
Part 2: What to Do When HEVC Codec Doesn't Fix HEVC Playback Issue on VLC
Though VLC fully supports HEVC codec, many users're experiencing HEVC/H.265 video playback issues like the VLC HVC1 codec error. When playing HEVC files on VLC, it stutters, freezes, or gives choppy image full of artifacts. Even additional HEVC codec pack or plugin doesn't fix the problem. You can follow the solutions to fix VLC HEVC codec error.
1. Upgrade your hardware.
4K UHD 10bit HEVC video lagging or freezing issue can occur because of hardware bottleneck. To play HEVC material smoothly, your device should meet its software system and hardware requirements. HEVC/H.265 processing requires Windows 10 computers with the Intel Kaby Lake processor or newer, or macOS High Sierra computers with the A10 processor or newer. If you are using older devices or systems, try converting HEVC/H.265 to H.264 MP4 that is universally compatible.
2. Check if the HEVC video is bad.
Test your video files using other 4K HEVC video players to see if the content is corrupt.
3. Update VLC codec pack.
VLC has built-in codec pack, when you update the software, its codec pack also gets updated. Try updating VLC media player to the latest version (3.0.8). Your VLC should be at least version 3.0 or newer because V3.0 supports HEVC hardware decoding. Open VLC Media Player, Click the Help button on the top menu bar, select Check for Updates…and click YES to download the latest VLC codec pack.
4. Change settings on VLC for HEVC playback.
Go to Tools > Preferences > Input/Codecs. Click the Hardware-accelerated decoding drop-down icon under Codecs category, and change Disable or Automatic to Direct3D11 Video Acceleration, save the settings, exit, and restart VLC, try HEVC files again. If you are using old version of VLC, you may have no Direct3D11 Video Acceleration option.
5. Convert HEVC to Other Formats that VLC Accepts.
WinX HD Video Converter Deluxe can transcode 4K Ultra HD/8K HEVC/H.265 videos to MP4, H.264, MPEG4, AVI, MOV, etc. and fix HEVC compatibility issue. After transcoding, your HEVC content should play smoothly on Windows/macOS, HDTVs, iOS/Android phones and tablets. Taking full use of level-3 hardware acceleration, Hyper-threading tech, and High-quality engine, the program delivers 47x fast HEVC prcessing speed without losing quality. It also allows you to convert H.264, MPEG4, MP4, etc. format to HEVC/H.265 for saving space.
You can click here to learn more about how to convert HEVC/H.265 videos.
Or follow the video tutorial below to play HEVC video on any of your platform.