Can Roku Play HEVC/H.265 File? What to Do if Roku can't Play HEVC?
According to the official site, Roku recommends users to encode UHD videos using HEVC. There are many available Roku streaming player models, including Roku Express, Roku Premiere, Roku Streaming Stick+, Roku Ultra and more. But not all of the Roku models support HEVC playback. Can Roku play HEVC videos? What can you do if the Roku can't play HEVC codec encoded content or is not playing HEVC files properly? In this article, we will answer this.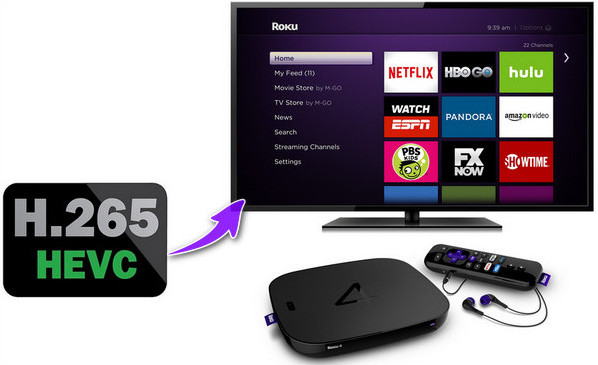 Part 1. Can Roku Play HEVC Video File?
HEVC, also known as H.265, has gained increasing popularity for its efficient compression. Many popular devices like iPhone, GoPro, and DJI drone have added support for HEVC. That's why so many people become concerned about the HEVC compatibility on Roku. Well, can Roku decode HEVC? What type of video files does Roku play? Let's check now.
According to Roku SDK documentation, Roku devices supported file formats include:
Video file types: MP4, MOV, M4V, MKV, WebM
Video codecs: H.264/AVC, HEVC/H.265, VP8, VP9
Audio file types: AAC, AC3, EAC3, AC4, Dolby Atmos, ALAC, DTS, DTSE, FLAC, MP3, OPUS, PCM, VORBIS
Can Roku play HEVC videos? Yes, HEVC is one of the Roku supported formats. However, HEVC is only supported on Roku 4K capable devices, such as Roku 4, Roku 4K TVs, Roku Premiere, Roku Streaming Stick + (HE), and Roku Ultra (LT). If your Roku device supports 4K, congratulations, now you can follow the guide to play local HEVC/H.265 video on Roku. If your Roku device isn't compatible with 4K, don't worry, you can fast transcode HEVC to Roku playable format.
Part 2. How to Transcode HEVC to Roku Supported Video Format?
When you use a 4K-incompatible device such as Roku Express, you will find that your HEVC content will not be displayed. And sometimes, Roku Ultra still cannot play HEVC files because of new updates. If Direct Play is enabled, an HEVC file will play with no audio.
If you have HEVC playback issues on your Roku, no matter which model you use, WinX HD Video Converter Deluxe can help you out. This program can convert (4K) HEVC video to Roku H.264 MP4, MOV, M4V as well as 370+ other formats with ease. Using Intel, NVIDIA, and AMD hardware acceleration, it can convert HEVC videos for Roku at a 5X faster speed while maintaining good output quality. This is a good way to go when your Plex is not powerful enough to handle real-time transcoding.
Free download WinX HD Video Converter Deluxe and follow our tutorial to transcode H.265 to H.264 for playback on Roku.
Step 1. Load target HEVC file into the converter.
You're allowed to import one or multiple HEVC video files for Roku conversion. Simply drag and drop or click + Video button to open target HEVC/H.265 file(s).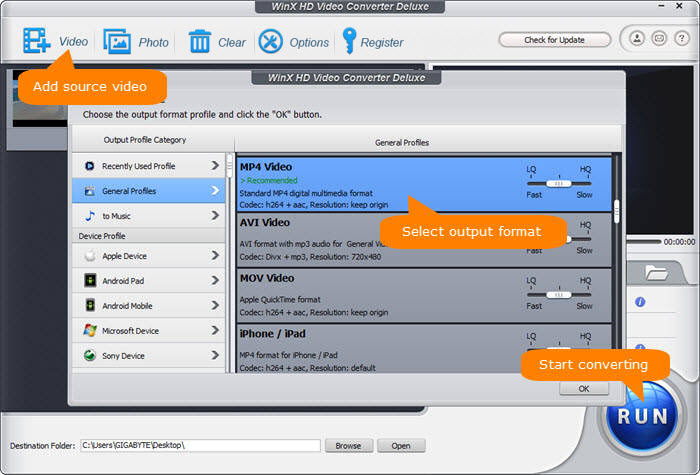 Step 2. Select an H.264 profile.
There're more than 420 output profiles. You should select a profile that uses a video codec and an audio codec that your Roku accepts. For example, you can go to General Profiles and choose MP4 Video (codec: H.264+aac, resolution: 1920x1080). Or, you can choose 4K MP4 Video (codec: H.264+aac, resolution: 3840x2160) / 2K MP4 Video (codec: H.264+aac, resolution: 2560x1440), if your source file is in 4K/2K and you want to preserve the original resolution.
Step 3. Begin converting the HEVC file.
Click the RUN button, and it will start working. Soon later, you will get a new file. After that, you should be able to watch the converted HEVC video on your Roku.
Part 3. What to Do if Roku won't Play HEVC Properly?
In some cases, even if your Roku model supports the HEVC codec, you may still see HEVC not playing properly on Roku. For example, the image looks blurred, it only transcodes the audio not the video, the CPU strikes 100% and the playback ends up with endless buffering, the screen goes black and the Roku won't play HEVC files at all... When the Roku doesn't play HEVC smoothly, here are a few things to check:
Check the device compatibility - If the HEVC videos are encoded in 4K or higher resolutions, you need to make sure that the Roku Devices are also 4K-compatible (Roku models with 4K support include Roku Premiere, Roku Premiere+, Roku Streaming Stick+, Roku Ultra LT, Roku Ultra, 4K Roku TV, Roku Smart Soundbar, Roku Streambar). On older devices, you may see stutters, high CPU usage, frame drops, etc, even with HEVC at 1080P. Then you need to avoid 4K HEVC and convert the HEVC into H.264 for Roku as per the guide above.
Check the hardware compatibility - If you play the HEVC video via a USB drive or other extra device, make sure the hardware supports 4K HEVC. For example, you'd better use a USB 3.0 flash drive and make sure all the ports are 3.0. You should also use HDCP 2.2 or HDMI2.0.
Check the audio codec- Check if the HEVC video comes with unsupported audio codecs. For example, if you play a Blu-ray ripped MKV video with 4K UHD HEVC video and Dolby TrueHD 7.1 audio, Roku may not play the audio or the whole HEVC file. Audio files with Dolby TrueHD and lossless Dolby, and  DTS-HD and lossless DTS are not supported by Roku.
Check the playback mode- Make sure you're using the correct playback mode. For 4K HEVC videos, the video output mode must be 2160p.
Check the DRM - Make sure the HEVC videos do not contain any DRM. DRM-protected content is not supported by Roku.
How to Play HEVC Videos