Posted by Donna Peng - Contact Author

AnyDVD Rips DVD at Slow Speed? Here're 7 Fixes for You.

If AnyDVD runs slowly due to DVD protection, click here: The solution most recommended by us [85%]
7 Tips to Help Speed up DVD Ripping on AnyDVD
"I'm using the 'Rip Video Disc to Harddisk' option in AnyDVD for DVDs, with a Pioneer BDR-209D drive (1.33 firmware). But I find the ripping speed is often limited to 1x speed for some discs, or drops down to 1x speed during the ripping."
Many factors will affect the ripping speed, such as DVD disc, DVD drive, the DVD ripper you use, and more. When AnyDVD rips DVDs very slowly, you can try the troubleshooting tips below to speed AnyDVD up.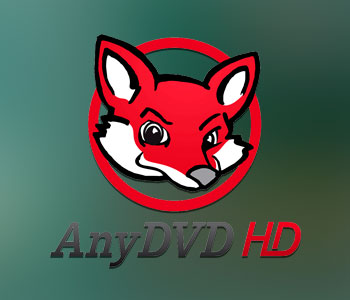 What to Do when AnyDVD Rips DVD Slowly?
There're 7 fixes for you.
1. Check the settings in AnyDVD and make sure speed control is unchecked.
2. Uninstall Daemon Tool if you have this installed. Or more importantly, uninstall SPTD.
3. Enable DMA for your optical drive.
4. Try defragmenting your hard drive.
5. Check your DVD disc and see if it is in good condition. Bad disc will make the reading process take longer. If it is dirty, clean it and try again. If it is scratched, replace it.
6. Check if there's new firmware for your DVD drive. If there is, update now. A defective drive could also result in slow ripping, so you can try another drive and see if the ripping speed can be improved. If you're using an external drive but get slow ripping, you can try connecting to another USB port. This trick may help work faster.
7. The complexity of the copy protection on DVD has a major impact on the ripping speed. If the DVD has a complicated protection, AnyDVD will need long time to rip. If you don't want to spend hours to rip a strictly encrypted DVD, you can try an AnyDVD alternative - WinX DVD Ripper Platinum which features a powerful DVD decryption mechanism to handle various DVD copy protections such as CSS, UOPs, APS, and Disney X-Project DRM. Moreover, it supports Intel QSV and NVIDIA CUDA/NVENC hardware acceleration which can boost DVD ripping greatly. A DVD can be ripped within 5 minutes. Download it on your computer and follow the guide below to rip DVD at superfast speed.
Step 1. Insert the problematic DVD into optical drive and click "DVD Disc" button on WinX DVD ripper to import and scan the disc. Scanning will be easily done in a second. And it will detect the main title automatically.
Step 2. After loading DVD, WinX will pop up Output Profile panel where you should choose an output preset based on your own needs. There're 350+ presets in total. You can choose to convert DVD to MP4, AVI, WMV, ISO image, and more.
Step 3. Enable "Hardware Accelerator" and hit "RUN" to start ripping DVD.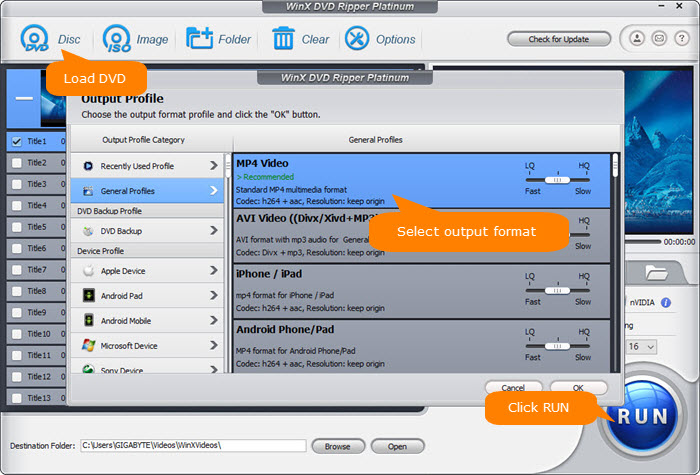 Disclaimer: Digiarty Software does not advocate ripping commercial DVDs for any illegal purpose. You're suggested to refer to the DVD copyright laws in your country before doing so.