Updated by Donna Peng - Contact Author

Solved - How to Fix AnyDVD (HD) Won't Recognize DVD Issue

If you tried all the fixes below with no luck, click here: The solution most recommended by us [85%]
AnyDVD Won't Recognize DVD? Seven Fixes to Try
AnyDVD can be used to remove DVD restrictions and rip DVDs. However, when you insert a DVD and attempt to make a backup with AnyDVD, you may get one of those errors or warnings: 'no DVD drive detected', 'no disc is present in drive...', and 'failed to read DVD'. Such kind of DVD recognizing issue could be related to the DVD disc, the DVD drive, or AnyDVD.
How to determine which causes AnyDVD not recognizing DVD problem? Firstly, test other DVDs. If AnyDVD can read others, then it's your DVD media problem. Your DVD media might be dirty or damaged. If others also cannot be read, then the problem might be caused by defective DVD drive or AnyDVD. Also, you need to check whether you can see your DVD in Device Manager. If you can't see it, it isn't AnyDVD problem and you can check how to fix DVD drive not showing to get solutions.
The detailed fixes for 'AnyDVD won't recognize DVD' will be given below.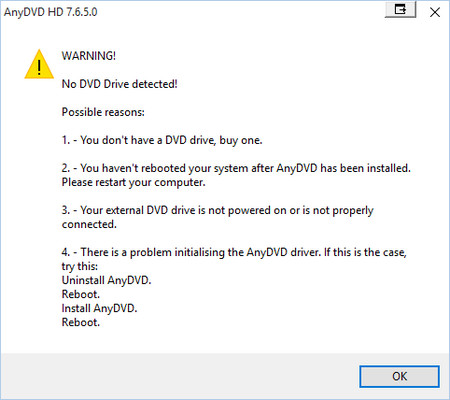 Fixes for AnyDVD Not Recognizing DVD Discs
There're 7 measures you can take to fix this issue:
1. Clean the DVD if you see dust, fingerprints or other dirty things on the surface of your physical media.
2. Replace the DVD if there're cracks or scratches.
3. Try another DVD drive if you suspect that your drive's gone bad.
4. Set your drive region code in Device Manager. Before you do this, you need to exit or disable AnyDVD.
5. Untick and tick your drive in AnyDVD: go to Settings of AnyDVD -> Drives -> Selection -> uncheck your drive -> reboot -> open AnyDVD and check the drive you previously unticked -> then, you might see a little bubble popping up and saying AnyDVD is scanning your disc.
6. Upgrade or downgrade AnyDVD. Sometimes installing latest AnyDVD version will fix your problem. But if AnyDVD works fine but fails to read DVD after you perform upgrading, go back to the old version.
7. Reinstall AnyDVD: uninstall AnyDVD -> reboot -> reinstall AnyDVD -> reboot and check to see if AnyDVD can recognize your DVD now.
If AnyDVD is still unable to recognize your DVDs after you try all the above solutions: Try an AnyDVD alternative - WinX DVD Ripper Platinum - to rip your DVD.Easy & fast
If AnyDVD is the culprit of DVD not reading issue and you cannot fix it, you might as well try WinX DVD Ripper Platinum. Just like AnyDVD, WinX is available to read all region-locked DVDs and bypass various kinds of copy protection schemes in video DVDs and rip DVDs to hard drive. It can convert both old and newly-released DVDs, including some scratched discs, to MP4, AVI, WMV, MOV, ISO image, VIDEO_TS folder, and more formats. Ripping DVD can be finished in a matter of minutes thanks to the support for Intel QSV / NVIDIA NVENC hardware acceleration, Hyper-threading technology, Multi-core CPU (up to 8), and Super Encode Engine based on MMX- SSE & 3DNow!. And, quality will not be sacrificed for speed.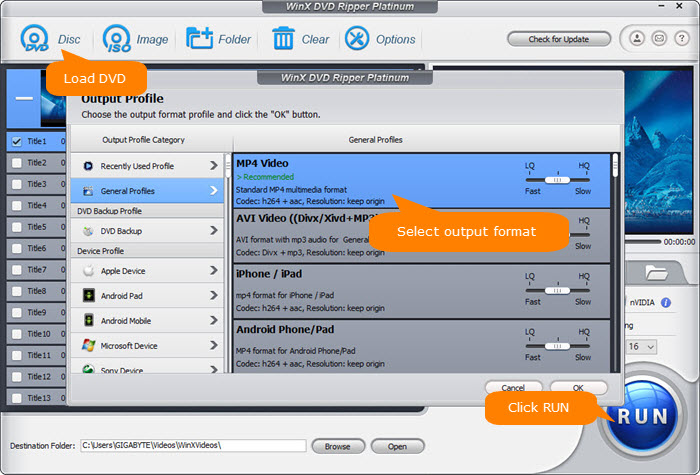 Disclaimer: Digiarty Software does not advocate ripping commercial DVDs for any illegal purpose. You're suggested to refer to the DVD copyright laws in your country before doing so.