[Fixed] DVD Backup Freezes at 99% and won't Finish
Sometimes when you need create a DVD backup, everything works like a charm until you reach to the last step - it gets stuck at 99%, 100%, some other precentages and will never finish. This is really frustrating, but the problem is quite common among DVD backup software:
-- I encounter a problem with my favorite DVD Decrypter when copying a DVD to an external drive. It's been going for about 6 hours now and the DVD backup gets stuck at 99%. It says that there is 0 bits in the output file and the freezes won't go.
-- I use AnyDVD to backup DVD to put whatever movies on my son's iPad to avoid scatches. Yesterday when I put both Stuart Little and Wreck It Ralph on his iPad, I have problems with Wreck it Ralph with the DVD backup freezes at approximately 56 min or displays "not responding" at 99%. I have tried to rip for 5 times on 2 different computers but the result is the same.
-- I need to copy DVD to MP4 using DVDFab (9.3.1.2) but the DVDFab hangs when ripping episode discs @100%. No crash, just hangs. Attempted with all GPU Codecs disabled and Lightning Shrink Decoding off - Same result. Attempted one episode per session, same result.
-- My DVD Shrink 3.2 (on 2 computers running Windows 7) gets stuck when analyzing at 47% so it never reaches the point of ripping. It says "DVD Shrink encountered an error and cannot continue. Failed to read *D:\* The request could not be performed because of an I/O error."

Possible Reasons to DVD Backup Freezes at 99%
In most cases, the DVD backup stuck at 99% or other percentage without giving you a clue why it happens. Below are some possible causes:
1. The DVD is scratched at certain point. So visually check the disc and fix the scratched DVD with proper repair kit.
2. A bug of the software. E.g., DVD backup hangs at 100% is common with DVDFab earlier versions, and upgrade can fix the error.
3. The DVD may be interlaced and some rippers have problem with interlaced content.
4. Check if you're depending on S/W which uses CPU. If the software maxes out your CPUs, it will cause lockup issues when you are overclocked or have less than optimal cooling. So enable H/W if available.
5. The DVD is encrypted by Sony ArccOS (bad sectors), CSS, regions, or other DVD copy protections. If the software fails to rip a protected DVD, you will need to find a stronger DVD ripper.
Fix DVD Backup Stuck at 99% Problem
WinX DVD Ripper Platinum will back up any DVD without problem.
* It circumvents most copy protection schemes such as region code, CSS, UOPs, Disney X-Project DRM, and others.
* It supports any DVD, covering TV shows discs, interlaced DVD, scratched DVD, new & old movies, 99-title DVDs, Japanese DVDs, etc.
* It will create digital copies of DVDs in HEVC, MP4, AVI, MOV, WMV, FLV, MKV, etc.
* It will backup DVD in original quality: 1:1 backup DVD to ISO image, folder, mpeg2 in blazing fast speed.
* It will take advantage of GPU acceleration (Nvidia Cuda & Intel QSV) to ensure smooth DVD backup.
Free download WinX DVD Ripper Platinum to backup DVD without problem.
Please DO NOT use WinX DVD Ripper to rip rental DVDs.
For Windows and Mac only. If you are a mobile user, please click here
How to Backup DVD without DVD Copy Hangs
Step 1: Firs of all, free download, install, and run the software. Then insert the DVD to the drive.
Free download WinX DVD Ripper Platinum for Windows


Free download WinX DVD Ripper Platinum for Mac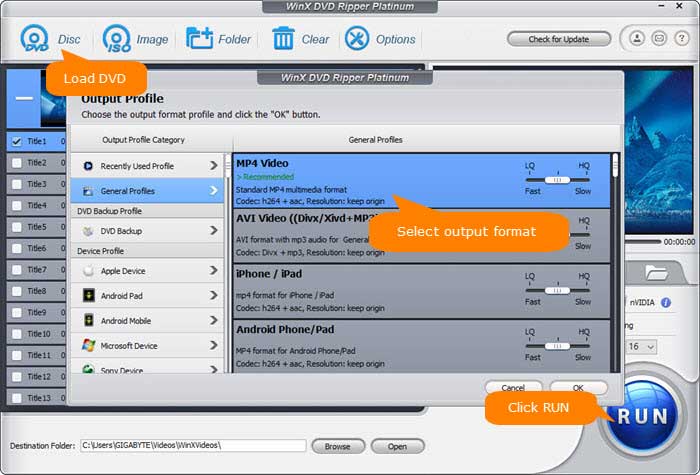 Step 2: Select the Disc icon on the top toolbar and load the DVD from your drive. It also supports ISO Image and Folder.
Step 3: The DVD ripper will automatically idenfity the right movie title and bring you to the output format window. Select a format or deivce you need.
Note: To avoid DVD backup freezes at 99% or other errors, enable the following boxes on the main interface:
* Hardware Accelerator: It will use GPU for the decoding, processing, and encoding to release the burden on CPU. 5X faster speed.
* Safe Mode: This mode will fix all possible DVD backup errors caused by protections, including DVD copy freezes at percentage.
* Deinterlacing: It will easily handle interlaced DVD content without problem.
Step 4: Click the RUN button to start the DVD copy.
Disclaimer: Digiarty Software does not advocate ripping commercial DVDs for any illegal purpose. You're suggested to refer to the DVD copyright laws in your country before doing so.