Any solution to fix/solve WinX DVD Ripper (Platinum) stops/crashes when reaching 99% when ripping some movie DVDs?
1. Hi all, when I use the good free DVD ripping software - WinX DVD Ripper to rip my respective DVDs, it just stops at 99%. Any help appreciate!
2. My experience with WinX DVD Ripper Platinum was a failure. I only got to test non-encrsypted disks, and it had no problem doing the job - the files were produced and I viewed them - but the program just hanged at "99% completed", and there was no way of shutting it down. Had to reboot. This problem consisted the several times I tried it. Please help me out! And my system is Win 7 (64-bit).
Best Answer
Try the following troubleshooting suggestions to debug issues of:
WinX DVD Ripper stops at 99;
WinX DVD Ripper crashes at the end of ripping;
WinX DVD Ripper crashes once it reaches 99% conversion.
• First of all, you must make sure you have the latest version.
>> Download the latest version of WinX Free DVD Ripper (for Windows)
>> Download the latest version of WinX DVD Ripper Platinum (for Windows)
• Secondly, it's recommendable to choose "Safe Mode" option in the "Advanced Setting" area, under the preview window of the main interface, to have a try. Because "Safe Mode" can smooth the conversion process. But note that the converting under Safe Mode takes a little more time than normal mode.

• The third solution is to try "Full Title Copy",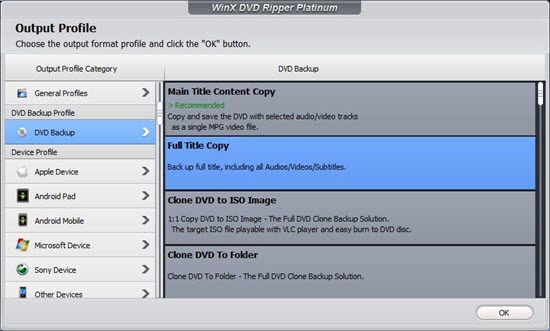 and then convert .mpg file from Full Title Copy to whatever format you need with our WinX HD Video Converter Deluxe. We are glad to offer WinX HD Video Converter Deluxe free, you can contact us to get a giveaway or directly go to the download page to get the free trial version.
An Easy Way to Transfer Ripped DVD Video to iPhone iPad
After ripping DVD successfully to MP4/MOV or so video format, if you would like to watch the movie video on your iPhone or iPad, WinX MediaTrans can do you a great favor to transfer a pisece of full smovie video from computer to iDevice within half an hour.
Note: All WinX software are compatible well with Microsoft® Windows 98, NT, 2000, 2003, XP, Vista (32 & 64 bit), Windows 7 (32 & 64 bit), Windows 8 (32 & 64 bit), and Windows 10 (32 & 64 bit).
See also:
WinX DVD Ripper Platinum Tech FAQ
WinX DVD Ripper Platinum User Guide
WinX HD Video Converter Deluxe User Guide