5 Answers: Instagram Desktop App for Windows 10/8/7
A collection of top 5 questions about Instagram desktop app for Windows 7, 8 and 10
Q1 - "Does a Windows 10 PC support Instagram?"
Q2 - "Unable to login to Instagram for Windows 10 using Facebook account. I can't seem to login to the UWP Instagram app in my PC through Facebook. Whenever I click the option "Log in using Facebook", nothing happens at all. So, what should I do? Is it a problem in the app?"
It's not news that the Instagram app for Windows PC has been available since 2016. But according to its latest updates, the function to view Stories on Instagram desktop app and on the web is enabled in August 2017 while face filters was just added to the Instagram app Windows 10 this month. Well, as you can see, there still are many differences between Instagram app for desktop PC and mobile phones, especially the lack of key features of photo uploading. Some of you may also be confused about if there is Instagram app for Windows 7. We list top 6 questions about Instagram app for PC with correct answers in the following part. Let's read on.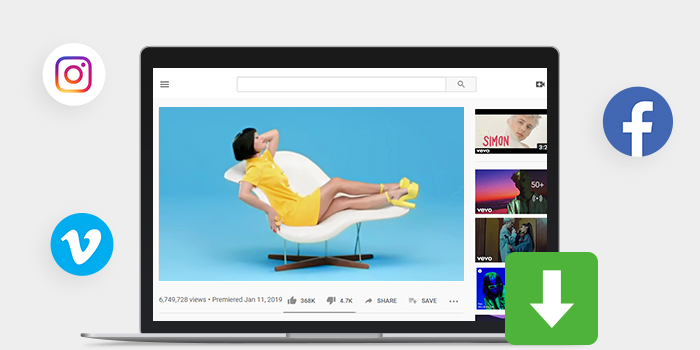 Does Windows 10 support Instagram?
1. Yes, Windows 10 supports Instagram and Instagram desktop app has been available on Windows 10 for some time. But it's more like a Instagram viewer than a photo sharing app for desktop PC computer. A large part of people feel disappointed, leaving only 1 star for it.
2. Instagram app for Windows 11/10:
Ratings: ★★★☆☆
Reviews: "Still poor support for PC. It has been a few months since the last update and there is still no button for uploading photos/videos from PC, instead you just added watch all stories button which is pretty useless imho. I'm going to keep the 1 star until Instagram decides to fix this broken app."
Download Instagram app for Windows 10: https://www.microsoft.com/en-us/store/p/instagram/9nblggh5l9xt

Where and How to Download Instagram App for Windows 10?
Step 1. Open your web browser, maybe Chrome or Edge
Step 2. Then go to google.com, and search Instagram app for Windows 10.
Step 3. The top 1 search result should direct you to the Microsoft Store webpage. If the Store has been pinned to the taskbar, it would pop out immediately.
Step 4. Click "Get the app" button, which is greyed-out on Windows 7 PC.
Step 5. Start downloading the Instagram desktop app for Windows 10 right away.
Step 6. The product will be successfully installed after a few seconds. You can choose "Launch" or "Pin to Start" to open your Instagram app for PC to enjoy it.

Where Can I Download Instagram App for Windows 7?
1. Firstly you should know there is no official Instagram app for Windows 7. Search Instagram desktop app in Microsoft Store you will see that the "Get the app" button is not accessible. And move to the System Requirements part you'll find that Windows 10 OS is the minumum standard.
2. So is there any way to use Instagram on Windows 7? Or you just have to turn to Instgram app alternative for Windows 7? Actually, both of the two solutions would work for you. If you decide to stick with Instagram, then download a iPhone/Android emulator first, such as Bluestacks, which allows you to download and install Instagram app for mobile on Windows 7 and will show you a mobile interface. As to alternatives to Instagram desktop app, Flickr and Pixlr are good options.

Unable to Login to Instagram App Windows 10?
"I am having the problem that I can't even login using my information without it telling me my password is incorrect, even though I just logged in using the same password on the web. It must be a bug. Microsoft needs to fix it."
There are two types of Instagram not logging in error: you can't login to Instagram Windows 10 app using Facebook account, or it's unable to log in with password. It is mostly the problem of the Instagram app for Windows 10 itself. And what we can recommend is to uninstall reinstall the app and check your internet connection. For the first case, you can try to switch to log in with user name and password instead of Facebook account.
More: Instagram error solutions (Instagram video not playing/working on Android iPhone iPad PC), How to Make Captivating Videos for Instagram in Minutes

How to Upload Photos from Desktop Instagram App Windows?
"Instagram can't upload any pictures from the PC's gallery and such making it hard to upload anything to my account. And it is impossible to view posts that have more than one picture on it. We can't view all the pictures in a post, only the first. It's actually btter to use the web version."
1. It's true that Instagram app for Windows doesn't allow uploading photos/videos from PC for sharing. Nearly two thirds of its users are complaining about it, but no one knows when the developers will update it or fix it.
2. Just as Instagram desktop app, the instagram.com webpage also doesn't allow you to share photos. But there are tricks that can help. For example, you can upload pictures or videos to Instagram from PC with Chrome/Firefox/Edge browser by changing device emulation from computer to iPhone, iPad, Android, etc, in which there is "Camera" button. To learn more details and steps, please turn to how to post photos to Instagram from PC >>