MKV vs MP4 - What're Differences Between MKV and MP4?
MKV and MP4 are commonly used video container formats. Some users feel confused when it comes to deciding which format to choose. For example, "I have a few disc and I want to use WinX DVD Ripper Platium to copy these DVDs for backup and easier viewing, which output format should I choose? MKV or MP4? Which format has better quality?" Here we compare MKV and MP4 in terms of quality, file size, supported video audio codec formats, etc. to make these two formats clearer.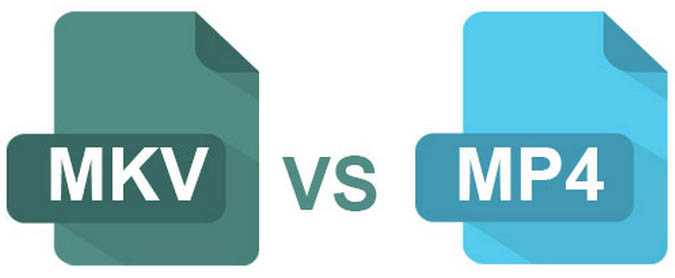 Convert (4K UHD ) MKV from/to MP4 without Re-encoding
If you need to convert between MKV and MP4 format, try WinX HD Video Converter Deluxe. Its "Auto Copy" mode enables users to convert MKV to MP4 without re-encoding, which means blazing fast speed and no quality loss! Hardware Acceleration and High Quality Engine also ensures fast speed and high quality. With support for a wide range of video and audio codec format, users can use the program to convert MKV HEVC to MP4 H.264, MP4 to MKV, WMV to M4V, MOV to MP4, and many more.
Part 1. MKV vs MP4: Detailed Comparison
Both MKV and MP4 are popular video container formats to store multimedia data including videos, audios, still images and subtitles. They are also used to stream content over the internet as well. But, they are quite different and have pros/cons in terms of individual needs.
#1. MKV vs MP4 - License
MKV is supported by a non-profit organization called association loi 1901 and the specifications are open to everyone. MKV is a royalty-free open standard under GNU L-GPL license for personal use and also has free parsing and playback libraries under BSD license available for commercial companies. MP4 (ISO/IEC 14496-14 standard) is patent protected format making use of DRM to restrict copying.
#2. MKV vs MP4 - Supported Audio/Video Codec Formats
MKV can store unlimited multimedia content, including video, audio, images, and subtitle tracks. MKV format is commonly used for movies and TV shows. It supports virutally all video/audio coding formats.
MP4 has specific formats supported, including audios of MPEG-2/4 (HE)-AAC, MPEG-1/2 Layers I, II, III (MP3), AC-3, Apple Lossless, ALS, SLS, Vorbis and videos of MPEG-2 Part 2, MPEG-4 ASP, H.264/MPEG-4 AVC, H.263, VC-1, Dirac. MP4 format also support some less used compression, such as Apple Lossless, Free Lossless Audio Codec (added in late 2018), and Opus (added in late 2018).
Both MKV and MP4 can be encoded with HEVC/H.265 video codec formats supporting UHD resolutions, 4K 2160p and 8K 4320p.
#3. MKV vs MP4 - Usage and Compatibility
Supported multiple video/audio language tracks and subtitles, MKV is an ideal format for HD movies/videos (for example ripped from Blu-ray discs) and foreign language videos like anime and TV series. MKV format is supported by mainstream media player and video editing software, like VLC Media Player, 5KPlayer, KMPlayer, Adobe Premiere Pro, VideoProc, iMovie.
MP4 has smaller size, which is suitable for online video streaming. Compared with MKV format, MP4 format comes with much wider compatibility with nearly any operation system, media players, and portable devices, like iPhone, iPad, Android/Windows mobile device, Samsung, Huawei, Xbox, PS4/PS5, Apple TV etc. In terms of compatibility, MP4 format wins over MKV format.
To get better compatibility, learn how to convert MKV to MP4 format without re-encoding.
#4. MKV vs MP4 - File Extensions
.mp4 filename extension is commonly used for MP4 video files. Many other filename extensions are also used to indicate intended content.
.m4a - Audio-only MPEG-4 unprotected files.
.m4p - MPEG-4 files with audio streams encrypted by FairPlay Digital Rights Management commonly used by iTunes and Apple Music.
.m4b - audio book and podcast file coming with chapter markers, images, and hyperlinks, etc.
.m4v - Raw MPEG-4 Visual bitstreams. Handbrake outputting video files (encoded with H.264 MP4) often has .m4v filename extension.
.3gp and .3g2 - MPEG-4 Part 12, 3GP used by mobile phones in the past.
MKV format uses filename extensions, .mkv, .mk3d, .mka, .mks, .mkv for video (subtitles and audio), .mk3d(stereoscopic video), .mka (audio-only files), and .mks (subtitles only). .mk3d, .mka, and .mks are less used. Common MKV video files come with .mkv extension.
Part 2. MKV vs MP4 - Which Format to Choose
To sum up, MP4 format has better compatibility and is widely supported by mobile devices. MKV is commonly used for high quality videos and comes with larger file size. From the conclusion of MKV vs MP4 comparison, it's hard to tell which format is better. It depends on what you need.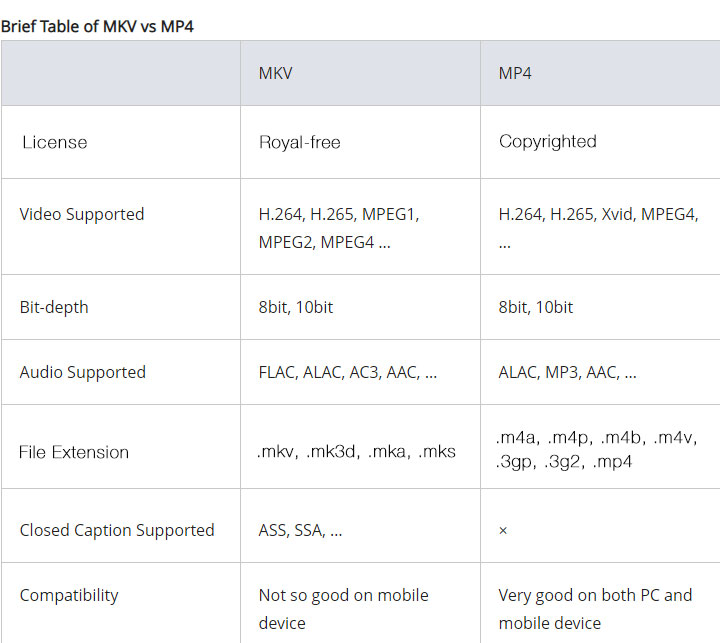 If you want to rip DVD with excellent quality of movies, TV shows, anime and your device supports MKV format, MKV is a good choice. On the other hand, MP4 is much more appropriate for playing videos on your Android devices and game consoles. Certainly, you can opt for converting DVD to MP4 encoded with H.264 codec for playback on nearly any devices with possible highest quality.