Troubleshoot: Popcorn Time iOS Installer Not Working
Downloading Popcorn Time Windows or macOS version is much easier than that on iOS iPhone iPad, for you can directly head to safe & clean Popcorn Time download sites to get them downloaded and installed. As for iOS operating system, it has proven to be much more tricky than it looked. There is no official Popcorn Time app on Apple Store. Plus, your iPhone iPad will be caught in danger if you install Popcorn Time from anonymous site with potential virus/malware. Furthermore, even though you find a clean & reliable Popcorn Time app, there's a high likelihood for you to suffer the Popcorn Time iOS installer stuck on step 2, not working problem.
In case you luckily wade through the first two steps but fall flat on your face in Popcorn Time iOS installation, you're in the right place. This post will give you the best solutions to tackle PT iOS installer not working error.
Best Responses to Popcorn Time iOS Installer Stuck on Step 2/Not Working Error
The below solutions are placed in random order, no priority. Skip those ways if you have tried before and directly access to the part you need to save time. Let's back on track.
Solution 1: Download PopcornTime on iPhone iPad from Authentic Sites
Search "download Popcorn Time" in browser and there are a huge variety of download sites in the serp. Be careful. Some of them are fake. For instance, one site getpopcorntime.is actually isn't the correct version. Instead, you ought to download and install Popcorn Time latest version 0.4.4 from popcorntime.sh or popcorntime.app. They're the authentic versions.
Note: the official popcorntime.app is close currently, for numerous movie studios jointly sue Popcorn Time concerning copyright infringement issue. Thus, you can't download PT right now and you're NOT suggested to download it recently if you don't want yourself be involved with such legal issue.
Solution 2: Upgrade or Downgrade iOS Version
Check the Popcorn Time version. If it's the latest version, you'd better upgrade iOS to newer version (not necessarily the latest iOS 14, but at least iOS 10 or higher). In case you're now running on iOS 14 beta, try to downgrade to iOS 13 (beta version is not so much stable as older official version).
Solution 3: Adjust Settings
Before installing Popcorn Time on your iOS iPhone iPad, did you adjust your settings on iOS device? If not, do as follows.
1. Access to Settings > General > Date & Time Settings.
2. Turn the toggle of "Set Automatically" from green to grey and change the date to August 1, 2014.
3. Open Safari Browser > head to http://iosinstaller.com/popcorn-time/ > download and install Popcorn Time app on iOS device. You will notice that no more iOS installer stuck on step 2 issue occurs.
4. Once the installation is finished, go back to "Date & Time Settings" and turn on "Set Automatically". Besides, tap "Trust" on the pop-up Window. Then launch Popcorn Time app to stream movies and TV shows.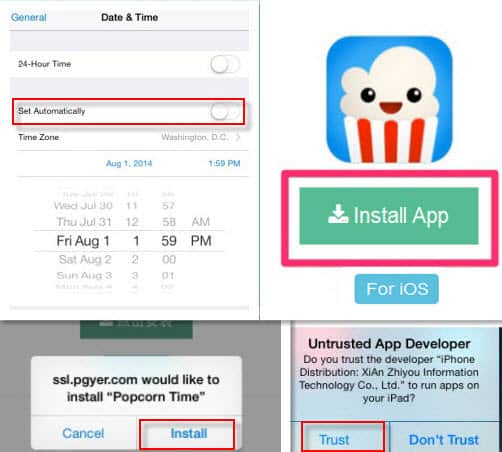 Solution 4: Check if There are Some Suspicious Activities
Here comes a suggestion from a reddit user. He advises to boot into safe mode and do security checking on your iPhone or iPad first. Afterwards, run a program like malwarebytes and change your passwords (the precondition is no password manager on your iOS device). Then, fire up task manager to check your recently installed apps and background tasks for suspicious activities. If there are some, exit the background tasks and delete the unauthenticated applications from iPhone iPad. Then, re-try Popcorn Time iOS installer.
Solution 5: Jailbreak iPhone or iPad and Install Popcorn Time via Cydia
Some, if not all, are willing to jailbreak iPhone or iPad (not only for Popcorn Time but for more freedom). When the jailbreaking is done, you can download and install Popcorn Time on iOS iPhone iPad in a way that is almost identical to Android device. To know more nitty-gritty details, check here with a complete guide.
Warm prompt: please abide by your local area or country's law about copyright protection. Do NOT download movies for any unfair use or illegal purpose.