Hulu+ Live TV vs Sling TV: Which Streaming Service is Better?
There are always more options beyond your imagination in the current market-oriented economy. When it comes to video streaming service, an extensive library of apps flood into your view. You pick out two candidates out of them, but which is better for you, Hulu+ live TV or Sling TV? If you're still in dilemma, make your decision after reading the below side-by-side comparison.
1. Hulu vs Sling TV: Price
Hulu Basic + Live TV will charge you at $54.99 a month, with over 65 channels of live TV offered, including Food Network, Discovery, Disney Channel, ESPN, CBS, NBC, Fox, etc. There's also another option for Hulu Premium + Live TV for $60.99 a month.
Comparatively, Sling TV is much cheaper than Hulu+ Live TV. The fee of Sling TV subscription is $30-45 a month. Of course, the live channels it provides are also less, roughly 45 channels.
Winner: Sling TV
Note
Hulu (ad-supported) plan is now only sold at $1.99/month for 12 months in the grand 2020 Black Friday deal. Seize chance to get the once-a-year biggest discount before expiration date 11:59 PM PST on 11/30/20. Here is the entrance to the limited time offer.
2. Live and On-demand TV Channels
In terms of channel quantity, Hulu+ Live TV 65 channels trounces Sling TV 45 channels. Speaking of channel types, Hulu+ Live TV also stands head and shoulder over Sling TV. Hulu isn't so much superior as Sling TV on account of live news channesl, live sports channels. Where it beats over Sling TV lies in local channels, Hulu original series and exclusive series.
Certainly, Sling TV also has its own advantage. You're suggested to subscribe to Sling TV plan if you're a loyal sports fan, for Sling TV offers you more sports channels.
Winner: Hulu+ Live TV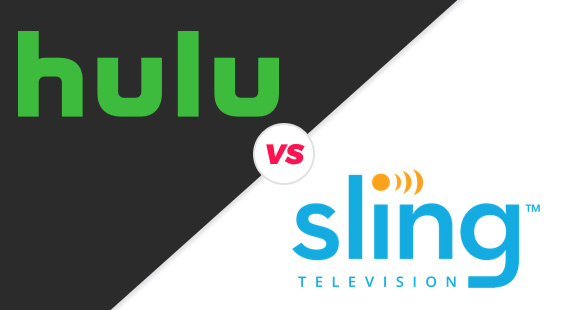 3. Supported Add-ons
Add-ons or extras are designed to help you customize your own unique channel lineup with your favorite channels. The specific price for each add-on is listed below:
Sling TV Extras (Partly)
Sling TV Extras

Total TV Deal

Cloud DVR Plus

Sports Extra

News Extra

Hollywood Extra

Kids Extra

Sling Orange Extras

Price

$20/mo

$5/mo
(50 hours)

$10/mo

$5/mo

$5/mo

$5/mo

Channels

all of extras + Cloud DVR Plus

/

15

10

5

5+

Sling Blue Extras

Price

$20/mo

$5/mo
(50 hours)

$10/mo

$5/mo

$5/mo

$5/mo

Channels

all of extras + Cloud DVR Plus

/

10+

10+

5+

5
Check here if you wanna know more details about Sling TV extras, including specific channels for each Sling extra, the bundle plan to save money (e.g., Sports Extras with Sling Orange + Sling Blue for $15).
Hulu+ Live TV Add-ons
Sling TV Extras

Premium Networks

Enhanced Cloud DVR

Unlimited Screens

Network Add-ons

Price

$14.99/mo for HBOmax;
$9.99/mo for Cinemax;
$10.99/mo for SHOWTIME;
$8.99/mo for STARZ

/

/

$7.99/mo for entertainment add-on (11 channels); $4.99/mo for Español add-on (7 channels).

Channels

Upgrade Cloud DVR to 200 hours

watch on unlimited screens at home;
3 screens when you're on the go.
Sling TV and Hulu+ Live TV adopt different strategies on add-ons. Their plans are totally different. We can tell which one has higher cost-efficiency. After all, different strokes for different folks. There is no obvious winner in this round.
Winner: tie
4. Multiple Streams
On Sling TV, you're authorized with more options for streams quantity. For Sling TV Orange ($30/mo), you get 1 stream. For Sling Blue subscription ($30/mo), 3 streams are available. To get 4 streams, you're recommended to join their Sling Orange&Blue package ($45/mo).
As for Hulu+ Live TV, you would enjoy the same 2 streams no matter you choose Hulu + Live TV ($54.99/mo.) or Hulu+ Live TV (no ad, $60.99/mo.).
Winner: Sling TV
5. Software Stability
The monthly search is up to 14800 for Hulu not working, 880 for Sling TV not working. The number changes to 590 per month for Hulu currently unavailable and 0 for Sling TV currently unavailable.
Does this mean Hulu is more susceptible to crash? Actually, only google search is not enough to reach such conclusion. Hulu has more subscribers than Sling TV. This partly explains the vast search. No matter which streaming service, we're glad to see that both of them have a help forum to help their subscribers out of trouble, alongside with some troubleshooting YouTube videos and twitter guide posts. In this round, they're on a par.
Winner: Draw
Final Thought
This post is not intended to declare a winner. Instead, it tries to elaborate their similarities and differences so as to help you single out the one most suitable for your personal needs. Click here to read a complete comparison between Hulu and Sling TV if you still can't make your own decision after reading the 5 dimensional comparison. And you're warmly welcomed to share with us your ideas about these two streaming services if you had any experience.